Read time 10 minutes
Windows Live Mail (WLM) is a now-discontinued freeware email client from Microsoft. WLM is a successor to Windows Mail (Windows Vista), which was the successor to Outlook Express (Windows XP and Windows 98). WLM is compatible with Windows 7, Windows 8, and Windows 10.
Even though Microsoft has included a new email client (Windows Mail) in the Windows 10 release, several users continue to use Windows Live Mail for various reasons. There is no support for Windows Live Mail, as it was discontinued in 2012. This is why many users have already switched to Microsoft Outlook. If you haven't, you must immediately shift to protect your data in the long run. So, if you plan to Export Windows Live Mail to Outlook, you will find this article worth reading.
So, if you are planning to Export Windows Live Mail to Outlook, then you might find this article worth a read.
What are the benefits of using MS Outlook over Windows Live Mail?
Windows Live Mail doesn't offer the same features and benefits as Outlook. If you want a more feature-rich and powerful email experience, Microsoft Outlook is the way to go. Here are some of the key advantages that Outlook has over Windows Live Mail:
Better organization:

With Outlook, you can easily organize your emails into different folders and subfolders. This makes finding old emails much more manageable and makes it easier to keep track of important conversations.

More powerful search:

Outlook's search function is much more powerful than Windows Live Mail, making finding exactly what you want easier.

More customization options:

With Outlook, you can customize nearly every aspect of the program to suit your needs. For example, you can change how emails are displayed, add or remove buttons from the toolbar, and much more.

Better support for external accounts:

If you have email accounts with other providers (such as Gmail), Outlook makes adding and managing them easy. On the other hand, Windows Live Mail only supports a limited number of external accounts.

Better security:

Outlook includes many robust security features that help protect your email from malware and phishing attacks. Windows Live Mail lacks some of these important security features.
Following are some methods to export Windows Live Mail to Outlook on Another Computer:

Instant Solution
Download an automated email migration tool Kernel for EML to PST to export emails from Windows Live Mail to Outlook on another computer, without any risk of data loss.
Method #1 Export Using Windows Live Mail
Windows Live Mail has the export functionality to directly export WLM mail items either to Microsoft Exchange or in MS WLM format on the same computer. But, if you need to export the emails to the Outlook application on a different system, you would have to work around the process a little bit. And ensure there are no running instances of Outlook application during the process.
The detailed steps to export items to MS Exchange are given below.
Launch the Windows Live Mail email client and click on File > Export email > Email messages.
Choose the Microsoft Exchange option and hit Next.
Next, you will see a confirmation message. Click OK to proceed.
Choose Outlook from the Profile Name drop-down menu and hit OK.
From the Export Messages dialog, either select All folders or Selected folders options and click OK to proceed.

A new dialog displays the status of the export process.
In the end, you will receive a new message confirming the successful completion of the export process.
Open Outlook to verify the export.
As you now have all of your WLM mail items exported to Exchange, these emails can be easily downloaded using the Import/Export feature as a PST file on a storage device of your choice.
Note: It is advised that while exporting the Windows Live Mail to Outlook, make sure that no active Outlook instances are running. It is found that running WLM simultaneously with Outlook hinders WLM's functionality to export emails to MS Exchange.
Method #2 From the Windows Live Mail File Location
Transferring the WLM files stored on your system in ELM format is possible using a storage device. If you are planning to move your WLM EML files to a new PC, then after configuring the Outlook desktop client on your new system, you can drag and drop your EML files to the newly created folder inside Outlook client. To do so, follow the steps mentioned below:
Usually, the WLM files are located in the following location on your system:

C:\Users\[Username]\AppData\Local\Microsoft\Windows Live Mail

The location will contain several folders containing mailbox information. Copy these files to a storage device.
Now Plugin your storage device into the new system.
Launch the Outlook client and add a new folder.
Just drag and drop all the files to this folder.
Drawbacks of the manual methods
Generally, users use several manual methods to export Windows Live Mail emails to Outlook on another computer. However, these methods can not always be effective, and they have several drawbacks, including-
All of them are time-consuming processes. If you have many emails to export, it can take a long time which is counter-productive.
They are prone to errors and mistakes. If you make even a tiny mistake while following the instructions, it can result in your emails being exported incorrectly or not at all. Or worst, losing your precious data.
Finally, the manual methods may not work if your email account settings have been changed. If your email account has been switched to a different provider or you have changed any settings, these methods might fail.
Data can be exported, however, but not its hierarchy. Manual methods fail to export emails along with their structure.
It requires the user to have in-depth knowledge about the platforms they are dealing with.
Method #3 Kernel for EML to PST
It is a common knowledge that Windows Live Mail items are stored on the system in EML format. As shown previously in Method#1, the WLM has the inbuilt capability to export emails to MS Exchange, but it doesn't maintain the hierarchy. Moreover, Method#1 requires the knowledge of two email clients, and there are high chances of data loss. Moving on to Method #2, as we have seen, it is purely manual. One has to manually transfer and Drag & Drop the emails to a newly formed outlook folder. All the manual methods are time-consuming and involve a high risk of data loss. It is hence recommended to use a professional third-party tool. One such efficient tool is Kernel for EML to PST Converter. The tool automatically displays all the EML files of the PC. The end product is a single PST file containing the WLM mailbox items. So, it is easy to transfer the emails to another PC. Also, it keeps the original structure, formatting, and properties of the mailbox items. It even allows the export of converted EML directly to cloud-based Office 365. Here is how it works:
Launch Kernel for EML to PST. The left panel shows the hierarchical structure of directories on your system. You can either locate the folder containing the EML files manually or use the Find option to scan your local drives for the EML files.
Browse to specify the source drive to search for EML folders.
Select the source folder/drive and click OK.
Once all the folders containing EML files get listed, select the one you require, and click on the OK button. The EML contents are shown on the right-hand side panel. Click on the Save button.
The next window lets you Define Conversion rule to save specific data from your selected folder. The option "Convert all items" is set by default if not required. Click Next.
The Select Destination window allows you to provide a destination path to save the converted PST. You can choose between various options to save the data:

If you want to create a new PST, click the Create New PST radio button.
If you save the converted data in some existing PST files, click on the Save in Existing PST File radio button.

Select the appropriate saving options per your requirement, provide a destination path, and click the Save button.

Note: You can opt to Save in folder hierarchy if required.

The converted PST file gets successfully saved to the specified location. Click OK to finish the conversion process.
Benefits of using Kernel EML to PST Converter:
The software saves the EML file directly to new or existing PST files.
The mailbox's original structure, format, and properties saved in EML files are protected.
It can convert the UNICODE characters also.
It shows the preview of mailbox content before starting the conversion.
The software works on all versions of Outlook and Windows Operating System.
Software Video Guide: Export Windows Live Mail Emails to Outlook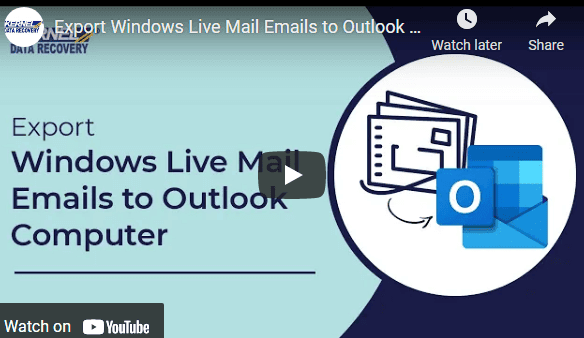 Conclusion
If you are looking to export your emails from Windows Live Mail and import them into Outlook on a different computer, we have outlined the steps for you in this post. The process is relatively simple, but it is essential to follow each step carefully to avoid errors. But we recommend you try out our full-proof, simplest, and most powerful tool. Its easy-to-use interface, and advanced features make it the best option for anyone looking to move their email messages from one platform to another. Try it today and see how easy it is to use!
FAQ
Q. I am having trouble opening up my exported Windows Live Mail emails in Outlook on another computer. What could be the problem?
A. There are a few potential problems that could be causing this issue. First, ensure you are using the correct version of Outlook on the other computer. Second, check that both computers' email account settings are the same. Lastly, ensure that the file format you are exporting your emails in is compatible with Outlook.
Q. Is it possible to export only selected emails from Windows Live Mail?
A. Yes, it is possible to export only selected emails from Windows Live Mail. To do this, you must first select the emails you want to export and then go to the File menu. From there, you will need to select the Export option and choose the format in which you would like to export your emails. After that, you must select a location on your computer where you would like to save the exported file and then click on the Save button.
Q. Does Windows Live Mail still work in Windows 10?
A. Yes, Windows Live Mail is still supported in Windows 10. However, Microsoft no longer supports it and recommends that users switch to the built-in Mail app included with Windows 10.