Read time 7 minutes
Are you planning to implement work from home for your employees or have you done it already? We bring you some important tips both for employees and employers to boost the productivity. Let us proceed.
Work from home is a facility which many organizations use when in need or implement on a regular basis. Yeah, it right! Most of the organizations today are practicing work from home on a regular basis depending on the requirement. The work from home facility can be planned and used effectively if certain points and things are kept in mind. Here, you would come across the some smart tips to follow for improving work efficiency and productivity.
What Employees Do Need to Work from Home?
Here is the list of things necessary for employees to do Work from Home:
A Laptop or computer with necessary accessories like headphones, mic, mouse, etc.
An uninterrupted internet connection (make sure the Internet is not too slow).
Professional communication applications like Skype, Messenger, Email Client, etc.
A work space (and furniture) to sit and carry out the work.
Before implementing Work from Home, the employer should ensure that all these facilities are available with all employees. Next, we have the best practices to follow while doing Work from Home.
Smart Work from Home Tips
Go through these helpful tips to make your working from home more productive and efficient.
Plan in Advance – Be Prepared
A proper planning should there before implementing Work from Home. Both employees and employer should know the time/date of availability, task nature/details, medium of task submission, duration of work, break timings, etc. beforehand to avoid any confusions, hassles or time wastage. It is suggested to collect all these necessary details before actually starting Work from Home. This practice is always helpful and is a smart move.
Decide a Workplace – Make it Permanent
The place for working from home should be permanent and spacious, and should have Wi-Fi or some other internet connection. It should be away from the chaos – for example, not near living room or play room, and should have all the things needed for the work.

For effective working, you can try arranging the same sort of furniture as in an office, i.e. work table and chair as you were using in the organization premises to adapt to the working environment faster and then work conveniently. Make sure that your movement from your workplace is convenient so that you can easily take breaks in between for reducing stress and boosting productivity.

Dress Professionally – Be Ready for Surprise Meetings
People working from home should dress professionally in case they have to attend video conferences or meetings where they need to show up themselves. Also, if you are unsure about any random meetings, just prepare yourself everyday from the morning in the professional attire only. It will give you a feel of working from the office.
Cut Off All Distractions – Inform Your Family About Your Work
For working effectively, especially from home, there is a subtle need of distraction-free work environment. If you have family or kids in your home, you can explain them that you are working and need solitude at that time. Also, as mentioned above, you can try keeping your workplace away from the noisy areas which includes living room, kids' room or play room. Having prior care about this would let you complete your task in the specified time easily.
Analyze the work – Make a plan
To provide a quality work, take out sometime in the beginning to analyze the work, its nature and your approach towards it. Having a proper planning is the best practice to produce a good result. Clear your doubts with your seniors online before starting the work and do not compromise with the quality. Try to give the best shot even when working from your home.
Know Your Target and Limits – Complete on Time
Once the task is assigned, you should first analyze it and get clarity about the expected target for the day. You should know the requirement of your work and then only you can achieve the daily target.
Mange the Breaks – Stay Healthy
Taking intermittent breaks are equally important as this helps in reducing stress due to continuous sitting, eye strain due to looking at the monitors, etc. Other than lunch and coffee breaks, a little moving around from the place and stretching would be helpful to reduce the fatigue due to work.

A good balance of breaks with the workload is the key to efficient and quality work. Try taking small breaks every 2 hour to stay healthy.

High Productivity Period – Know It
While working from home for some days, you would get to know about your most productive period where your work speed and efficiency is on the top. This is the period where you don't feel lazy and are super-active on your work. Once, you know and is sure about this high productivity period, you can utilize it best in your favor. Also, you can work in improving your lazy time period.
Relax With Music – Soothe Your Mind
As a remedy for the stressed out work schedule, music can be your companion. If you are working for too long and feeling bored, you can just listen to your favorite playlist at a mild volume so that it would not affect you otherwise. Music can lighten up your mood and can make you fresh again to provide your best to the work.
Set a Time for Taking Calls – Schedule the Work
Your near ones and friends should be aware of your Work from Home practice and about your availability for them. You can inform your friends, colleagues or relatives about the specific time in which you could take calls. Doing this would let you not be disturbed by in-between calls during work and meetings.
The above tips are helpful for employees while pursuing Work from Home. Employees should adopt these tips to work more effectively while working from their respective homes. But don't think we have no help for the employers who assign tasks to employees and managers who have to make work accomplished under their supervision.
For employer's help, we have the most professional way to monitor what their employees are doing on their respective computers even while working from home. We are bringing the most effective and robust third party software known as the Employee Desktop Live Viewer.
The advanced tool can be installed on the employer (admin) system and agents can be installed on employee systems for employee monitoring purposes. The simple and interactive user-interface of the monitoring tool make it an easy-to-use tool for employers. The welcome screen of the Employee Desktop Live Viewer tool looks like this.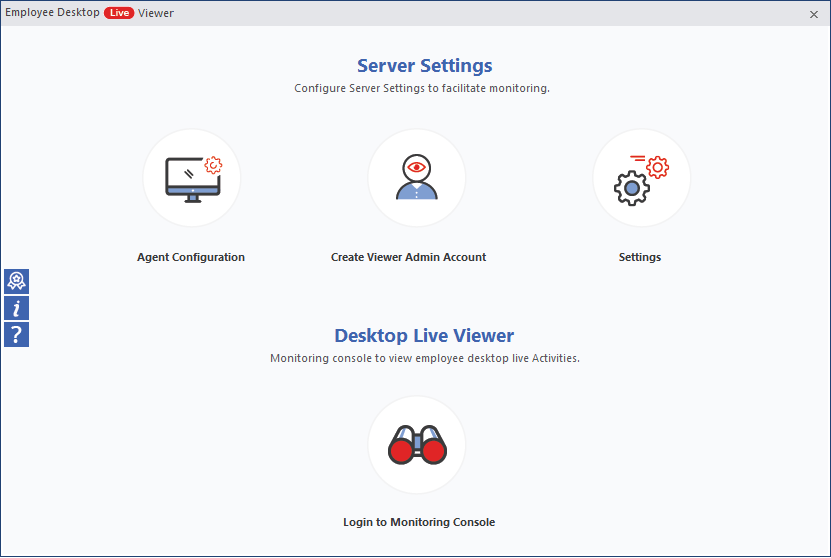 You can add any number of computer systems for monitoring as an employer via IP addresses of their systems. It provides uninterrupted monitoring, live viewing, recording and downloading videos of the selective systems as per the choice of the employer or admin. All the tasks are easily performed and the tool even warns its admin or user for emergency, shutdown or restarts the system automatically in such cases. It can monitor dual systems and supports all geographical locations for the monitoring purpose. There is customization option as well where you can set the picture quality, video retention time period, change the pop-up message as per your choice. This pop-up message appears on the configured or added employees' systems on a specified time interval to let them know they are under monitoring which ultimately develop a sense of discipline among them and inspire them to work more efficiently.
Most important function by the tool is that admin using this tool on his system can assign viewing or monitoring rights to other system users which means there could be more than one person to monitor the employees' system activities. So, along with the helpful Work from Home tips, you got a helpful monitoring tool in your hands which you can analyze for free upto 15 days using its demo version downloadable from the website.
Conclusion
The blog justified its topic by providing the most helpful and productive tips which can boost work efficiency and productivity of employees while working from home. Each point is described with some suggestions related to it. Nonetheless, for employers help in monitoring their employees from their homes, a professional and powerful employee monitoring software is suggested with description of almost all its crucial features helpful to the employers of the organizations.
Tips to Remote Monitoring Work from Home Employees