Read time 3 minutes
We take immense pleasure to introduce the latest version of the software which is highly user-friendly and easy-to-use. The software has proved its efficiency over the years. The tool got better with every updated version during this period. It is an extremely professional tool that helps to repair corrupt SQL database and recover complete SQL database objects without missing any information.
Latest Features and User Benefits
Here are the latest features of the software:
User-friendly dashboard with a refined taskbar
Clear selection options.
Modern design and attractive, uncluttered graphics with zero ambiguity.
Exclusive Features of the Tool
Repairs and fixes SQL database issues
Extracts and recovers lost and inaccessible SQL database content.
Restores complete database objects successfully.
Displays the preview after recovery before saving the objects.
Offers intelligent saving modes – SQL Server and Batch File Mode
Maintains hierarchy and integrity of data.
Supports UNICODE characters for DB recovery.
Widely compatible with all the versions of SQL Server, Windows, and Windows Server.
SQL Recovery Tool Interface
Let's take a detailed look at the latest interface of the Tool:
UI for File Selection and Database Selection:
Easy database selection using the Browse button.
Easy Temp file path selection using the Browse button
SQL database recovery modes mentioned clearly.
Database version can be selected automatic or manually.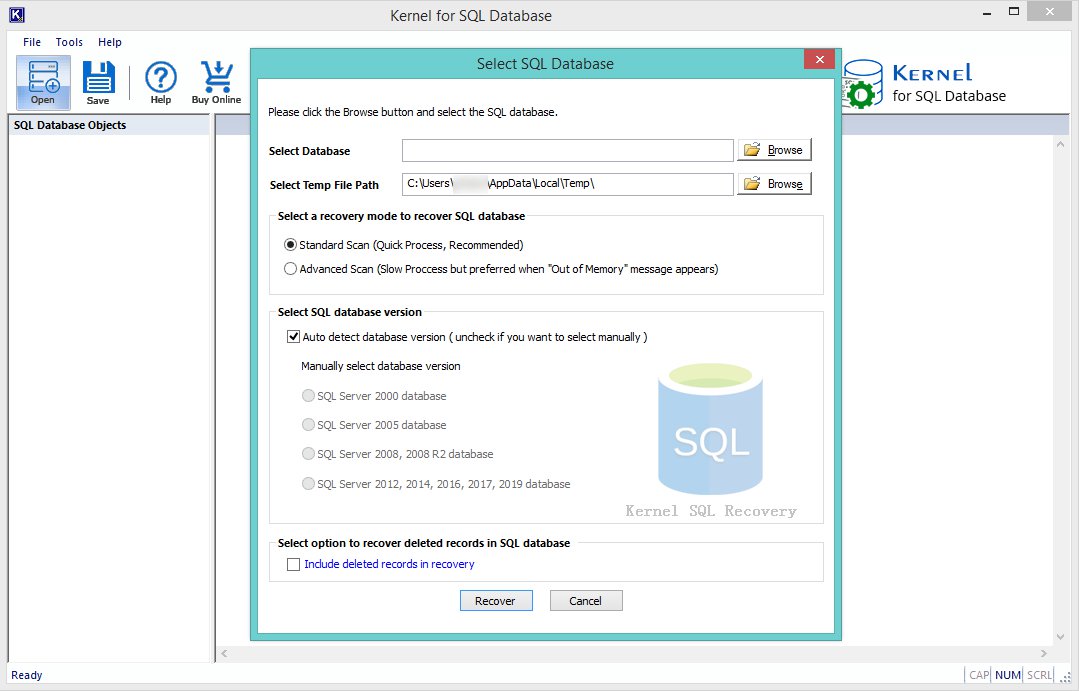 UI for Database Processing:
Displays the progress of data retrieval process.

UI for Content Preview:
All the database objects are listed in left–pane in original hierarchy.
File saving and help options are visible on the menu bar.

UI for File Saving:
Two Saving modes – mode selection is straightforward.

UI for Process Completion:
Displays process completion message.

Final Words:
The latest version of Kernel SQL Database Recovery is equipped with an enhanced algorithm that has upgraded the recovery process speed. The software can recover the database items before the severely corrupt files and provide you a clean preview. The relationships and dependencies between the tables will be protected, and you can continue to use the database quickly again.