Read time 8 minutes
Summary: This article discusses the significance of videos in modern life, the challenges of format compatibility, and introduces free video conversion tools like Kernel Video Converter, Any Video (AVC), DivX Converter, HandBrake, and Movavi Converter, emphasizing their features and usability.
Videos have become an integral aspect of our lives, whether we stream them online or save them to our devices. Today, people are actively producing their own video content for sharing on various platforms like social media, websites, and cloud services. What's exciting is that videos can be generated in a variety of formats to suit specific requirements.
However, a significant challenge with video formats is their lack of universal compatibility across different operating systems, devices, and video players. Consequently, when the need arises to convert a video file, individuals often seek out free video conversion tools. Moreover, there is also a demand for tools capable to repair corrupt video files. In this article, we will explore the top free video conversion tools available for converting your video files.

Instant Solution
Try Kernel Video Converter Software. It is best converter software to convert MP4 files to MP3, MOV, AVI, FLV, 3GP and many other video formats.
Best Video Conversion Tools
Prior to crafting this article, we conducted extensive research to assess the essential features that a video conversion tool should provide. Following a comprehensive review of numerous tools, we have determined that an effective free video file converter should include the following key features:
Easy to use with minimum steps
Offers quality video output
Provides a variety of input and output formats
Quick conversion of 4K video files to any format
Fits your budget
Offers a free trial
Now, let's have a look at the tools that made it to our list.
Kernel Video File Converter

The tool allows you to convert your video file to any file format, including MP4, MOV, MPEG, MKV, AVI, WMV, FLV, M4V, 3GP, TS, etc. Besides, it offers a variety of features such as:

Offer full conversion of all types of video files
Multiple video file conversion at a time to numerous formats
No file size limitation on conversion of video files
Ideal for Windows, Mac, and Smartphone video file formats
User-friendly interface that offers a simple conversion process

You can use the free trial version of the tool that enables you to save 15 sec of the video after conversion. You can have a look at the working process to know the tool better.

Download and install the tool on your system.
From the home screen, click the '+' button to add the videos for conversion.

After uploading the videos, click the Next button.

From the Select Output format tab, select the specific video format for conversion, and click Convert Now.

Choose a specific location to save the converted video and click Ok.

The software will start converting the video files. In the meantime, you can see the process on the screen.

Once it is complete, you can close the software.

This method offers the most straightforward way to convert video files into any desired format. What sets this tool apart is the absence of bothersome ads or promotional content during your use of the trial version. The decision to acquire the full version is entirely up to you, making for a hassle-free user experience.

Video Tutorial: Free Video Conversion Tool to Convert Video File to any File Format

Any Video (AVC)

This is a freeware tool capable of converting video files, ranging from DivX and MPEG4 to VOB, as well as over 60 other formats. Whether your aim is to generate customized video outputs or easily switch to another specific format, AVC empowers you to accomplish both tasks effortlessly.

Designed with an attractive and minimalist interface
Provides batch processing for converting multiple files simultaneously
Saves converted videos to a pre-designed folder for quick access
Converts audio from any given video into a limited number of formats

Although it's a free converter tool, it is also available in a premium version, which offers extensive features and functionalities.

DivX Converter

DivX Converter is equipped with a range of features and built-in options for video file conversion. While users may encounter multiple notifications and pop-ups encouraging an upgrade to the premium version, it's worth noting that the trial version still offers a wealth of features and functionality.

Gives access to editing tools to tweak videos as per your requirements
A clean and promising interface with many output options
Supports Google Drive and Dropbox for uploading and converting videos
Options to select resolutions, aspect ratio, changing bit rate, etc.

If you need to work with video editing and conversion, then purchasing the pro version is helpful.

HandBrake

HandBrake is a fully open-source freeware tool designed for video conversion and is accessible for download on Windows, macOS, and Linux platforms. Typically, when users download free video conversion tools, they may encounter ads and prompts to install additional applications. However, HandBrake distinguishes itself by not subjecting users to such inconveniences.

A simple user interface with easy-to-follow instructions
Provides plenty of editing options and output quality videos
Supports more than a dozen output formats, such as MP4, MOV, MPEG, etc.

However, the conversion pace of the tool is a bit slow as compared to paid video file converters.

Movavi Converter

This software offers a 7-day free trial during which you can convert the first half of each video file. While you may receive reminders and pop-ups prompting you to upgrade the tool, you won't encounter any ads or messages for additional software installation. Furthermore, opting for the premium version eliminates these issues altogether.

Offers a clean, modern interface with easy navigation
Gives high-quality output, fast conversion, and up to 4K in output resolution
Comes with a solid number of preset profiles with 17 output formats
Available for Windows and Mac operating systems
After the free trial, you will have to purchase the full version of the tool to convert your videos regularly.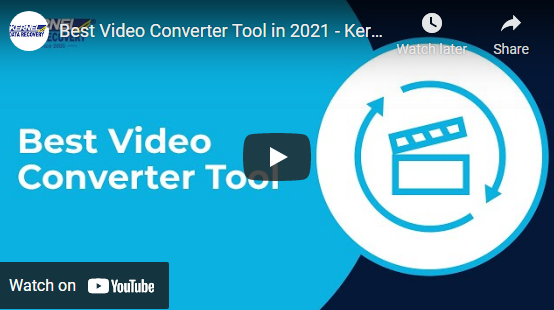 Conclusion
Video file conversion becomes a fundamental necessity when certain formats fail to align with your operating system or preferred media player. In this article, we've discussed the top free video conversion tools available for your use. You have the flexibility to select the tool that aligns best with your specific requirements and budget constraints.