Read time 4 min
Office 365 has become the most preferred platform for organizations and individuals to manage their day-to-day tasks and activities. But keeping all your crucial data on the cloud can be risky as you never know what can happen. So, creating a regular backup is the best thing you can do to save your Office 365 data. Check the below points to understand why we need Office 365 backup.
Accidental Deletion of Mailboxes:
As an administrator, you may delete a user mailbox whether you meant it or not. Having a backup can help you restore the mailboxes from backups.
Security Threats
There is always a risk of a security compromise with Office 365 data. Backing up data regularly reduces the risk of security threats.
Legal Requirements
It is vital for any organization to retain data for litigation purposes. And it is mandatory to meet regulatory compliances.
Kernel Office 365 Backup & Restore is one of the most useful tools to backup data from Office 365 mailboxes. Also, this Office 365 Backup software provides a convenient way for the users to restore their PST data to Office 365 mailboxes.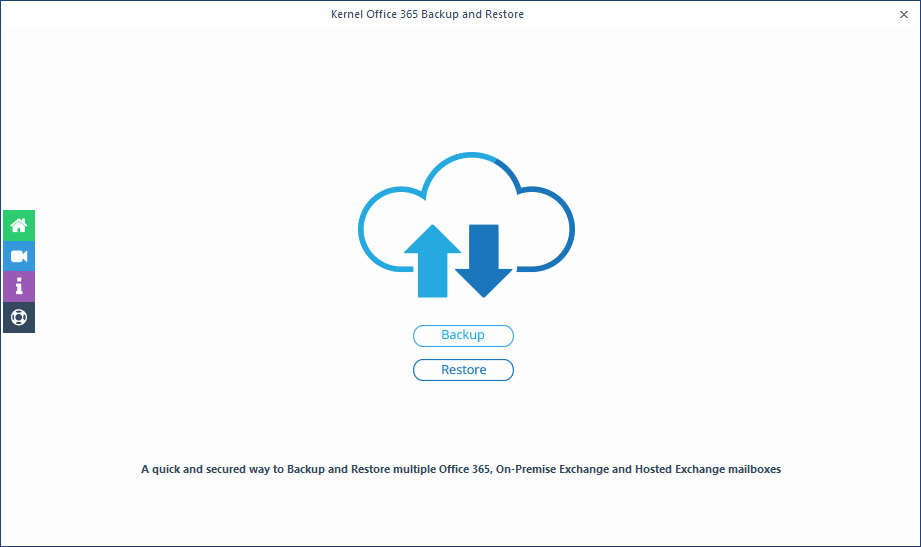 Kernel Office 365 Backup & Restore, a tool recommended by many MVPs, offers many benefits, such as
Backup Multiple Office 365 Mailboxes to PST
This software allows users to back up multiple Office 365/Exchange mailboxes to PST files. This is helpful for Office 365 administrators as they can back up multiple mailboxes associated with the administrator account.
Import PST to Office 365
With Kernel Office 365 Backup & Restore, you can import the backup PST files directly to Office 365 or Exchange mailboxes.
Skip the Already Migrated Data
If you have recently created a backup for your Office 365 mailboxes, then you do not have to back up the entire data at the time of the next backup. With the "Skip the already migrated data" option, you can backup only the newly migrated data.
Run Multiple Processes
The software allows you to run multiple backup/import jobs simultaneously. It means if one backup is running already, then also you can initiate more backup or import tasks.
Backup Archive Mailboxes, Shared Mailboxes, Groups, and Public Folders
Kernel Office 365 Backup & Restore tool gives the facility to backup archive mailboxes, shared mailboxes, public folders, and Office 365 groups. Also, the Outlook PST file can be easily imported to Archive Mailboxes, Shared Mailboxes, Groups, and Public Folders.
Use CSV File to Add Multiple Mailboxes
This tool provides an advanced option to add multiple mailboxes using a CSV file. This feature saves a lot of time and effort and accelerates the Office 365 backup/restore process.
Advanced Filtering Options
The advanced filtering options of this tool allow users to filter the mailbox content based on From, To, Date, Item Type, etc. You can also exclude empty folders and Deleted Item folders during backup and restore.
Work Without Installing Outlook on Your System
One of the greatest benefits of using this tool is that you do not need Outlook installed on your system to perform backup or restore. Simply, download the software on any Windows system and backup Office 365 mailboxes without Outlook.
Save Summary Report in CSV File
Once the backup/restore process is complete, the tool will display a process report. You can save this report in CSV format on your system.
Summary
The blog was based on the crucial features and benefits explanation of the most advanced Kernel Office 365 Backup and Restore tool for users requirements related to back up of the cloud data efficiently and automatically without any loopholes or fear of data loss with a simple process but advanced benefits to all types of users whether technical or non-technical.