Read time 7 minutes
"Outlook.com," previously known as Hotmail, is a webmail service owned by Microsoft. Soon after, when Microsoft acquired Hotmail in the late '90s, it was re-launched as "MSN Hotmail." Later, it was renamed as Windows Live Hotmail and was available as one of the integrated components of Windows Live Suite of products. However, it was again re-branded with the name "Outlook.com" in 2012. Just like other webmail services, Outlook.com also provides a variety of email-based functionalities such as sharing email messages, calendaring, contacts, notes, etc. If you are using Outlook.com as the main email ID, then you must have a lot of crucial data stored in the mailbox, which for sure needs to be backed up.
Many individuals ask why there is a need for backing up your Outlook.com emails if it already available online? Well, the answer is quite evident because we often hear about attempted account thefts, bank account hacks, and various other data intrusion activities. Anything available online can be hacked or accessed by professional hackers. Therefore, baking up your emails as a precautionary measure is considered crucial for data security.
How to Backup Your Outlook.com Emails?
Backing up your Outlook.com emails is quite easy, all you have to do is open Outlook.com, log in to your email account, select the Export option, and download the mailbox data.
Follow the given instructions to do it more precisely:
Step 1: Open Outlook.com in any convenient web browser and sign in to your Outlook.com email account.
Step 2: Click the gear icon and click View all Outlook settings link.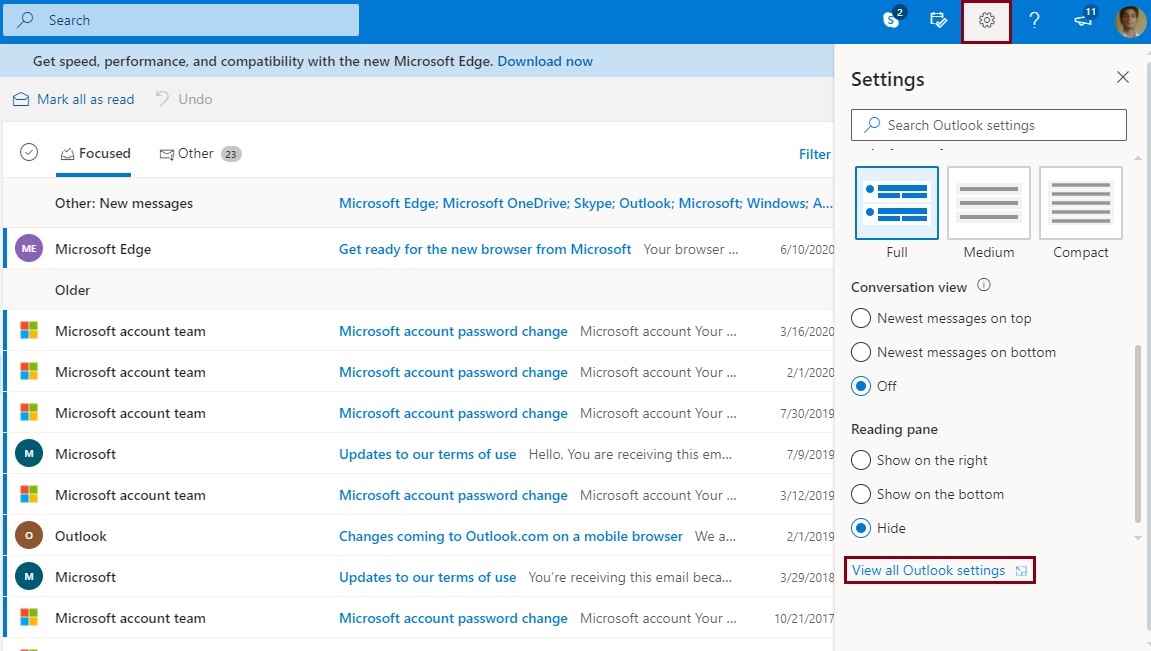 Step 3: The Settings page will appear on your screen, select the General Settings tab and click on Privacy and data.
Step 4: Then, click on the Export Mailbox button.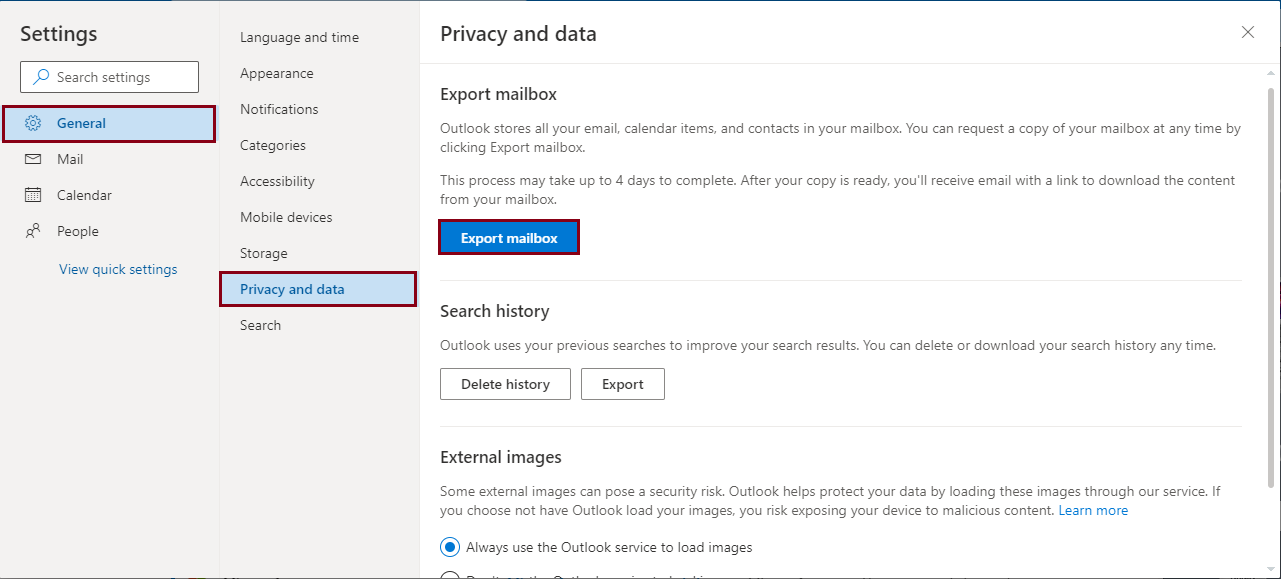 Step 5: Outlook.com has clearly mentioned that the Export process may take up to 4 days to complete. After the export process, you will get an email with a link to download your mailbox data.


After four days, check your inbox for the link to download your backup file. The downloaded backup file can be saved to any location of your convenience, whether internal or external.
Apart from the manual procedure to download a copy of your Outlook.com emails, you can also use a third-party Backup tool like Kernel IMAP Backup.
Kernel IMAP Backup is a tool designed to take the backup of your IMAP mailboxes. It allows users to take the backup in different formats like PST, EML, MSG, HTML, DOC, and PDF formats. The tool supports a wide range of IMAP services like Gmail, Yahoo, Outlook.com, G Suite, Amazon WorkMail, AOL, Zibra, etc. Here is how it works:
Launch Kernel IMAP Backup and click on the + Add button.

Fill in your Outlook.com login credentials. For crucial fields like Server Name/IP, see the information provided in the right-hand-side panel of the tool's interface. Click Add once you are done filling your login details.

Select the mail profile and click on the Set Filter and Migrate button.

De-select the folders which are not intended to be backed up, for instance; you can de-select folders like Junk, Drafts, Deleted, etc. You can also use the Date Filter to backup data in between a specified time frame. Select the other options like Exclude Deleted folder and Exclude empty folders as per your requirements. Once done, click on the I am OK, Start Migration button.

Select the required output format for the backup file and click on the OK button. For this demonstration, we have selected Outlook PST as the output format.

Provide a location to save the backup file (you can also create a new folder by clicking on the Make New Folder button). Then click OK.

Wait until the backup process gets completed.

You will finally receive a message on your screen confirming the completion of the process and asking you to save the report to CSV format. Click OK.

Now, click on the Save report to CSV link to download the report in CSV format. Click OK to finish the process.

The backup file along the report CSV file gets saved to the specified location.
Wrapping Up
Backing up your emails is important for maintaining the security and integrity of the data. Because of the growing data intrusion activities, backing up data is now a common practice carried out by all users. In this write-up, you will get the best possible solution for backing up your Outlook.com emails to your PC. Also, you can use the Kernel IMAP Backup tool to back up your Outlook.com mailbox with easy and quick steps.