Read time 8 minutes
PDFs are the most popular way to exchange documents in the corporate world right now. Hence the practice of protecting these files with passwords is quite common. There are times when we want to make changes to a PDF file or copy or print it for so many reasons. If you are here, then most probably you too are looking for such a solution that can help you to open or edit a PDF file. This blog is going to guide you through the process, but before that let us know a bit more about such files.
Initially, there are two types of encrypted PDF files:
PDF files with Open Password:These are the files that are encrypted with a password that opens them initially. If you do not have this password, you can never open the file or view it for that matter.
PDF files with Owner Password:These are the PDF files that are encrypted in such a way that even if the user is able to open them, they cannot make changes to it. To make changes in such a file, the user will need to enter the password.
Now we know that there are two types of encryption in a PDF file. In this blog, we are going to unlock a pdf file with Owner password with manual methods. And we are going to discuss an automated tool that can unlock both types of passwords from a PDF file.
Remove the Password Using Google Drive
The very first way we are going to suggest removing the password of a PDF file is by using Google Drive. There are not many reliable ways to open a PDF file. Google Drive is one of the most reliable methods and hence there is no threat in using it. Let us see how to get results using it:
Note: Before moving towards the solution, make sure that you have a Google Drive account.
Open a browser and there open Google drive by logging into your account.
Now import your PDF file to the Google drive. You can do it by uploading the file into the drive, let's continue.
Now, look for the Settings icon (the common gear icon) and click on it.
From the drop-down menu, select Settings.
In the new settings window, look for the Convert uploads and check the box beside Convert uploaded files to Google Docs editor format. Click Done.
Now, add the password protected PDF file to proceed with the process of opening it. For this, click on the New button.
Now, select File upload, and upload the targeted file.
Locate the file on your system and add it like this. Click on Open to add finally.
After selecting the password protected PDF file, click on the Open with option, and then select Google Docs as the program to open it.
Now, click on the File button on the top of the Google Docs page, and click on the Download as option and then select Microsoft Word (.docx).
If this process works for you, fine; if not, move to the next method.
Open a Secured PDF File Using Google Chrome
Just like Google Drive, Google Chrome can also be a great help in removing the password of an encrypted PDF file. Let's see how it can help you:
Start with opening the Google Chrome. Once it is opened, drag and drop the targeted file into the browser.
The Chrome will notify you that 'the file is encrypted, so enter the password and proceed.'
Now in the PDF toolbar, look for the print icon and click on it.
In the print window, click on the Change button and select Save as PDF. Click on the Save button to proceed.
Now, you will be asked to provide a destination and a name to the file. Do that and proceed.
By following all of the above mentioned steps, you will be able to unlock a secured PDF file.
As it may also happen that the process didn't end up as you thought it would, and you will be unable to open the file. In this case, the next method is the final and only solution that will work for you.
Remove all PDF Restrictions for Free (up to 200 KB PDF File)
When nothing works for unlocking PDF files, Kernel for PDF Restriction Removal will not disappoint you at all. This PDF restriction removal tool is not complicated at all and gives you guaranteed results. It is reliable, user-friendly and result-oriented. It easily removes all the restrictions from a PDF file and lets the user copy, edit, and print the document. This tool makes not a single alteration to the original structure and format of the file and supports all versions of PDF creators and Windows OS.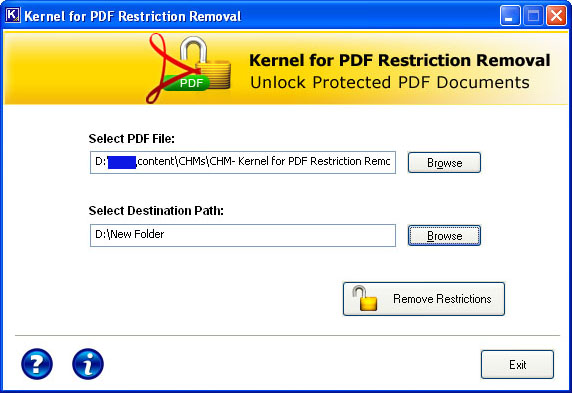 The simple user interface allows users to perform quick removal of password from a PDF file by browsing the file from the source folder and using Browse option to save the PDF file with no password at the desired system folder location. The process is completed in a single click and this service is free for PDF files up to 200KB size only. To remove passwords from bigger PDF files, you need to purchase the full version of the software from its official website – PDF Restriction Remover to Remove PDF Security from Encrypted PDF Files
Conclusion:
In this blog, we have discussed how a user can open a password protected or secured PDF file with three different methods. We used the most reliable methods to do so. We also introduced an effective software that can remove print restrictions from PDF file. It is the safest method to do so and hence it is highly recommended. Hope this helped you.