Read time 8 minutes
Summary: When attempting to access a corrupted or damaged PDF file, various errors may arise for users. If the problem is minor, manual remedies such as re-downloading the PDF from the source, reinstalling the PDF reader application, or restarting the system/application may prove effective. However, when dealing with severely damaged PDF files, the most prudent option is to rely on an advanced PDF Repair solution for file restoration.
PDFs currently dominate document exchange in the corporate world, making password protection a common practice. There are instances when we need to modify, copy, or print a PDF file for various purposes. If you're here, chances are you're seeking a solution to access or edit PDFs. In this blog, we'll walk you through the process, but first, let's delve into some insights about these file types.
Initially, there are two types of encrypted PDF files:
PDF files with Open Password:These files are secured with an initial password, granting access only to those with the correct password. Without this password, the file remains inaccessible and cannot be viewed under any circumstances.
PDF files with Owner Password:These are PDF files encrypted in a manner that prevents users from making any alterations to their content, requiring a password to be entered if changes are desired.
Now we know that there are two types of encryption in a PDF file. In this blog, we are going to unlock a pdf file with Owner password with manual methods. And we are going to discuss an automated tool that can unlock both types of passwords from a PDF file.
Remove the Password Using Google Drive
One effective method for removing the password from a PDF file is through Google Drive. When it comes to trustworthy options for opening PDFs, Google Drive stands out as a highly reliable choice, eliminating any security concerns. Now, let's explore the steps to achieve this successfully:
Note: Prior to proceeding with the solution, ensure that you possess an active Google Drive account.
Launch a web browser and access Google Drive by signing in to your account.
Next, bring your PDF file into Google Drive. You can achieve this by uploading the file to your Drive. Let's proceed.
Now, look for the Settings icon (the common gear icon) and click on it.
From the drop-down menu, select Settings.
In the updated settings window, locate the option labeled "Convert uploads" and mark the checkbox next to "Convert uploaded files to Google Docs editor format." Then, click the "Done" button.
Now, add the password protected PDF file to proceed with the process of opening it. For this, click on the New button.
Now, select File upload, and upload the targeted file.
Locate the file on your system and add it like this. Click on Open to add finally.
After selecting the password protected PDF file, click on the Open with option, and then select Google Docs as the program to open it.
To initiate the process, access the Google Docs page and navigate to the top where you'll find the 'File' button. Click on it, then choose the 'Download as' option, and finally, opt for the 'Microsoft Word (.docx)' format.
If this process works for you, fine; if not, move to the next method.
Open a Secured PDF File Using Google Chrome
Similar to Google Drive, Google Chrome can be a valuable tool for removing the password from an encrypted PDF file. Let's explore how it can assist you in this task:
Begin by launching Google Chrome. After it has opened, simply drag and release the desired file into the browser.
The Chrome will notify you that 'the file is encrypted, so enter the password and proceed.'
Now in the PDF toolbar, look for the print icon and click on it.
Within the printing dialog, select the "Change" option, and then choose "Save as PDF." To continue, simply click the "Save" button.
Now, you will be asked to provide a destination and a name to the file. Do that and proceed.
By following all of the above mentioned steps, you will be able to unlock a secured PDF file.
Sometimes, the outcome of the process may not align with your initial expectations, resulting in the inability to open the file. In such instances, the subsequent method represents the ultimate and sole solution that will effectively resolve the issue for you.
Remove all PDF Restrictions for Free (up to 200 KB PDF File)
When nothing works for unlocking PDF files, Kernel for PDF Restriction Removal will not disappoint you at all. This PDF restriction removal tool is not complicated at all and gives you guaranteed results. This tool is known for its reliability, user-friendliness, and effectiveness. It effortlessly eliminates restrictions from PDF files, enabling users to copy, edit, and print their documents without making any alterations to the original file's structure and format. It is compatible with all PDF creator versions and Windows operating systems.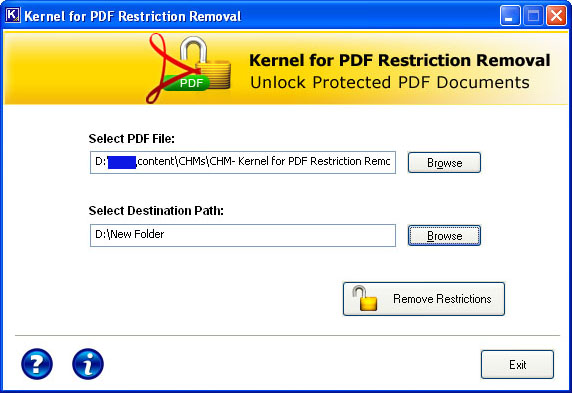 The intuitive user interface enables users to swiftly eliminate passwords from PDF files. You can select the PDF file from your source folder and utilize the "Browse" option to save the PDF without a password in your preferred system folder. This entire process can be completed with just one click, and it's free of charge for PDF files up to 200KB in size. To remove passwords from bigger PDF files, you need to purchase the full version of the software from its official website – PDF Restriction Remover to Remove PDF Security from Encrypted PDF Files
Conclusion:
In this blog post, we've explored three distinct approaches for unlocking a password-protected or secured PDF file, employing the most dependable techniques available. We also introduced an effective software that can remove print restrictions from PDF file. It is the safest method to do so and hence it is highly recommended. Hope this helped you.