Read time: 5 minutes
Summary: If you're in the process of contemplating a migration from SmarterMail to Office 365 and are struggling to find the ideal solution, you've come to the right place. In this blog, we will guide you through both manual migration methods for transferring your SmarterMail mailbox to Office 365 and introduce an automated solution designed to alleviate the complexities typically associated with this process.
SmarterMail stands as a renowned email and communication server, adept at uncovering critical business challenges. This trusted solution finds widespread use among corporate titans and entrepreneurial conglomerates, expertly bridging their communication divides. With its finely-tuned user interface, compatibility with tablets, cell phones, and more, SmarterMail empowers organizations with seamless and efficient communication capabilities.
Organizations are currently transitioning from SmarterMail to Office 365 for a variety of compelling reasons. In fact, numerous users have been actively seeking guidance on SmarterMail migration in various online forums.
For instance, a user within a prominent organization raised concerns regarding the extensive information SmarterMail requests, such as mailbox protocols and Exchange 2007 SP1 configuration details. This demands a substantial amount of time when navigating through these procedures, typically when employing manual methods.
Why Move to Office 365?
Office 365 has consistently captured the spotlight in recent years, owing to its myriad advantages compared to other email servers. It seamlessly integrates with a wide array of applications, including but not limited to Outlook, SharePoint, OneDrive, Teams, and more. Accessing this versatile suite of practical applications far surpasses the capabilities of a traditional email server.
In essence, Office 365 stands as the premier communication and collaboration platform in the market, affording users seamless access to their data from any location and at any time. Notably, Microsoft's subscription plans for Office 365 are exceptionally versatile, enabling you to tailor your choice to precisely match your needs. Furthermore, Office 365 simplifies and expedites the migration of your data from other email servers, making it a comprehensive and efficient solution for all your productivity needs.
Offers different plans as per business requirements to help them align their activities properly
Fosters great collaboration and improves the overall capabilities of the business
1 TB of storage space on OneDrive for each user, thus eliminating the need for physical storage space on different devices
Easy integration with CMS like SharePoint to help users store, organize, share, and access files
Advanced features for security to help you protect your data and personal information.

Due to these features, the normal email clients to want their migrate IMAP emals to Office 365 and used the facilities of Office 365.
Manual Ways to Migrate SmarterMail to Office 365
SmarterMail serves as an IMAP email client, necessitating a series of IMAP to Office 365 migration steps to successfully export your data. In this overview, we offer a glimpse into the intricacies of the SmarterMail to Office 365 migration process, highlighting its complexity.
First of all, enable IMAP in your SmarterMail.

Note: You'll need the server address, username, port, and password details of the accounts and server of SmarterMail accounts.

Create mailboxes and add licenses for each new Office 365 user. Create an endpoint for connecting SmarterMail server while creating different batches to migrate the data.
After migrating the batches, change the MX records to ensure that new emails are being routed to Office 365 mailboxes.
Once the migration is done, delete the migration batches to stop synchronizing the mailboxes.
The above method is ideal if you only need to migrate emails, but it doesn't apply to migrating tasks, calendars, and other items. But, this method can migrate zoho mail to Office 365 too. The manual process will remain same.
Alternate Solution for SmarterMail to Office 365 Migration
Kernel IMAP to Office 365 tool is a sophisticated solution tailored for seamless migration of SmarterMail mailboxes to Office 365. This versatile utility excels at migrating mailboxes from a wide range of email clients, including but not limited to Gmail, Yahoo, Amazon WorkMail, and many others. With this tool at your disposal, you have the ability to meticulously select individual mailboxes, map them effortlessly, apply filters for refined migration, and generate comprehensive migration reports, making the entire process remarkably efficient and user-friendly.
Provides requirement-based migration with advanced filtering options
Allows incremental mailbox migration to help you migrate data effectively
Integrated with advanced filters for selective data migration
Quick migration to Office 365 and different versions of Exchange Server
Offers easy compatibility with all IMAP email clients like Gmail, AOL, Amazon WorkMail, Zimbra, Rackspace, and more
Retains the hierarchy of the mailboxes while maintaining the tree structure
The tool is available as a trial version that allows you to test and migrate ten emails per folder to Office 365.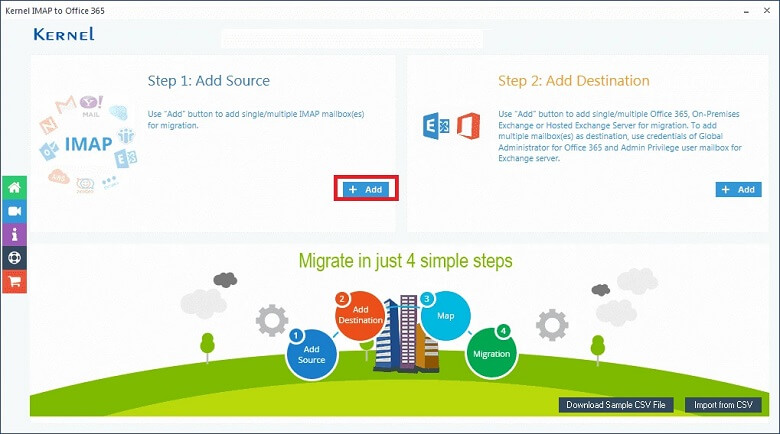 Wrap Up
Transitioning from SmarterMail to Office 365 presents a noteworthy challenge, notwithstanding the numerous advantages it offers. Fortunately, there are efficient automated solutions available to facilitate the migration of your data to Office 365. This article not only outlines a manual approach for swiftly migrating SmarterMail mailboxes to Office 365 but also delves into an automated alternative designed to simplify the process of migrating from SmarterMail to Office 365.