Read time: 5 minutes
Summary: If you're planning to migrate SmarterMail to Office 365 and not finding the right solution for it, then this blog is for you. Here, you will get familiar with the manual methods to migrate your SmarterMail mailbox to Office 365. Besides, we will also talk about an automated solution that removes all the hassle of migrating SmarterMail mailboxes to Office 365.
SmarterMail is a well-known email and communication server that helps you identify any major business issues. It is widely used by giant partnerships and venture associations to resolve their communication gaps. It comes with a well-configured UI, tablets, cell phones, etc.
However, organizations are now moving to Office 365 from SmarterMail for various reasons. In fact, many users have submitted queries on forums related to SmarterMail migration.
For example, a user at a leading organization complained that SmarterMail asks for mailbox protocols, Exchange 2007 SP1 configuration, and other details. Now, going through this process will take a lot of time. It usually happens while using manual methods.
Why Move to Office 365?
Office 365 has been the talk of the show for the past few years, as it offers multiple benefits over other email servers. It is integrated with various applications like Outlook, SharePoint, OneDrive, Teams, and many more. Having access to a hub of multiple practical applications is better than a normal email server.
In other words, Office 365 is the best communication and collaborative platform available out there. It gives you access to your database from anywhere and anytime. Besides, the subscription plans offered by Microsoft for Office 365 are very efficient. They give you the flexibility to choose a plan as per your requirements. Apart from that, Office 365 allows you to migrate your data from other email servers quickly.
Offers different plans as per business requirements to help them align their activities properly
Fosters great collaboration and improves the overall capabilities of the business
1 TB of storage space on OneDrive for each user, thus eliminating the need for physical storage space on different devices
Easy integration with CMS like SharePoint to help users store, organize, share, and access files
Advanced features for security to help you protect your data and personal information.

Due to these features, the normal email clients to want their migrate IMAP emals to Office 365 and used the facilities of Office 365.
Manual Ways to Migrate SmarterMail to Office 365
SmarterMail is an IMAP email client, which means you need to perform IMAP to Office 365 migration steps to export the data. Here, we have given just an overview of the SmarterMial to Office 365 migration process to show how complex the process is.
First of all, enable IMAP in your SmarterMail.

Note: You'll need the server address, username, port, and password details of the accounts and server of SmarterMail accounts.

Create mailboxes and add licenses for each new Office 365 user. Create an endpoint for connecting SmarterMail server while creating different batches to migrate the data.
After migrating the batches, change the MX records to ensure that new emails are being routed to Office 365 mailboxes.
Once the migration is done, delete the migration batches to stop synchronizing the mailboxes.
The above method is ideal if you only need to migrate emails, but it doesn't apply to migrating tasks, calendars, and other items. But, this method can migrate zoho mail to Office 365 too. The manual process will remain same.
Alternate Solution for SmarterMail to Office 365 Migration
Kernel IMAP to Office 365 is an advanced utility specifically designed to help you migrate SmarterMail mailboxes to Office 365. It is ideal for migrating mailboxes from various email clients like Gmail, Yahoo, Amazon WorkMail, and many more. You can select specific mailboxes, map, apply filters, and generate reports for each migration using this utility.
Provides requirement-based migration with advanced filtering options
Allows incremental mailbox migration to help you migrate data effectively
Integrated with advanced filters for selective data migration
Quick migration to Office 365 and different versions of Exchange Server
Offers easy compatibility with all IMAP email clients like Gmail, AOL, Amazon WorkMail, Zimbra, Rackspace, and more
Retains the hierarchy of the mailboxes while maintaining the tree structure
The tool is available as a trial version that allows you to test and migrate ten emails per folder to Office 365.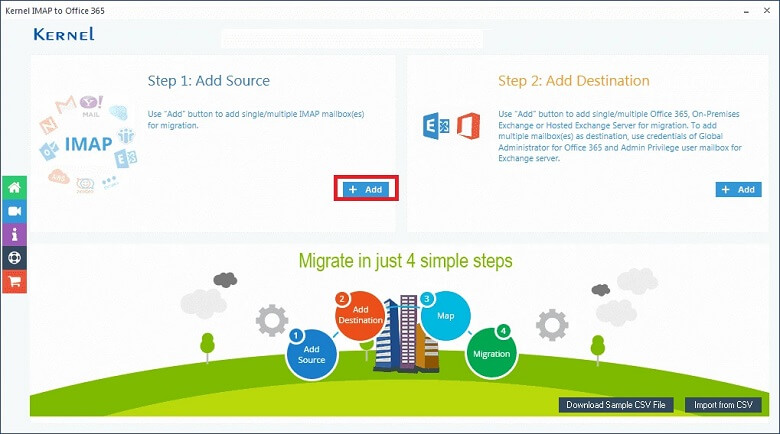 Wrap Up
Migrating from SmarterMail to Office 365 is challenging though it has many benefits. You can utilize an automated solution to migrate your data to Office 365. This article highlighted how you could quickly migrate SmarterMail mailboxes to Office 365 manually. Besides, we also have discussed an automated solution to help you perform easy SmarterMail to Office 365 migration.