Read time 8 minutes
"I just happened to know that my hard drive is corrupt and now I am unable to access my data. I need to get access to my files, they are very important and I cannot afford to lose them. For a better understanding of my situation, I would like to put this in notice that I do not have any backup stored or saved. Can I still get my data back? If yes, please help me with the best possible solutions. I am open for any type of solution, paid or unpaid, until they give results. Thanks a lot!"
Hard drives in our systems are as important as our systems itself. They keep our system working by saving a lot of required information and data. In such a scenario, when your hard drive gets corrupt, it is almost a nightmare for you to deal with. As mentioned in the above query, the user has very important data saved and want to restore it.
Restoring data from a corrupt hard drive is a very difficult and strenuous task. But, if you have a backup of your hard drive, then it becomes very easy to do so. Just get the backup file and install it in your system properly and get back all of your data in a new fresh hard drive.
But just like the above case, not many of us are fortunate enough to have a backup file and get their precious data back. Since no choice is left now, you can yourself try backing up the data and recovering the files folders from corrupt hard drives.
Symptoms of Corrupted Hard Drive:
Yes, the backbone of your computer is corrupted i.e. hard drive, that stores complete data of the system. Hard drive (it does not matter an internal or external hard drive) can be damaged and become unrecognized or inaccessible in Windows 10, 8, 7.

Here are some of the common symptoms of the corrupted hard drive
Drive reading invalid media type.
File system displayed as RAW.
Warning given by Windows asking you to format the drive – "disk not formatted. Do you want to format now?"
File names appear with weird characters.
Message pop-ups such as – "Sector not found."
After plugin of the external drive into PC, it does not read or show up anything saying – "External Hard Drive is not recognized."
The hard drive storage memory is shown as 0 bytes.
My Computer shows the drive name, but while opening it says: "You need to format the disk drive before you can use it."
Main Causes of Hard Drive Corruption:
There are many reasons for hard drive corruption, and it very important to know them. So, that you can adopt some healthy practices and avoid such uncertainty happening in the future. Moreover, knowing the reasons will also help you to pick the best solution. So, before moving any further, let's discuss this:
Reason 1: Corruption Due to Physical Damages
It is generally caused when the hardware gets crashed due to overheating of HDD, R/W head crash, poor contact data line, magnetic platter scratches, short circuit in control circuit board, sudden power failures, etc.
Reason 2: Hard Drive is too Old
Hard disks do have a certain service life. Beyond that, it may face errors and disasters.
Reason 3: Due to Damaged File System
The file system of an operating system manages and organizes files on the storage device. In simple terms, it is the door through which data is accessed on hard disk partitions. Hence, if the file system on internal HDD gets corrupted, the complete disk becomes inaccessible.
Reason 4: Corruption Due to Virus Attack
Due to virus attack, all the boot files that are stored in internal HDD will be damaged or permanently deleted. This may cause boot failure and your crucial data will be at high risk.
Reason 5: Corrupt Boot Sector
If the boot sector gets damaged, you might not be able to start your machine and your internal HDD data will become inaccessible.
Some Useful Prevention Techniques
We would like to share some useful tips to secure data due to system hard drive from getting crashed or corrupted.
Take regular backups of the system data
Keep system drivers, software, & installers updated
Check the system hardware and maintain it healthy
Install anti-virus and firewalls on your system
Keep a check on hard drive partition health, file formatting, etc.
Control the fluctuations of power supply to the system
Never perform forced shutdown on the system
METHODS TO RECOVER FILES FROM A CORRUPTED OR CRASHED DRIVE
Try given methods that can help in restoring the data. You can use the methods considering the issues you are facing.
Method 1: Run Scan Disk CHKDSK to Fix Corrupted Hard Drive
Follow the steps mentioned below:
Step 1: Press Windows + X, select Command Prompt (Admin)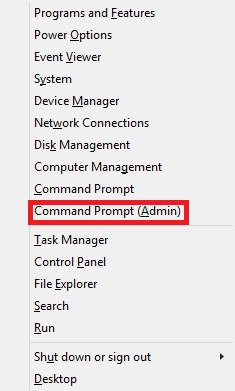 Step 2: To check for errors in the corrupted hard drive, type chkdsk and click Enter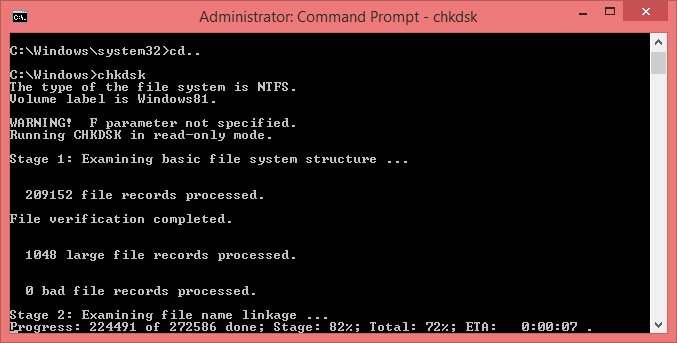 Step 3: Suppose the corrupted drive is D, type chkdsk D:/f/r/x to fix the drive errors.
Where "D" is the drive, "f" tells chkdsk to fix errors, "r" locates bad sectors on the drive and helps recover readable information, and "x" dismounts the drive forcefully before the process starts.
Method 2: Run a thorough Disk Check to Fix Corrupted Hard Disk
You can try checking errors on the specific system drive through its scanning. Check the complete procedure.
Step 1: Open This PC or My Computer or Computer, right click >> Properties.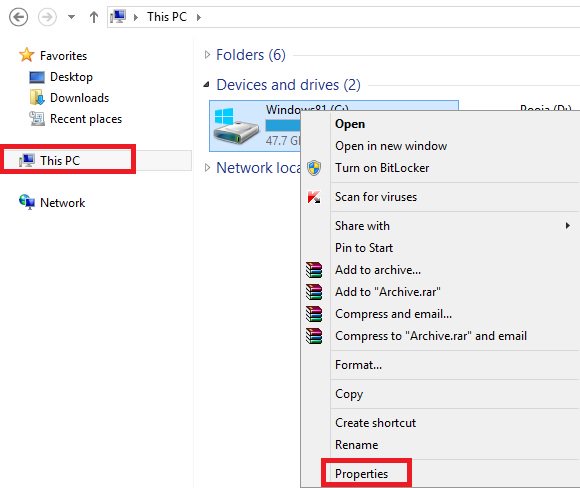 Step 2: Click Tools >> Error Checking >> Check.

Step 3: Select Scan Drive, restart your PC once the process is completed.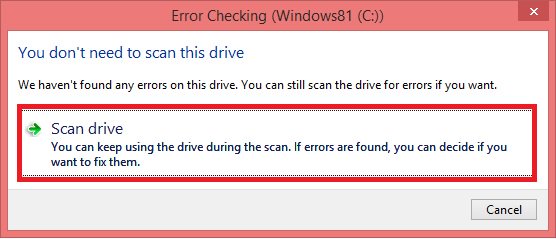 Method 3: Repair Corrupted Hard Drive Using Control Panel
Run a scan on the drives/programs using the following instructions:
Step 1: Press Windows + X and select Control Panel
Step 2: Click System and Security >> Action Center >> Maintenance >> Run Scan.
Step 3: Click Restart.
Just in case, none of the above methods works for you, we suggest you go for a third-party data recovery tool for Windows system.
Automated Windows Recovery Method
Try Kernel Windows Data Recovery software, if everything is in vain. It is an efficient tool that helps to recover data out of the corrupted hard drive.
Follow the 3 Quick Steps and Recover your Data Instantly:
Step 1: Simply select the corrupted drive or external HDD for data recovery.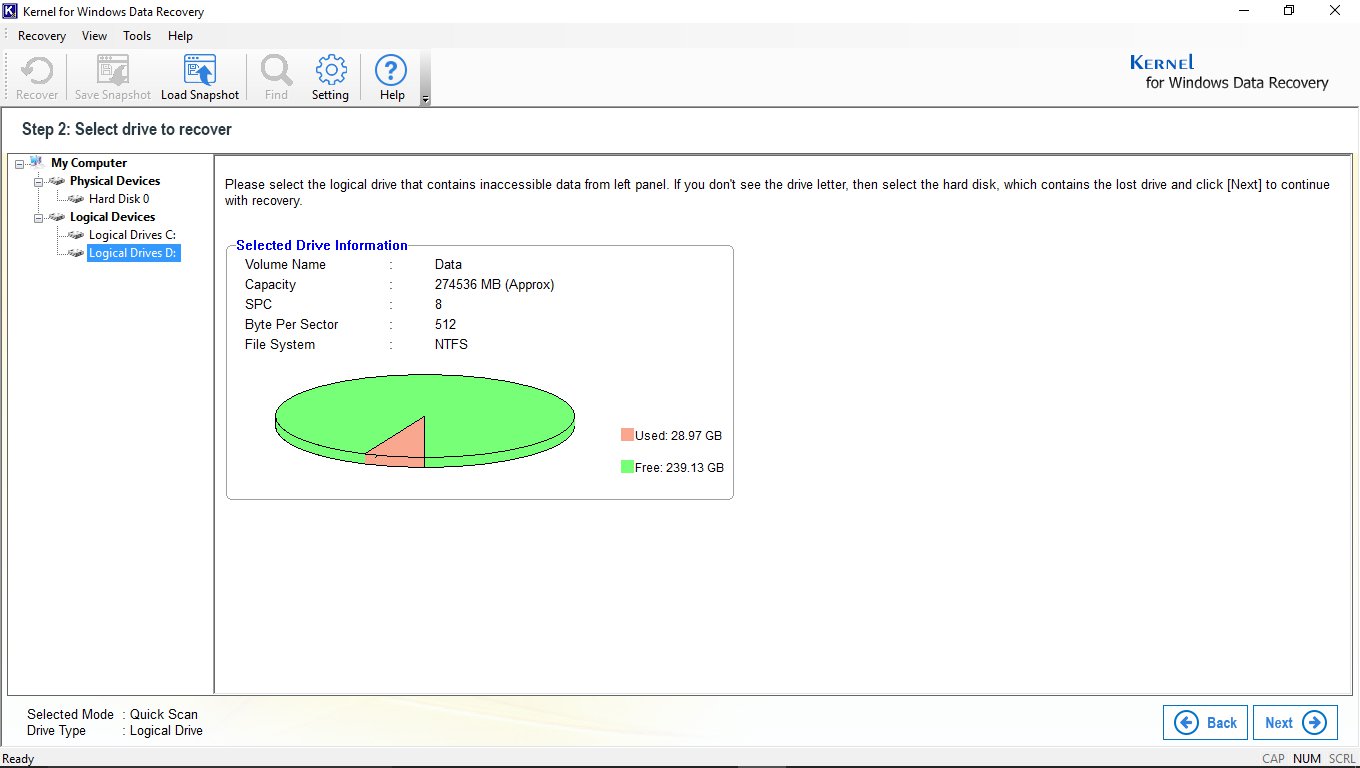 Step 2: Preview all the recovered data from the selected drive in its original format.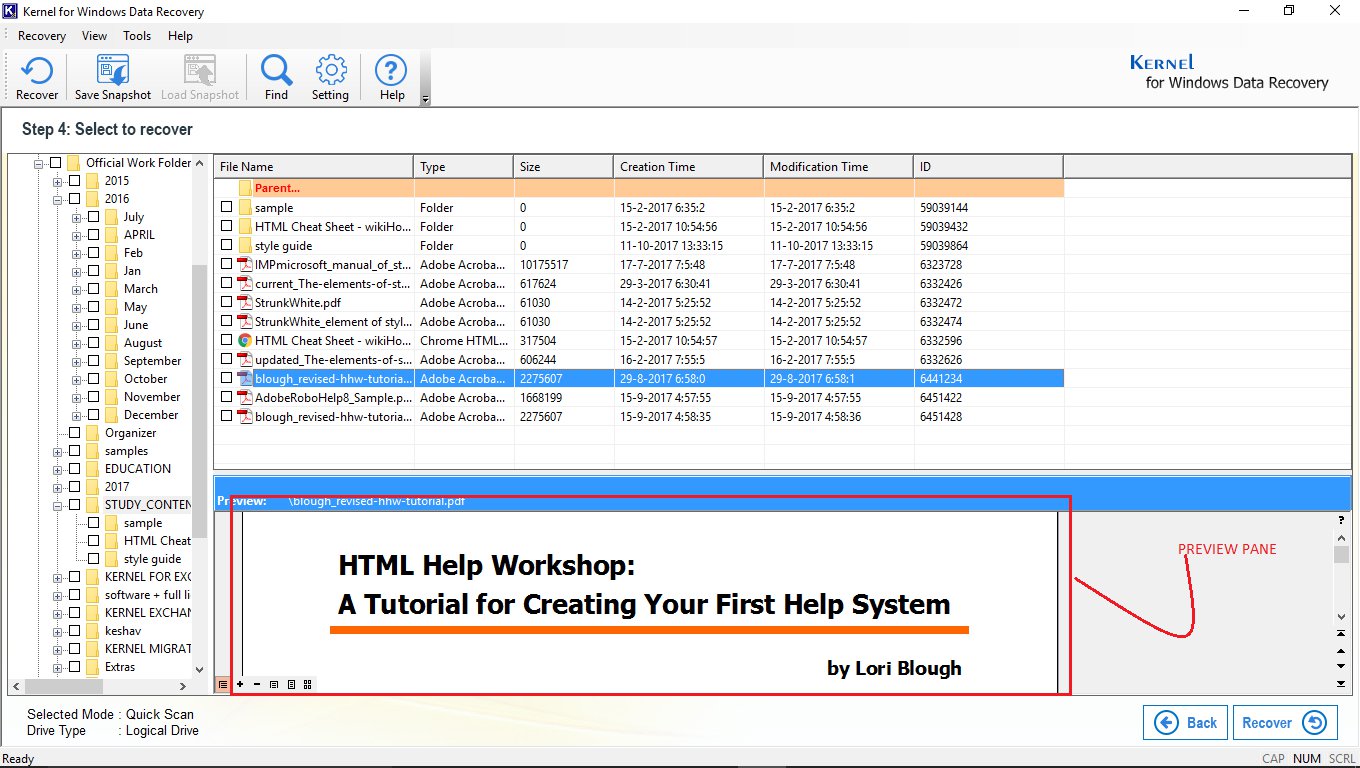 Step 3: Finally, restore the data by mentioning your desired saving location on the system.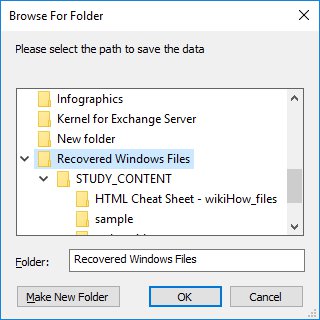 Now you have recovered your data. You can use it again smoothly.
Conclusion:
In this blog, we discussed corruption in the hard drive. A user posted a query where there was no backup to restore data from. So, we started with giving the possible reasons of the corruption followed by some preventive measures. We then mentioned some effective manual solutions for users facing a corrupted hard disk. A few powerful hard drive recovery methods are explained with the complete procedure. If you feel that these methods are complicated, a powerful software to restore files from corrupted/crashed drives is introduced.