Read time 6 minutes
Over the years, Microsoft Outlook has become an important part of our daily routine. We can send/receive emails, save calendar events, create tasks, meetings, journals, and much more. All this data is stored by default in data files that are automatically created by the MS Outlook email client.
Although Outlook data files contain complete mailbox data and many times these files are used to create additional data files for different purposes like categorizing, archiving, backup, etc. Do you know how to add Outlook data files? Here are some simple methods that will guide you to create data files (PST), remove data files and close them successfully.
What All is There in a PST File?
As we all are familiar with PSTs and working with them, we might know that it is a Personal Storage Table that contains all your information related to Outlook. But many of us are still not aware of all of the components of a PST file. Let's know what all is there in a PST file:
Inbox: Where you receive all your incoming emails.
Outbox: It is a folder where all your sending emails are held temporarily until they are sent without any issue.
Sent Items: A folder where all your sent emails are stored.
Drafts: A folder where all your incomplete or unsent emails are stored to resume working with them later.
Deleted Items: A folder where all your deleted items (not just emails) are held for a fixed period.
Junk Email: A folder where all your spam and junk emails land.
Search Folder: A virtual folder that contains all the emails in categories depending on the search criteria.
RSS Feeds: This folder contains all the latest feeds you have subscribed to.
Calendar: A calendar is used for scheduling and creating appointments, meetings, events, etc.
Contacts: Here you can save all your contacts with their names and email identities for quick access.
Tasks: Here you can create tasks and keep tracking them until they are done.
Notes: Notes are the quick reminders of certain things that you can make without interrupting your email flow.
Journal: A feature that can track your work activities during your working hours.
So, this is a detailed list of what a PST file holds. You can always have multiple PSTs for different purposes or just separate your data.
1-Add PST File in Outlook 2019, 2016, 2013 and 2010
You can add or create PST file in MS Outlook 2016, 2013, and 2010 through different methods. The methods are mentioned below to help you perform the task successfully.
Method 1: Add PST file with New Items:
STEP 1: Start any version of MS Outlook 2016, 2013, or 2010.
STEP 2: Click New Items >> More Items >> Outlook Data File, see the screenshot for a better understanding.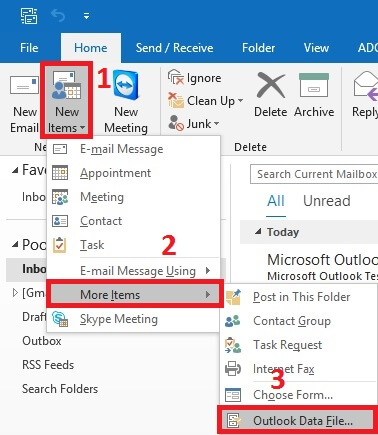 STEP 3: A dialogue box will appear, you can Create or Open Outlook Data File and enter a new name of the data file in the File Name field as per choice. Click OK and the newly created data file will appear in the left pane of Outlook 2016, 2013, & 2010.
Method 2: Create a New PST File in MS Outlook
STEP 1: Start MS Outlook, click File >> Info >> Account Settings.
STEP 2: Click Account Settings and choose Account Settings from the drop-down options.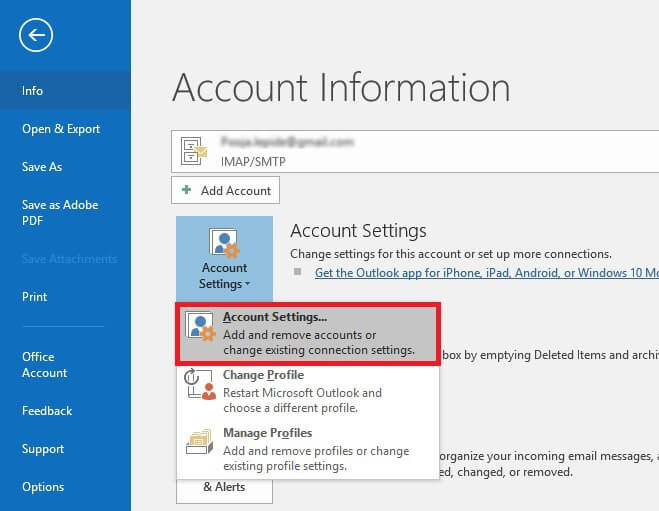 STEP 3: Choose Data Files from the menu and select the Add button.
You can add an existing Outlook data file from your local machine, or you can create a new data file using the File Name field.
Click the Close button after you have added the file.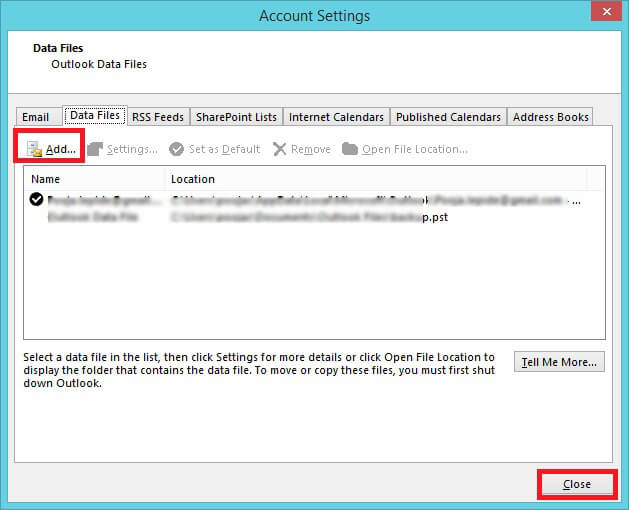 2-Close PST File from Outlook 2019, 2016, 2013 and 2010
You can add multiple data files to your Outlook profile whenever you want to access the data of any backed-up file stored on your personal machine. After, getting the required information, the data file is no more required, hence you can consider closing the file from the left navigation pane so that your Outlook profile is uncluttered.
To do so, follow the simple steps to close the Outlook data file from 2016, 2013 & 2010.
STEP 1: Open MS Outlook and select the data file you want to close from the left navigation pane.
STEP 2: Right-click on the data file and click Close "Outlook Data File" from the drop-down list.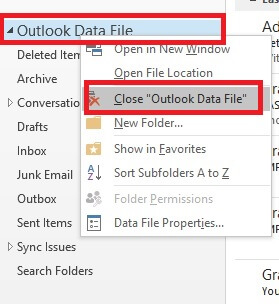 3-Remove PST File from Outlook 2019, 2016, 2013 and 2010
Sometimes, you want to remove the data file completely because it is not required anymore. Use the below steps to remove the data file:
STEP 1: Start MS Outlook, go to File >> Info >> Account Settings >> Account Settings
STEP 2: Select the desired data file that you want to remove and click the Remove button. From the popped-up dialogue box choose Yes.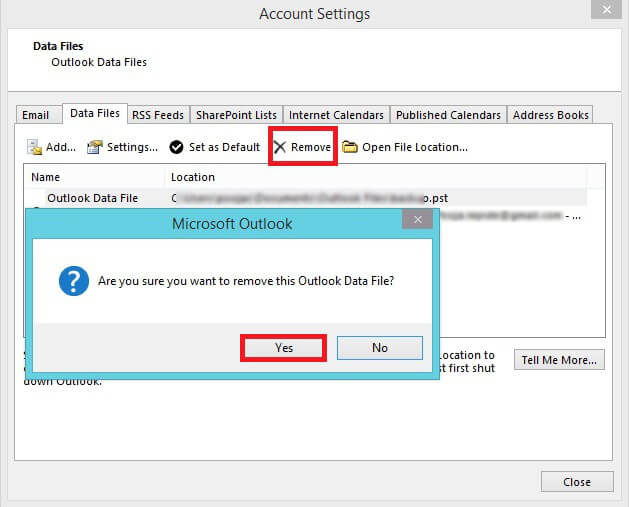 Apart from adding, closing, and removing the data file, one can also perform other tasks like archiving emails to PST.
Archive Outlook data file
Using this method one can save the selected items in a separate archive folder.
Step 1- Go to the Info tab in Outlook
Step 2- Click the Mailbox setting and then click the Archive option.
Step 3- Now choose among the various options to take the archive and browse a folder location for the archive folder.
Step 4- And finally click on the OK button
Final Words:
All the methods are easy to perform and do not require high technical skills. Also, if you face corruption issues with the saved PST files or due for some reason the file is not accessible, you can repair and recover corrupt PST file using the third-party tool – Kernel for Outlook PST Repair. The tool offers veracious features that efficiently recover complete data from any corrupt PST file.