Read time: 3 minutes
Sony digital cameras have been a popular choice among those who love photography. Different models of Sony digital cameras are Sony Alpha, Sony Cyber-shot, Point & Shoot, Sony Digital Vlog camera, etc. You may use internal storage or an SD card for storing the captured media files. Sometimes, for one or the other reason, you may lose your photos stored on your Sony digital camera.
In the present blog, we are going to discuss different ways to recover those lost or inaccessible photos from your camera.
Note: It is recommended to not use your Sony digital camera further to shoot once you have come to know that photos are deleted or lost from it.
How do you lose photos from your Sony digital camera?
There can be various situations when you lose your photos from your camera like:
Accidentally pressing the 'Delete All' button on your Sony Digital Camera.
Loss of photos while transferring them to other storage devices or computers.
Corruption or crashing of your Sony digital camera.
Accidental formatting of the camera.
Dos & Don'ts after losing photos from Sony camera
Once it comes to your knowledge that photos on your camera are deleted/lost stop using your Sony digital camera.
Stop using internal storage & SD Card for storage for storing photos.
Do not restart your camera again and again in an attempt to recover your deleted/lost photos.
Use an authentic and efficient photo recovery tool to recover photos from a memory card. Once you have recovered photos, save them in a safe location meant for storage.
Recover Sony Camera Photos from Windows
You are fortunate enough when you remembered to keep a backup of your photos. But, there may be chances that photos and images fail to open after recovery also. In both cases, you have not taken backup and when restored photos do not open then a professional photo recovery tool is the best option to recover lost or deleted photos from Sony Cyber-shot Camera storage.
Kernel Photo Recovery can efficiently recover all the lost or deleted photos from your Sony Digital Camera storage connected to your computer. You can preview all the recovered photos and chose which ones to save at any location of your choice. You can save them anywhere on the system without compromising the original quality of the recovered photos. The recovery process completes in a few steps without any hassles. Also, it supports all Windows systems and all image formats for instant photo recovery. So, it is an essential tool for all photographers including Sony Cyber-shot Camera users. It can also recover deleted whatsApp photos.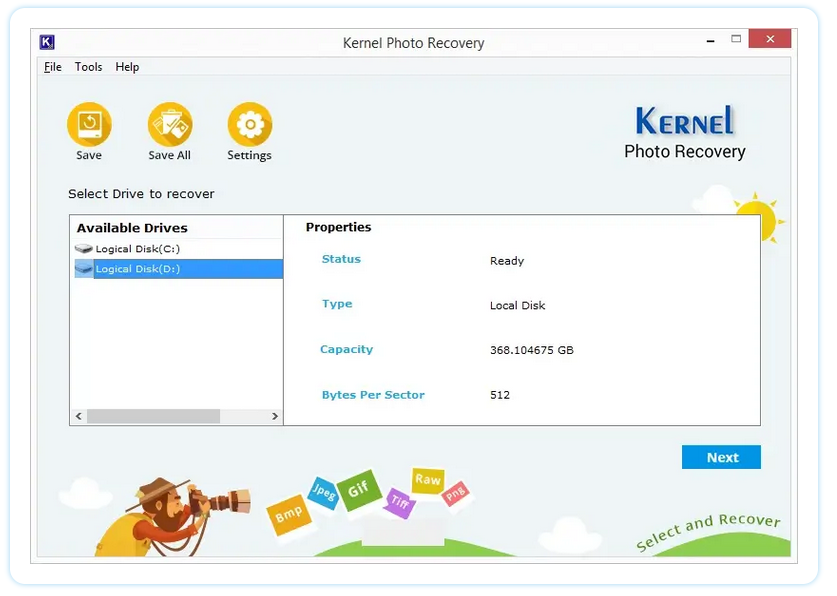 Note: It is available as a free version to perform a trial photo recovery on your computer
Conclusion
In the present blog, we discussed the scenarios in which you can lose photos from your Sony digital camera; we also discussed what to do and what not to do as soon as you come to know that you have lost precious photos from your camera. We discussed how the Kernel Photo Recovery tool can prove an indispensable tool to recover your lost or deleted photos from your Sony digital camera with complete security and privacy. Further, it is pertinent to mention here that this tool works equally efficiently with other cameras too. So, you can call it a one-stop solution to your photo loss problems.