Read time 5 minutes
Any Office 365 account subscription would ask for a tenant name at the time of sign up. It is the first and last time you can set up the tenant name, which means it cannot be changed or modified later. This name chosen or entered during the initial setup forms an Office 365 tenant. Suppose the company abc.inc has subscribed abc.onmicrosoft.com. In this, abc is known as the tenant name of your Office 365 account subscription.
Reason to Choose the Right Tenant Name for Office 365
You must choose the most suitable name, as you will not get the chance later to modify it. If you need to change this name, then the only option you have is to create a new Office 365 tenant with the new name and move all the data from old Office 365 tenant to the new Office 365 tenant. This task is a hectic one as data needs to be migrated from all Office 365 applications like SharePoint, OneDrive, etc.
If you need to know the tenant name of your Office 365 organization, then you can get it quite easily by adopting certain manual tricks that we would be sharing with you.
Tricks to Know the Tenant Name of Office 365 Organization
You can perform any of the below-given methods to get the tenant name of the Office 365 organization.
Through OneDrive or SharePoint Application URLs
The tenant name is available on the home URLs of OneDrive or SharePoint.
First, login to your Office 365 account. Click on OneDrive application to open it.

The OneDrive application will get open. Go to the URL above, and on that, highlighted name is the tenant name of Office 365.

Similarly, when you access the SharePoint application on Office 365 account, the URL will show the tenant name.

Through Office 365 Admin Center
From the Office 365 Admin Center, users may get to the tenant name of their Office 365 account. Let us see how.

Log in to your Office 365 account with admin credentials.
Click on Admin to open the Office 365 Admin Center.
In the opened Office 365 Admin Center page, under the Settings section, select the Domains option.

Next, on the Domains page, find the tenant name (highlighted one) in the name shown as the domain name.

So, you have got now some useful tips to get to your tenant name.
Change Office 365 Tenant Name by Migrating from One Tenant to Another
If you have to change your Office 365 tenant name, there is only one way – create a new tenant with the desired name and migrate all your data to the new tenant. To ease the task of data migration from one Office 365 tenant to another, we suggest you the most efficient and robust tool, Kernel Office 365 migration tool.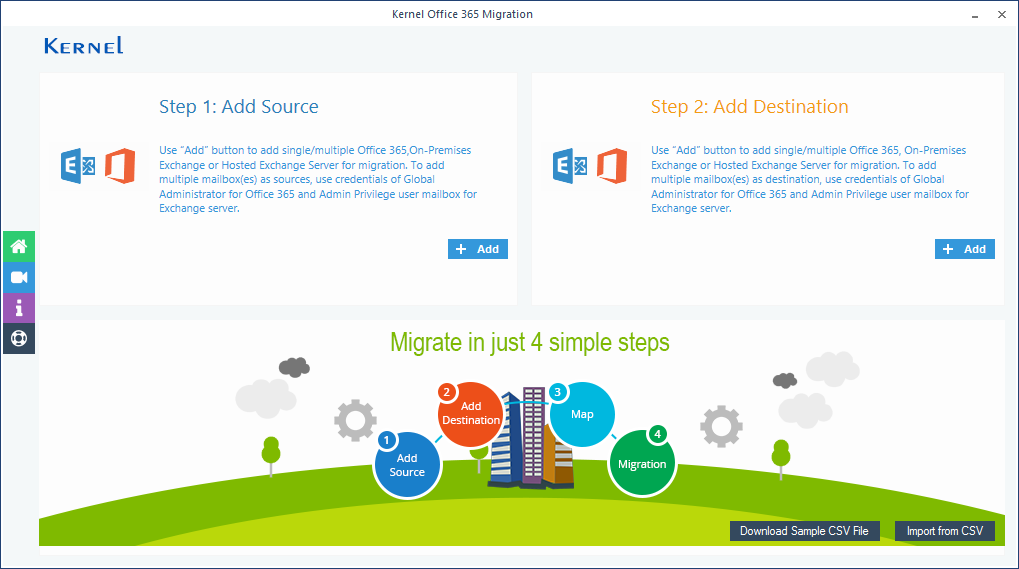 The tool helps you perform quick and easy Exchange/Office 365 (Microsoft 365) migrations. More than that, it includes advanced filter options and CSV support for selective and bulk data migration to Office 365, respectively. Complete support for all Office 365 plans and subscriptions is another highlight of this tool. So, just try this tool for any Office 365 related migration, without any doubts.
Final Words
Office 365 tenant name selection is crucial as there is no option to modify it later. However, you change the tenant name by creating a new tenant and then migrating the entire data to it. However, a professional tool is suggested to carry out any O365 migration, including migration between Office 365 tenants with ease and accuracy.