Read time 7 minutes
Summary: This article explains the process of converting MP4 videos to Blu-ray for enhanced quality and cinematic viewing. It recommends using the Kernel Video Converter for user-friendly and efficient conversion while highlighting the benefits of Blu-ray format.
"I possess several MP4 videos and wish to transform them into Blu-ray format to enhance their quality. While conducting my research, I encountered several potential solutions, yet I struggled to pinpoint a trustworthy method."
Things have changed with time, and innovation has taken technology to new heights in the past few years. Same is true with the video formats too.
Blu-ray is designed to deliver high-definition video quality, providing full HD videos. Therefore, if you have HD MP4 videos, converting them to Blu-ray or another format can significantly enhance their visual quality. However, it's important to note that the conversion process is not straightforward; it involves burning the MP4 files to convert them into Blu-ray or other desired formats.

Instant Solution
To Convert MP4 to Blu-ray Video File, try Kernel Video Converter Software. The software supports to convert MP4 to Blu-ray, MOV, MPEG, MKV, AVI, ASF, WMV, FLV, DIVX, MJPEG, M4V, 3G2, TS, 3GP, AVCHD etc.
In this article, we will discuss how you can burn an MP4 file to Blu-ray, as well as we will talk about an automated solution that allows you to convert MP4 files to multiple formats.
Why Convert MP4 Videos to Blu-ray?
In the age of internet connectivity, we have the ability to share videos and pictures across various platforms. However, there are often moments we capture that we prefer to keep for personal enjoyment on a larger screen. In this regard, converting MP4 files to Blu-ray serves as a practical option, enabling us to preserve and view our videos with superior quality.
Furthermore, Blu-ray discs possess the capacity to store substantial amounts of digital media data as physical copies. This feature appeals to many individuals looking to reclaim valuable computer storage space. Moreover, Blu-ray playback quality is unparalleled, offering the highest level of high-definition viewing, ensuring a premium movie-watching experience.
Convert MP4 to Blu-ray Using ImageBurn
When it comes to converting MP4 to Blu-ray, it's important to note that there are no direct manual methods available. To achieve this conversion, you'll need to utilize freeware utilities designed for Windows that allow you to burn the MP4 files onto a Blu-ray disc.
ImgBurn is a freeware utility available online that can be downloaded easily. This free video conversion software allows you to burn any media file to other file formats. To burn your MP4 files to Blu-ray with ImgBurn, follow the below steps:
Run the software on your system. From the home screen, click Write files/folders to disc.
In the opened tab, click the Folder icon in the source section to add the folder in which the MP4 file resides.
Now, click the Calculator icon in the bottom-right corner to measure the availability to convert MP4 to Blu-ray.
If the process is possible with ImgBurn, a prompt window will appear on the screen to provide detailed info about every parameter of conversion. Click yes if it is approachable.
Now, provide a writeable Blu-ray disc as the destination, and then hit the Burn icon under the destination section.
Make sure the content type is set to BD-Video, and then click OK to continue.
The software will start converting the MP4 video to Blu-ray format. Once done, a message will appear on the screen, confirming the same.
Limitations of Free Tools
Each user likes to use some of the best free video converter tools to convert their video in available formats. but sometimes there are a few limitation that limit you to use such tools.
Take, for instance, the ImgBurn tool mentioned earlier. It's worth noting that this tool can have a complex user interface, which may not be user-friendly for everyone. Additionally, the process of burning MP4 to Blu-ray is not a straightforward one, and there is a risk of data loss if the procedure is not followed correctly.
In such cases, using a utility that provides quick and direct conversion of MP4 files to Blu-ray is a viable choice. We believe Kernel Video Converter is the best tool that you can use to convert your MP4 video files to other formats, including MKV, AVI, FLV, etc.
Convert MP4 to Popular Video Formats
This tool is equipped with intelligent algorithms that enable direct conversion of video files to different formats. Its user-friendly interface simplifies the process of converting your video files. Let's delve into how it operates.
Download and configure the tool on your system.
Launch the application and click the '+' to select and add the specific MP4 file.

After adding the file, click 'Next,' and select the specific output format for conversion and then click Convert Now.

Select a location to save the file and click OK.

The tool will start converting the MP4 file to the desired output. Once it is complete, click Close to end the process.
This method provides a straightforward way to convert MP4 video files into various formats. Nevertheless, if you encounter issues with corrupt MP4 files and want to repair corrupt MP4 files, consider using the Kernel Video Repair utility. It's specifically designed to address both minor and major corruption errors in video files, regardless of their format.
Video Tutorial: Free Video Conversion Tool to Convert MP4 to Blu-ray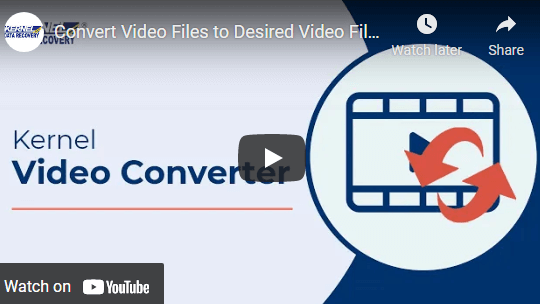 Last Words
Converting MP4 to Blu-ray can be an excellent choice when you want to enjoy your videos on a larger screen, replicating a true cinema experience. However, comprehending the intricate steps involved in the conversion and burning of MP4 files can be intimidating for many. In this article, we have endeavored to elucidate the process of converting MP4 to Blu-ray in a comprehensive manner, providing straightforward steps. Additionally, we have explored the conversion of MP4 to other commonly used formats for your convenience.