Kernel Office 365 to Amazon WorkMail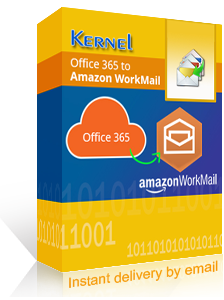 Migrate Office 365/Exchange mailboxes to Amazon WorkMail
Migrates Office 365 mailboxes to Amazon WorkMail
Migrates Exchange mailboxes to Amazon WorkMail
Performs unlimited mailbox migration
Provides advanced filters and folder selection/exclusion choices
Maps the source mailboxes to the target mailboxes
Conducts migration of archive mailboxes and public folders
Allows to use CSV file for migration of multiple mailboxes
Provides summary at the end of the migration
Supports hosted/on-premises Exchange Server
Personal License
Corporate License
Technician License

Offer till 22nd Oct
$149 $99

Supported Versions
Windows OS All versions (Windows 10/8.1/8/7/Vista/XP/2000/98/NT and 95 and Windows Server 2016/2012/2008 R2/2008/2003 R2/2003)
Basic Requirements
Processor - Pentium class
RAM - 64 MB RAM (recommended 128 MB)
50 MB (for Software installation)
Features of Kernel Office 365 to Amazon WorkMail
Office 365 to Amazon WorkMail Migration
Our tool conducts migration from Office 365 to WorkMail. You do not need to adjust your data according to the new platform as the tool take care of the data hierarchy. You can migrate mailboxes, archive mailboxes, as well as public folders using our tool.
Exchange Server to Amazon WorkMail Migration
You can migrate an unlimited number of Exchange mailboxes using our tool. Our tool supports migration from both hosted and on-premises Exchange Server (any version). To migrate multiple mailboxes, you need administrative credentials.
Automatic Mailbox Addition
Office 365 to Amazon WorkMail tool has a CSV file option for the automatic addition of multiple mailboxes. It provides a pre-designed CSV file in which user can fill the mailbox information and import it to the tool for the automatic addition of mailboxes.
Quick Mailbox Mapping
You can map Exchange/Office 365 mailboxes to Amazon WorkMail mailboxes manually or using a CSV file. It makes sure you are migrating a source mailbox to the right destination mailbox.
Migrate Primary Mailboxes & More
Apart from primary mailboxes, you can migrate archive mailboxes and public folders from Exchange and Office 365. Also, you can migrate data to Amazon WorkMail mailboxes, public folders, and archive mailboxes as per your need.
Migrate Only What You Need
You may not require all the Exchange/Office 365 mailbox data in Amazon Work Mail. Office 365 to Amazon WorkMail tool provides you filters and selection options to migrate mailbox data selectively. So, you can migrate only the folders/items you need.
See Details of What You Have Migrated
After every migration, Office 365 to WorkMail tool shows the details of what you have migrated- folder name, its migration status, item count, and error details. You can save the report in a CSV file too.
We Offer a Free Trial Too
If you want to be familiar with the tool before purchasing it, download the free trial version of the tool. It has all the features of the licensed version, but it can migrate only 10 items per folder.
Purchase Full Version
Supported Versions
MS Outlook - 2016/2013/2010/2007/2003/2002/2000/98 and 97
Windows OS Platforms - Windows 10/8.1/8/7/Vista/XP/2000/98/NT and 95 and Windows Server 2016/2012/2008 R2/2008/2003 R2/2003
Basic Requirements
Pentium class processor
Minimum 64 MB RAM (128 MB recommended)
50 MB for Software installation
Software Features
Trial Version
Full Version
Migrates Office 365 to Amazon WorkMail

10 items per folder

Unlimited items

Migrates Exchange Server (hosted & on-premise) to Amazon WorkMail

10 items per folder

Unlimited items

Use CSV file to add multiple mailboxes
Maps source and destination mailboxes
Filtering options
Migrates mailboxes, archive mailboxes, public folders
Saves complete migration report
Money-Back Guarantee Feel Free to Purchase Kernel tools! We are committed to 100% customer satisfaction and thus we provide 30 days money back guarantee. View details...
Steps to Migrate from Office 365 to WorkMail
Migrating mailbox(es) using the Kernel Office 365 to Amazon WorkMail is quite easy. Even non-technical users can complete the procedure in minimum steps. Follow the steps given here –
FAQs - Office 365 to Amazon WorkMail Tool
Can I undo the migration process?

NO. After successful migration, you cannot undo the migration.

Can a single license work on multiple computers?

It depends on the license you have purchased. Kindly see the licensing details in our Buy page.

How can I avoid the empty folders from migration?

In Filter Selection dialogue box of the tool, there is an option to exclude empty folders. Check this option to skip empty folders at the time of migration.

What is the maximum number of the mailbox(es) which a tool can migrate?

The tool can migrate many mailbox(es) in a single cycle. So, you can migrate as many mailboxes as you like.

Can the tool run several migration processes simultaneously?

No. The tool is designed to run only one migration instance at a time. It is a light-weighted tool which focuses on the simplicity of the migration. It does not make it complicated by running multiple instances of migration.