Quick Way to Recover Deleted Photos or Images from Google Hangouts

Read time 9 minutes
Google Hangouts is a collaborative application with Gmail allowing Google account users to chat and exchange information in the form of text and media like Photos, Videos, etc. But do you want to delete Hangouts Photos that are unnecessary? Then you can delete them. But what if you want to recover them at a later time? If you are in such a situation, then this blog is drafted to provide workable solutions to recover deleted Hangouts Photos.
Before moving to the recovery solutions, let u understand how Google Hangouts users clear Photos from their Chats.
How to Delete Photos from Google Hangouts?
If you want to delete Photos shared from your Google Hangouts, then follow this simple procedure explained with steps below:
Open your Google Chrome web browser and visit this link – Album Archive (google.com). You need to provide your Google account login credentials to continue.
It would open your archived photo album from your Google Hangouts. Click the folder saying Photos from Hangouts.

Select the desired photo to open it. Click three horizontal dots or the More option from the top right corner of the screen and select the Delete Photo option to delete it directly.

Note: To delete an entire Photo album from Google Hangouts, select that album, click the three horizontal dots or More option again and select the Delete album option to delete it.

A confirmation message would appear. Select the DELETE option to confirm the permanent deletion.

In this way, photos or albums from Google Hangouts can be deleted permanently.
The photos of albums shared with other Google account holders will still be available to him besides the deletion from the user account.
Why Google Hangouts Photos Become Inaccessible?
Sometimes, users' pictures may become inaccessible, and their valuable pictures may be lost from their storage devices. Here are some reasons for this: –
You can face this issue when files are accidentally deleted from Google Hangouts.
You may want to format your drive.
Mishandling of devices.
Virus, malware & ransomware attack.
Corrupted file system.
Corrupt header file.
The media was physically damaged.
Other than the reasons mentioned above, there can also be other reasons for users to require a tool for deleting and retrieving photos from Google Hangouts. Delete and Recover Photos from Google Hangouts issues can occur due to any of the above-mentioned reasons, so if you do not have a valid backup, then it is recommended to use the Kernel G Suite Backup tool to fix the issue.
Delete & Recover Photos from Google Hangouts Problems: Mistakes to Avoid
It takes one silly mistake or a bit of carelessness to wipe away all the memories and excitement of the past. Even though most issues related to Delete & Recover Photos from Google Hangouts have solutions, it is still best to avoid them altogether. If users do not want to be in awkward situations where they need to Delete and Recover Photos from Google Hangouts, then they must pay attention to the following points.
When using the memory card, never remove it.
Make sure you don't take pictures or record the video when the battery is low in order to avoid deleting and recovering photos from Google Hangouts.
Don't use the "Delete All" button on the digital camera.
Be sure to remove the memory card safely from its slot before removing it from the camera.
Memory cards and digital cameras should not be handled improperly.
Make sure you are careful when erasing unwanted files.
Did not Realize the Value of Hangouts Photos and Deleted Them? Try This for Recovery
There are situations where the user accidentally deleted Google Hangouts Chats and Photos without understanding their importance at that time. We will explain some tricky manual ways to recover deleted photos from Google Hangouts Chats for such users.
Recover from the Trash folder of Google Photos
Photos deleted from the Google account, including Google Hangouts Photos, go to the Trash folder and can be restored from there. But remember, the deleted Photos would remain in the Trash folder for a period of 60 days only.

Open Google Photos using your Google account.
From the left panel, click on the Trash folder in the Google Photos application.
Select those deleted photos you want to recover and click on the Restore option on the top right of the screen.
It would restore the selected photos from the Trash folder to the Album Archive successfully.

Take help from Google Support
Users can always request Google Support to restore deleted Google Hangouts Photos citing a genuine reason for this recovery. Follow these instructions to put up a genuine request to Google Support for deleted Google Hangouts Photo recovery.

Launch Google Drive with your account credentials.
Move to the top of the screen and click the question mark icon to select the Help option from the drop-down list.
Click on the Find or recover a file option.
Go to the bottom of the page and click on the Contacts us option.
Sign in with your Google account credentials, provide required information associated with the recovery of the deleted Google Hangouts Photos and submit your request.
Wait for the Google Support response to your request.

Get Photos from the User with Whom You Shared
Google Hangouts users who have deleted their Photos permanently can try this method if they have shared those photos with somebody else. There is a chance that the other person involved in the Chat has saved the photos shared with him. Contact him/her directly and ask him to send those Photos by Hangouts or other means. Thus, the problem is solved.
Backup Google Photos as a Precaution
It is a wise decision to prepare in advance and secure your Google data forever in the form of backup files. Google account holders can secure photos from Google Hangouts by selecting the Download photo option from More options of the Google Album Archive.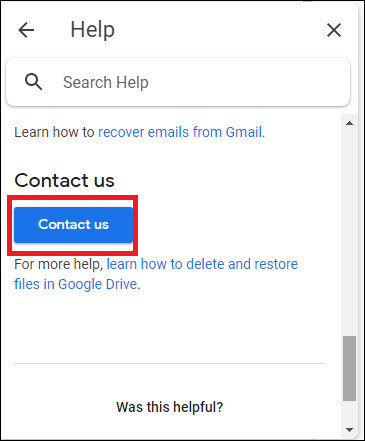 To backup Google Hangouts Chats, Photos, and other Google Workspace (G Suite) data, including Gmail mailboxes, Google Drive files, Contacts, Calendars, and Appointments, you can rely on the Kernel G Suite Backup tool. The tool is secure and easy to manage. It backs up G Suite data, including Google Hangouts Chats to PST and more other file formats such as MSG, HTML, MHT, DOCX, DOC, PDF, and EML. The backup tool integrates smart filter options for selective backup, and you can verify all these claims by working on its free trial version available on the website.
Frequently Asked Questions
Q- If I delete photos from my Google Hangouts, will they get deleted from the user account with whom I have shared this?
A- Not at all. There is no connection to whether you delete photos from Google Hangouts of your account. It will still be available with the user with whom you have shared unless he has deleted those from his end.
Q- Can I restore Hangouts photos from the Trash folder anytime?
A- There is a retention period of about 60 days from the time of deletion of Hangouts photos up to which you can restore your deleted photos. After the retention period, it will get deleted permanently.
Q- What are the limitations of the free version of the Kernel G Suite Backup tool?
A- With the free version of the backup tool, you can backup 10 items per folder and 5 documents per drive only. All other features and functions are similar as in the full version of the tool.
Q- Name the credentials required to add my G Suite account in the backup tool.
A. You must require G Suite account email ID, service account ID, and P12 file path to add your G Suite account for the backup purpose. The software interface integrates the full explanation of the process to create a service account ID and P12 file path for the account.