Read time 7 minutes
Summary: Microsoft Excel is vital for managing numerical data. To recover unsaved or overwritten files, use in-app options, search for temporary files, or utilize OneDrive backups. For severe issues, Kernel for Excel Repair is a trusted third-party tool with advanced features.
Microsoft Excel is a versatile spreadsheet program designed for the recording and in-depth analysis of numerical data. Specifically, MS Excel proves invaluable for tasks involving the organization, documentation, and analysis of large numerical datasets. Managing these extensive datasets manually can be a time-consuming endeavor, and the prospect of losing unsaved data can be daunting. In such a scenario, the potential loss may encompass the entire worksheet, specific sections, or your most recent edits, among other data. The process of recovering this critical information can be time-intensive. In the following discussion, we will explore some effective and expedient solutions to help you retrieve your data. Additionally, we will delve into the methods for opening corrupted Excel (XLS and XLSX) files.
Ways to Recover Overwritten or Unsaved Excel Files
Following are some of the ways that can help you recover unsaved or overwritten Excel files:
Way #1 Recover Unsaved File Within Excel
Consider a situation where a sudden power outage or a computer crash occurs, potentially resulting in the loss of unsaved files. Even in such unfortunate events, there are methods and safeguards in place to increase the chances of recovering your work.
Open the Excel tool. On the left pane, you will see the Document Recovery option.

Now left-click on the drop-down menu (next to the file) and select Save As to save the file to the desired location.

clicking on Show Repairs, one can also check whether any repairs were made during the recovery. If no repairs were made, then you should see the following message:

Way #2 Check for Temporary Files
You can also explore the possibility of recovering your work by searching for temporary files that MS Excel occasionally saves as backups. To do this, follow the steps outlined below:
Go to File > Info and select Manage Workbook. You will be able to recover the recent unsaved spreadsheets.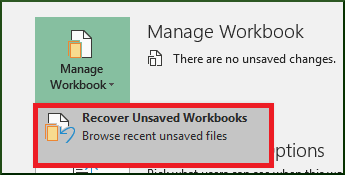 Another way to open the same folder as follows:
Hold +X keys and select Run.
Now enter the following file location in the text box:
C:\Users\[username]\AppData\Local\Microsoft\Office\UnsavedFiles
NB: In the above filepath, replace [username] with your actual username.
Similarly, one can also access the Excel Unsaved File location by going to File > Options. This will open up the Excel Options dialog box, which contains the AutoRecover file location.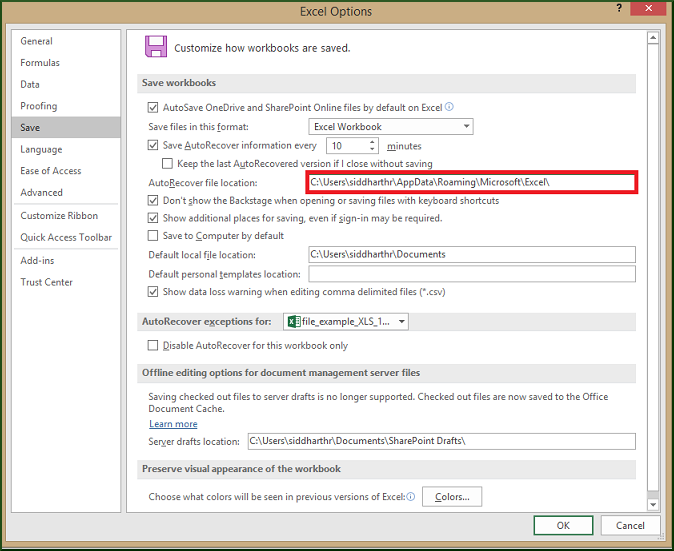 Way #3 Recover From OneDrive Backup
If you make regular use of OneDrive to store your documents and Excel files, you'll benefit from an additional layer of file protection. The effectiveness of this approach largely hinges on the frequency of your data backups.
To access your OneDrive backups, simply right-click on any file within OneDrive, and choose 'Version History.' This will display a list of changes, allowing you to locate previous versions of your Excel files.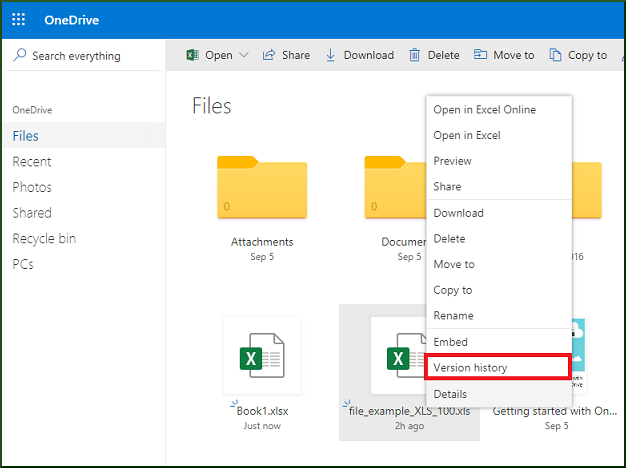 Way #4 Kernel for Excel Repair
If your attempts to recover your Excel file using the methods mentioned above have been unsuccessful, it may indicate that your file is severely corrupted or damaged. In such challenging situations, it's advisable to consider a reliable and effective file recovery tool. Among the various options available, there are a few that have proven to be effective. One such trustworthy and capable tool is Kernel for Excel Repair . This tool is equipped to address common issues, such as when an Excel file is corrupted and cannot be opened.
Kernel for Excel Repair is highly advanced and comes packed with a wide range of features. It can swiftly repair both single and multiple XLSX/XLS files while preserving each cell's properties and formatting, as well as the data itself. Regardless of the file size, it can perform a speedy recovery process. Its user interface is user-friendly and well-organized, making it easy to work with. With just three simple steps, you can recover a previously damaged file using this tool.
Now, let's delve into the detailed process of using this tool.
Select the required mode from the two options.

Next, browse for the file by clicking on the Browse button. Click Repair.

The tool will now attempt to repair the damaged file.

One can now preview the content of the recovered file and hit Save.

Next, save the file to the preferred location by clicking on the Select Path button and hit Save.

Now, wait for the recovered files to be saved.

Next, you will be prompted with the confirmation message and the links of the path where recovered files are saved.

Conclusion
In this blog post, we've explored methods for effortlessly and efficiently recovering unsaved or overwritten Excel files. The first three methods are straightforward to execute and do not demand any particular technical expertise. However, in the event of extensive file damage, resorting to a third-party tool becomes necessary. One such outstanding Excel repair tool we wholeheartedly endorse is Kernel for Excel Repair.
Video – Simple Way to Recover Overwritten/Unsaved Excel Files