Read time 5 minutes
Outlook for Mac helps Mac users to connect to Exchange Server. This email client from Microsoft stores the mailbox data in OLM format. As OLM format is not supported by other email clients or programs, you will not be able to open OLM emails in Apple Mail or free email clients like Thunderbird. However, you can access these emails in MBOX email clients after converting OLM files to MBOX format.
OLM to MBOX Conversion
The manual method to convert OLM files to MBOX is a tedious one where you need to help of Outlook.
In a web browser, open Gmail and input its credentials.
Go to its settings and choose 'Forwarding' and POP/IMAP option.
Enable IMAP settings and save the new changes.
Open Outlook for Mac and go to Tools in menu.
Select the Account and choose Email.
Input your account's credentials and use the IMAP server. Then, Add account.
Select the emails you are needed.
Move the folder with the help of right-click button.
Follow Control Panel>>Mail>>Open an account.
Click New button and use the appropriate settings to setup IMAP account in MS Outlook.
Create the PST file using Export option.
Convert PST file to MBOX using any a professional software.
That is why a third-party tool like Kernel for OLM to PST Converter is recommended for it. This utility will help you convert OLM files to the MBOX format recognized by Apple Mail and many open source email clients like Thunderbird.
Process for Convert OLM Files to MBOX File Format
Follow the simple steps given here to convert OLM files to MBOX format:
STEP 1: Launch the converter tool, click Select File from the toolbar, click Browse button to choose OLM file from your machine, and click Next.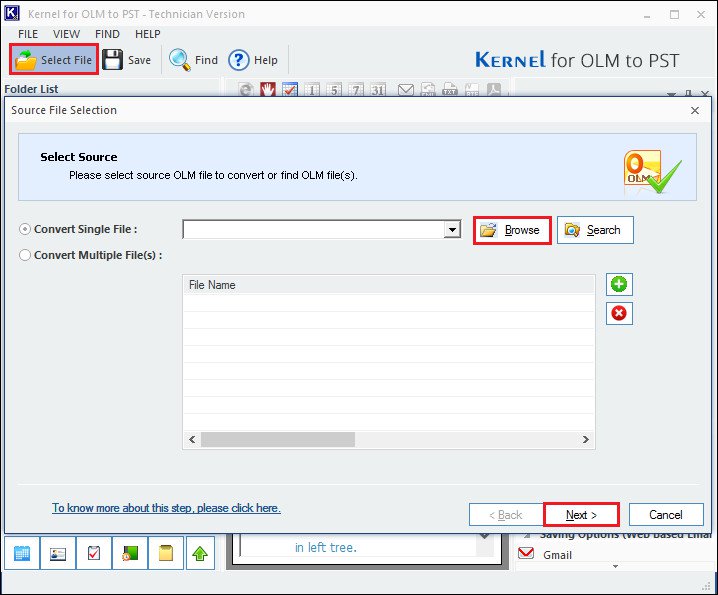 STEP 2: A small window will appear. Choose the OLM file that is required to be converted to MBOX file format. Click Open and then click Next.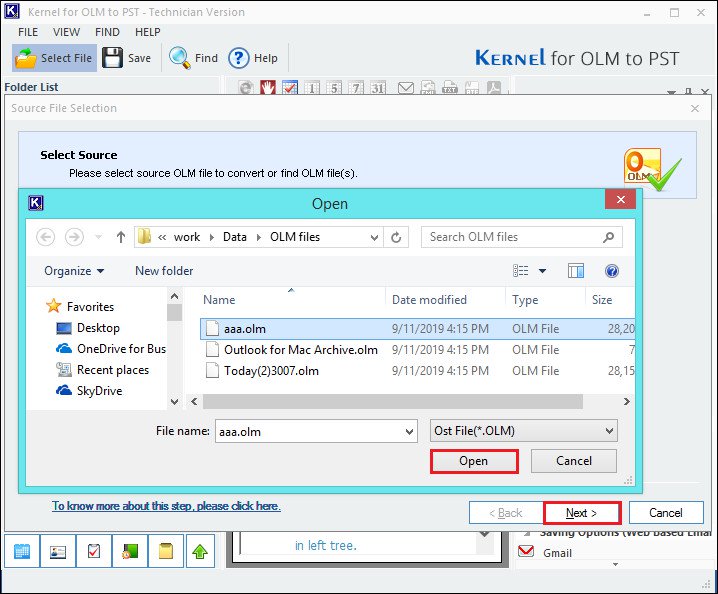 STEP 3: In the Process Information page, click Finish.


STEP 4: Now, click Save and a dialogue box with multiple file saving options with appear on the screen. Select the MBOX File option and click Next.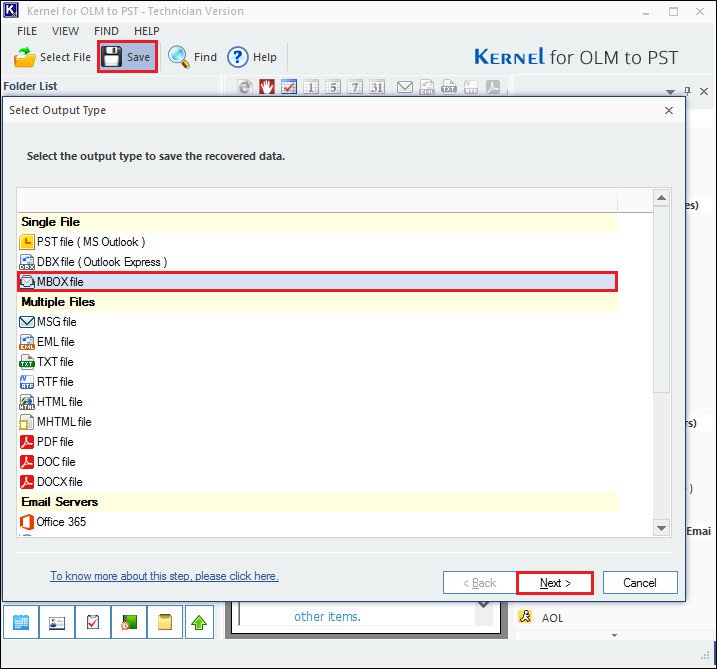 STEP 5: Here, you can select the filters, if the user requires to convert only specific data from the OLM file to MBOX. Select the filtering options and click Next.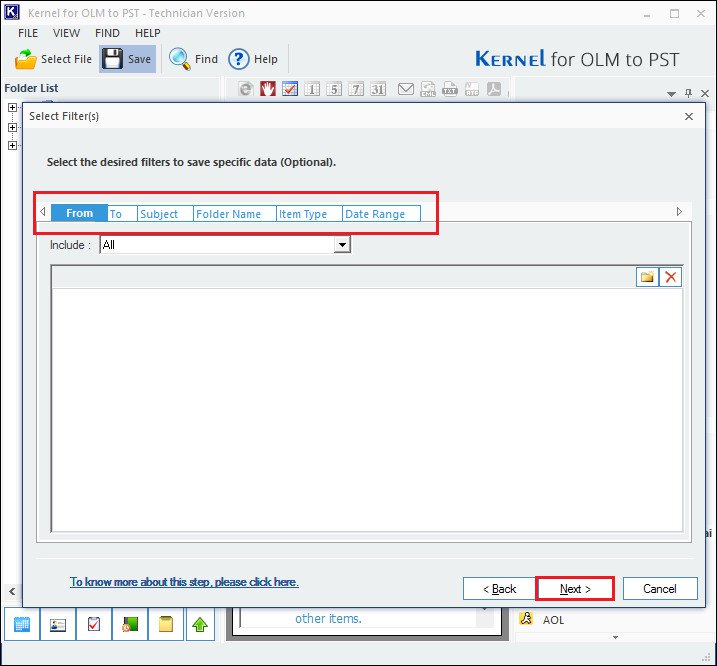 STEP 6: Now, click Browse button to specify the saving location. Click OK.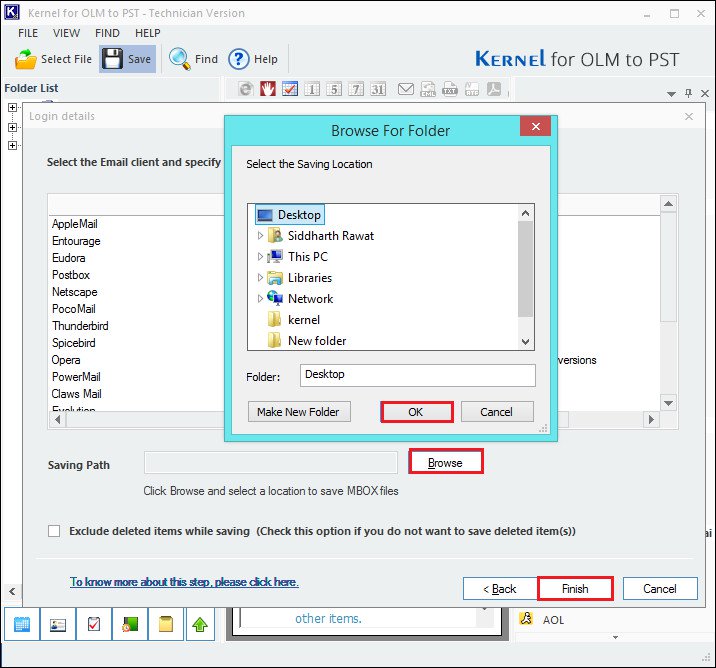 STEP 7: Now select the required MBOX email client (e.g.: Apple Mail) and click Finish.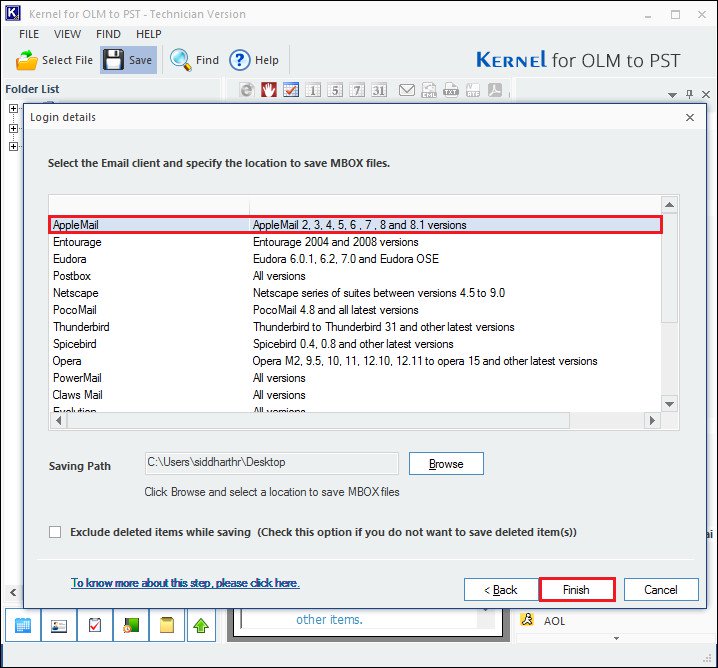 STEP 8: After clicking Finish, a dialogue will appear as shown in the following screenshot. After finishing the process, click OK.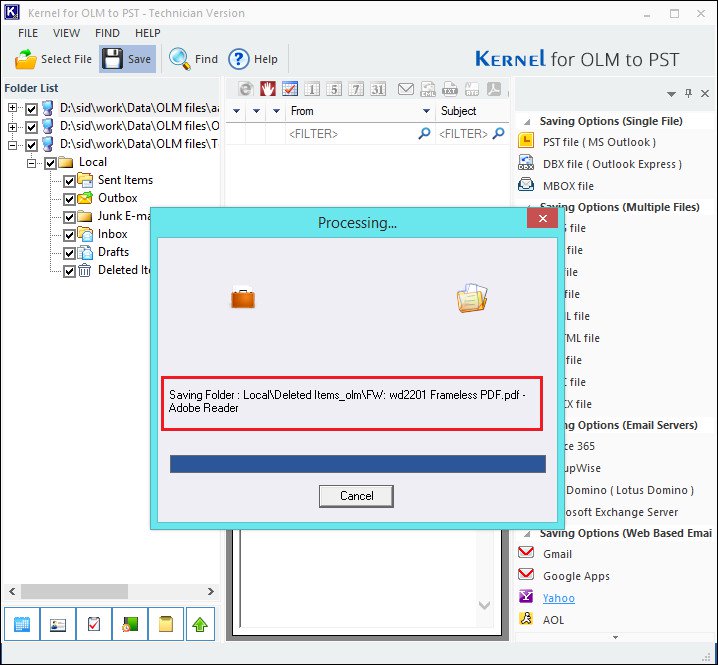 Lastly, launch the MBOX email client (e.g., Apple Mail) and import the MBOX file to access the converted data from OLM file.
Advantages of OLM to Outlook PST Converter
OML to MBOX conversion was a tedious task for many till date. But the tool helps you to convert the OLM data to MBOX, maintaining the original formatting and structure. The tool is user-friendly due to its excellent graphical interface. The developers have programmed it in such a way that even non-technical users can use it in a hassle-free manner. It saves emails along with images, attachments, and meta-data.
To access Outlook for MAC emails in Gmail, Apple Mail or Thunderbird, all that you need is an OLM to MBOX converter tool. The OLM to Outlook PST Converter tool can effortlessly convert OLM files to MBOX format keeping the data integrity intact. And this tool is recommended by many experts and IT professionals for quick and error-free OLM to MBOX conversion.
Conclusion
Whenever you want to shift your emails from one platform to another like Thunderbird, Apple Mail, or Gmail, then you do not need to prepare your platform for any manual approach. You should use the above mentioned Converter software and convert only the data files from one format to another. The software will scan the source OLM files and convert them to MBOX easily. The software will save the MBOX file at a user-defined location.