Read time 5 minutes
Summary: To easily convert OLM files to MBOX format for compatibility with email clients like Apple Mail and Thunderbird, consider using Kernel for OLM to PST Converter. This tool simplifies the process, preserving data integrity and structure. Follow straightforward steps to convert and import the MBOX file into your desired email client. Say goodbye to the manual hassles of OLM to MBOX conversion and effortlessly transfer your data between platforms.
Outlook for Mac facilitates the connection of Mac users to the Exchange Server. This Microsoft email client stores mailbox data in the OLM format. Since other email clients or programs do not support OLM, opening OLM emails in applications like Apple Mail or free clients like Thunderbird is not possible. Nonetheless, you can view these emails in MBOX email clients by converting OLM files to MBOX format.
OLM to MBOX Conversion
The process of manually converting OLM files to MBOX can be quite laborious, requiring the assistance of Outlook.
Access Gmail in a web browser and enter the login information.
Navigate to its settings and select the 'Forwarding' and then the POP/IMAP option.
Activate IMAP configurations and ensure to save the updated settings.
Launch Outlook on your Mac and navigate to the "Tools" option in the menu bar.
Choose "Email" from the Account options.
Please provide your account login information and select the IMAP server option. Next, click on "Add Account."
Choose the emails that are required.
Use the right-click button to relocate the folder.
Navigate to Control Panel, then select Mail, and finally choose the option to Open an account.
Press the "New" button and configure the IMAP account in MS Outlook with the suitable settings.
Generate the PST file utilizing the Export function.
Use professional software to convert a PST file to MBOX format.
That's why it's advisable to use a third-party solution such as Kernel for OLM to PST Converter. This tool facilitates the conversion of OLM files into the MBOX format, which is compatible with Apple Mail and various open-source email clients like Thunderbird.
Process for Convert OLM Files to MBOX File Format
To convert OLM files to MBOX format, just follow these straightforward steps:
STEP 1: Open the converter tool, select the file by clicking on the "Select File" option in the toolbar, use the "Browse" button to locate the OLM file on your machine, and then click "Next".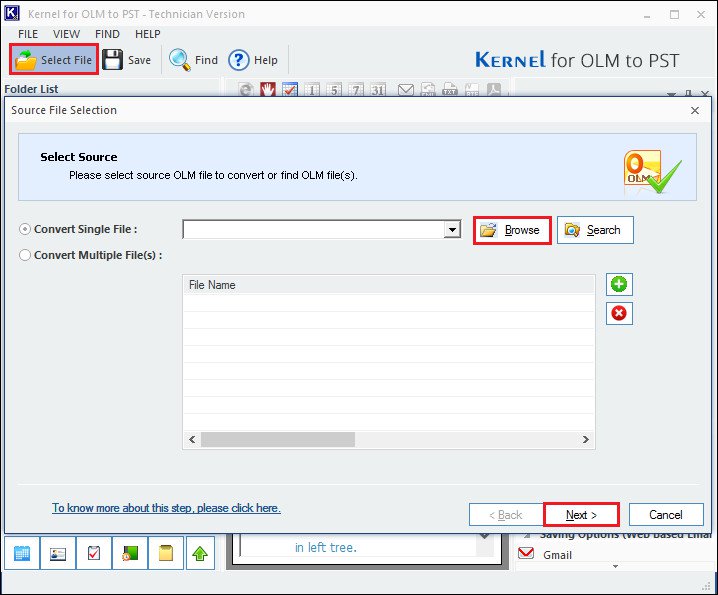 STEP 2:A compact window will pop up. Select the necessary OLM file for conversion into MBOX format. Press Open, and subsequently, click on Next.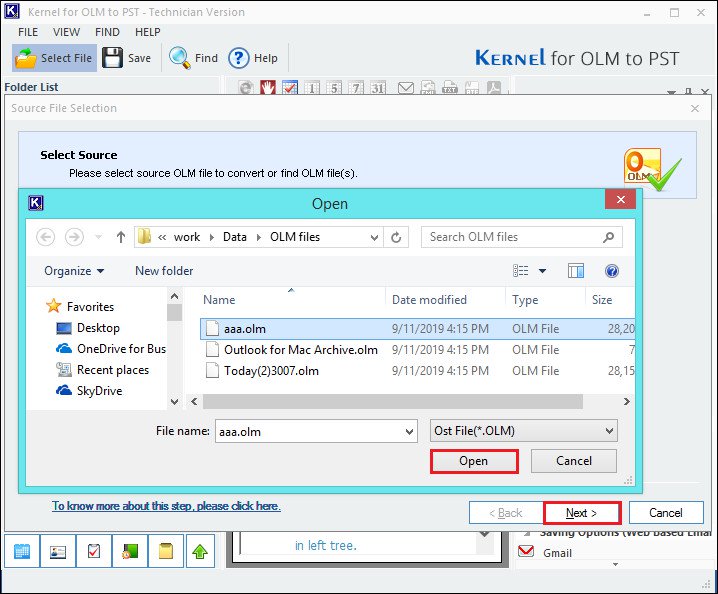 STEP 3: In the Process Information page, click Finish.


STEP 4: Click on the Save button, and a dialog box will pop up on the screen offering various file-saving options. Choose the MBOX File option, then click Next.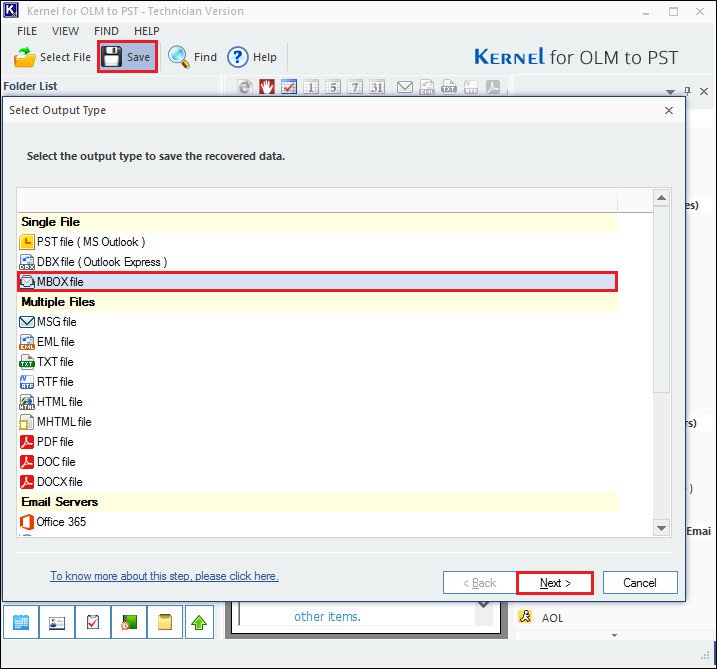 STEP 5: In this section, you have the option to choose filters if the user needs to convert specific data from the OLM file to MBOX. Simply select the desired filtering options and then click on the Next.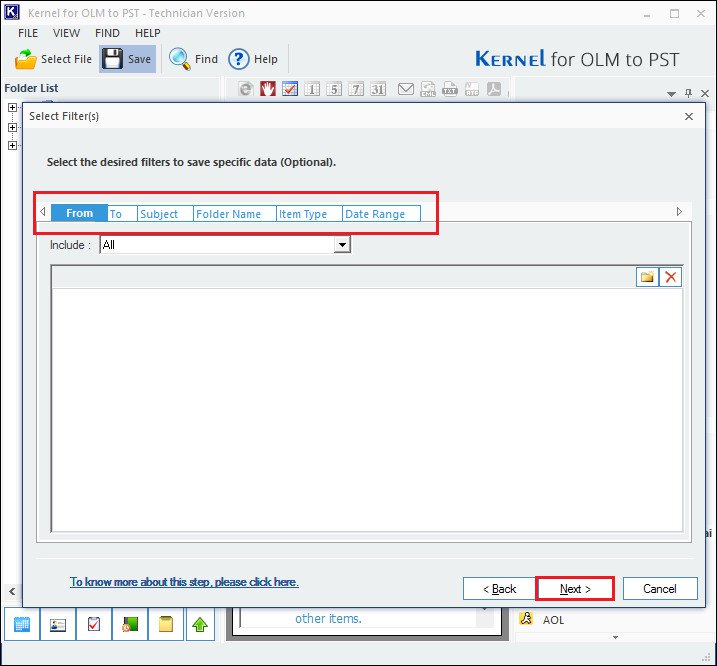 STEP 6: Next, select the Browse button to choose the desired saving location. Then, click OK.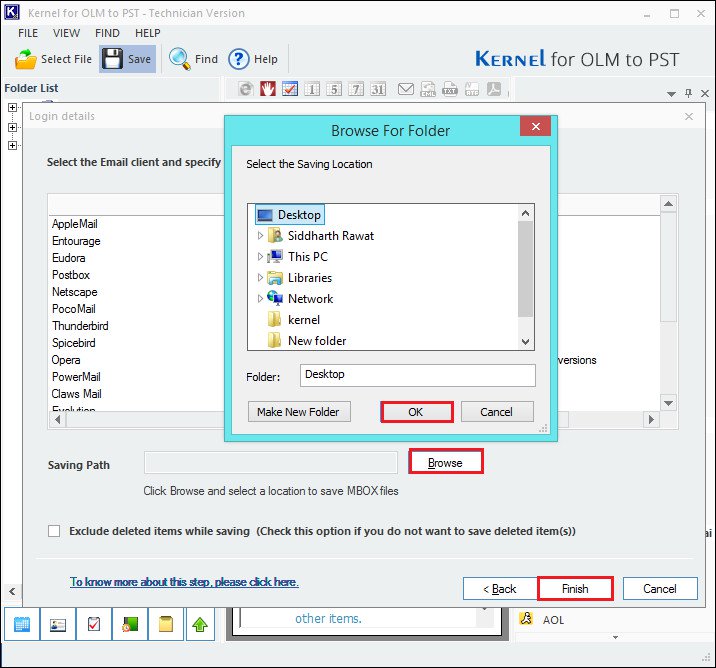 STEP 7: Please choose the necessary MBOX email client (e.g., Apple Mail) and then click on Finish.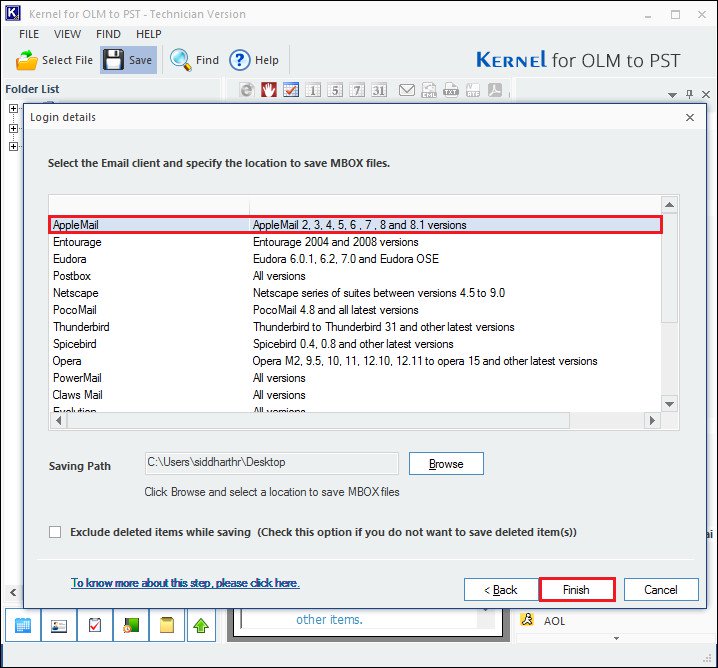 STEP 8: Please choose the necessary MBOX email client (e.g., Apple Mail) and then click on Finish.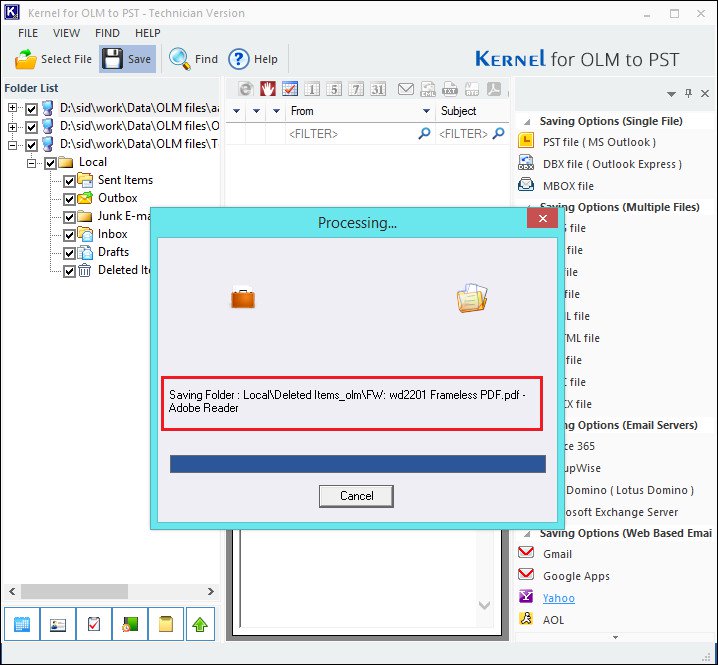 Lastly, launch the MBOX email client (e.g., Apple Mail) and import the MBOX file to access the converted data from OLM file.
Advantages of OLM to Outlook PST Converter
Converting OML to MBOX used to be a cumbersome process until now. However, this tool simplifies the conversion of OLM data to MBOX while preserving the original formatting and structure. Its user-friendly interface makes it accessible to both technical and non-technical users alike. The developers have designed it to ensure a seamless experience, allowing even those without technical expertise to use it effortlessly. It efficiently preserves emails, including images, attachments, and meta-data.
To access Outlook for MAC emails in Gmail, Whether you use Apple Mail or Thunderbird, you simply require an OLM to MBOX converter tool. The OLM to Outlook PST Converter tool excels at seamlessly transforming OLM files into MBOX format while preserving data integrity. Many experts and IT professionals endorse this tool for its swift and error-free OLM to MBOX conversion.
Conclusion
If you wish to transfer your emails between platforms such as Thunderbird, Apple Mail, or Gmail, there's no need for manual preparation of your current platform. Simply utilize the Converter software mentioned above to smoothly convert your data files from one format to another. The program will efficiently scan the source OLM files and seamlessly convert them into MBOX. The resulting MBOX file will be saved in a location specified by the user.