Read time: 4 minutes
When attempting to launch the Outlook application, you might encounter an error message stating, "Cannot start Microsoft Outlook." This is a commonly encountered issue, often stemming from causes like corrupted or compromised Outlook data files and problematic add-ins. Such a scenario can be quite frustrating, especially when you're engaged in a crucial task and suddenly find the application inaccessible. However, rest assured that there are straightforward solutions available in this blog to address this problem. These methods are user-friendly and do not necessitate specialized technical expertise.
How to fix the Microsoft Outlook cannot start error?
If you're a user of this application who has encountered an error message and wishes to restore it to its usual functioning, it's imperative that you attempt these recommended solutions.
Run Outlook in Safe Mode
The application incorporates multiple add-ins that provide specific functionalities not present in the basic version. While these add-ins undeniably enhance the user experience, they can at times disrupt the application flow and trigger error messages in Outlook. To ascertain if these add-ins are responsible for the error, you need to perform the following steps:
First, Open the run tool window by pressing Windows + R keys.
In the input field, enter Outlook /safe and click OK.
When you click on it, a new pop-up window will appear where you must select your profile and click OK.
Once you've finished the preceding steps, verify that the application functions correctly in Safe mode. If it does, this indicates that the add-ins were responsible for the specific error. To resolve this issue, you'll need to deactivate the add-ins in your application. Follow the steps outlined below:

Click on File -> Options -> Add-ins.
In the Manage menu of the Outlook Options window, select COM Add-ins, and click on the Go button.
Now, uncheck all add-ins listed on the COM Add-ins window and click OK.
Finally, restart the application and check whether the specific issue has been resolved.
Reduce Outlook Data File Size
If your Outlook application encounters an issue, it could be due to oversized data files, namely the OST and PST files saved on your local system. To rectify this, you'll need to trim down the size of these files. This can be achieved through various methods, including manual splitting or utilizing third-party tools. Additionally, consider removing less significant emails and archiving older ones into a new data file.
Update Outlook
If you're experiencing application failures, it's possible that using an outdated version of Outlook might be the culprit. If this applies to you, consider installing the most recent updates to address this particular issue. For this, go to File -> Office Account -> Office update -> Update options -> Update now.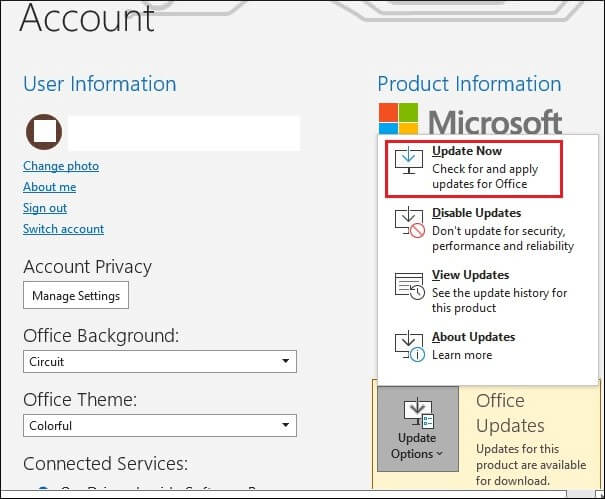 Remove XML files
If the XML files in the Outlook directory become corrupted, it could be the cause of your Outlook application not functioning properly. To resolve this issue, follow the steps provided below to delete these files.
First, launch the Run utility by pressing Windows + R keys.
In the input field of the tool, enter appdata and press Enter key.
After performing the above steps, you will be redirected to the AppData folder in your local system. Here, click on Local -> Microsoft-> Outlook.
Now, choose the Outlook version you are currently using and open it.
Finally, delete the XML files and restart your Outlook application.
Reset the Navigation Pane
"Here's another solution to address these common Microsoft Outlook issues. You can make adjustments to the Navigation settings, as there's a possibility that corruption has affected them. To do this, follow these steps:"
Open the Run utility tool and type outlook.exe /resetnavpane in the input field. Then, press >ENTER. It will bring the Navigation pane settings to defaults.
Now, check if the application is opening now.
If the issue persists, you should proceed to remove the XML file containing the navigation pane settings. This can be accomplished by following the steps outlined below:
Relaunch the Run utility tool and enter the below command:

%appdata%\Microsoft\Outlook

It will open File Explorer where all the configuration files of the Outlook application are stored. Here, you need to find the Outlook.xml file and delete it.
Finally, restart your application.
Repair Outlook PST Files
PST files serve as data repositories for Outlook, housing crucial items like emails, notes, and contacts. It's important to be aware that these files are susceptible to corruption stemming from events like sudden shutdowns, malware attacks, system failures, and excessively large PST files. If you find yourself facing Outlook complications due to a corrupted PST file, there's no need to fret. A reliable solution comes in the form of Kernel for Outlook PST Repair, an innovative tool detailed at PST Repair. This tool excels in mending PST file issues and recuperating your mailbox along with its intact structure. By eradicating PST file corruption and prioritizing data security, it outperforms alternative options. It boasts compatibility with all Outlook versions and provides the flexibility to save data in a range of formats including HTML, MHTML, EML, TXT, RTF, MBOX, and more.
Conclusion
When Outlook users encounter interruptions in their tasks due to application malfunctions, it can lead to frustration. Therefore, finding an effective solution to restore the application's functionality becomes crucial. This blog provides a range of solutions to address various Outlook issues. In cases where the error stems from a corrupted Outlook data file, consider utilizing Kernel for Outlook PST Repair, a tool designed to efficiently repair PST files and resolve the problem.