Read time 5 minutes
Summary:
SharePoint, a collaborative Office 365 tool, aids in data management, with new features enhancing content management. Organizations are shifting from traditional platforms to SharePoint, relying on migration tools for safe transitions. To choose the right SharePoint migrator tool, consider factors like ease of use, features, and cost-effectiveness. Kernel Migrator for SharePoint stands out, supporting various sources, providing pre-migration analysis, and offering bulk migration with advanced filters. However, the demo version has limitations, requiring users to fill a form for download.
Launched in 2001, SharePoint is a collaborative Office 365 application designed to effectively manage extensive data across various components such as sites, lists, and libraries. It is available for both on-premises installation and cloud-based subscription, with the latest versions introducing numerous new features to enhance content management efficiency. Consequently, an increasing number of organizations are transitioning from conventional platforms like file servers to SharePoint. This migration trend gained momentum in 2020 and is expected to continue. To facilitate seamless and secure migrations, many organizations and SharePoint users now prefer leveraging professional migration tools. These tools also prove invaluable when organizations need to switch between on-premises and cloud-based SharePoint deployments.
How to choose a good SharePoint Migrator tool?
There are multiple tools in the market, and it would be difficult and time-taking to find an appropriate migration tool.
If you want to perform migration and need a proper tool for that, we will help you make a choice.
5 Most Promising SharePoint Content Migration Software You Can Try in 2022/2023
We have compiled a roster of five top-tier SharePoint migration tools, complete with their respective links and essential functionalities. Our selection process took into account various factors, including user-friendliness, migration capabilities, cost-efficiency, and performance.
Kernel Migrator for SharePoint
The SharePoint Migration tool is a sophisticated migration solution designed to streamline SharePoint, Office 365, Google Drive, and One Drive migration tasks, all managed from a unified console. This versatile tool extends its support to all on-premises SharePoint versions, including SharePoint 2019, as well as SharePoint Online (O365). Its capabilities encompass SharePoint to SharePoint migrations, public folder to SharePoint transfers, and file system to SharePoint moves. Kernel Migrator for SharePoint boasts an intuitive interface and excels at migrating the entirety of SharePoint data, encompassing lists, libraries, documents, and more. Additionally, the SharePoint Migration tool delivers pre-migration analysis, advanced filters, and facilitates CSV-based bulk migration.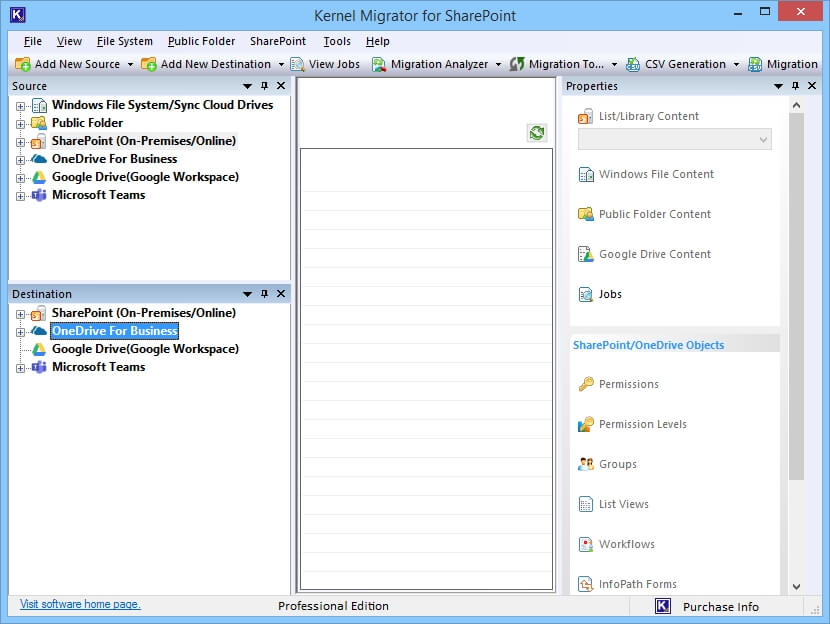 Pros: Enhance your migration strategy with comprehensive pre-migration analysis. Our migration solution encompasses the transfer of lists, libraries, and associated metadata, offering compatibility with a wide range of source platforms, such as SharePoint (across all versions), SharePoint Online, file servers, Google Drive, and OneDrive. Furthermore, our tool facilitates bulk migration through CSV files and empowers users with advanced filtering options for precision in data migration.
Cons: For demo download, the user needs to fill a form (no direct download link). And the demo version migrates only 5 items from lists/libraries/folders.
ShareGate Desktop
The ShareGate migration tool excels in handling migrations for both on-premises environments, spanning from the oldest to the newest versions, and SharePoint Online. It seamlessly transfers various elements, including files, documents, sites, subsites, lists, libraries, and more. Notably, it's particularly well-suited for large-scale data migrations, boasting the absence of data size limitations during the migration process. Furthermore, it offers robust support for migrating Nintex workflows. Following migration, the tool generates comprehensive post-migration reports, facilitating in-depth analysis. Additionally, the technical team behind ShareGate is highly efficient and readily provides online sessions for assistance.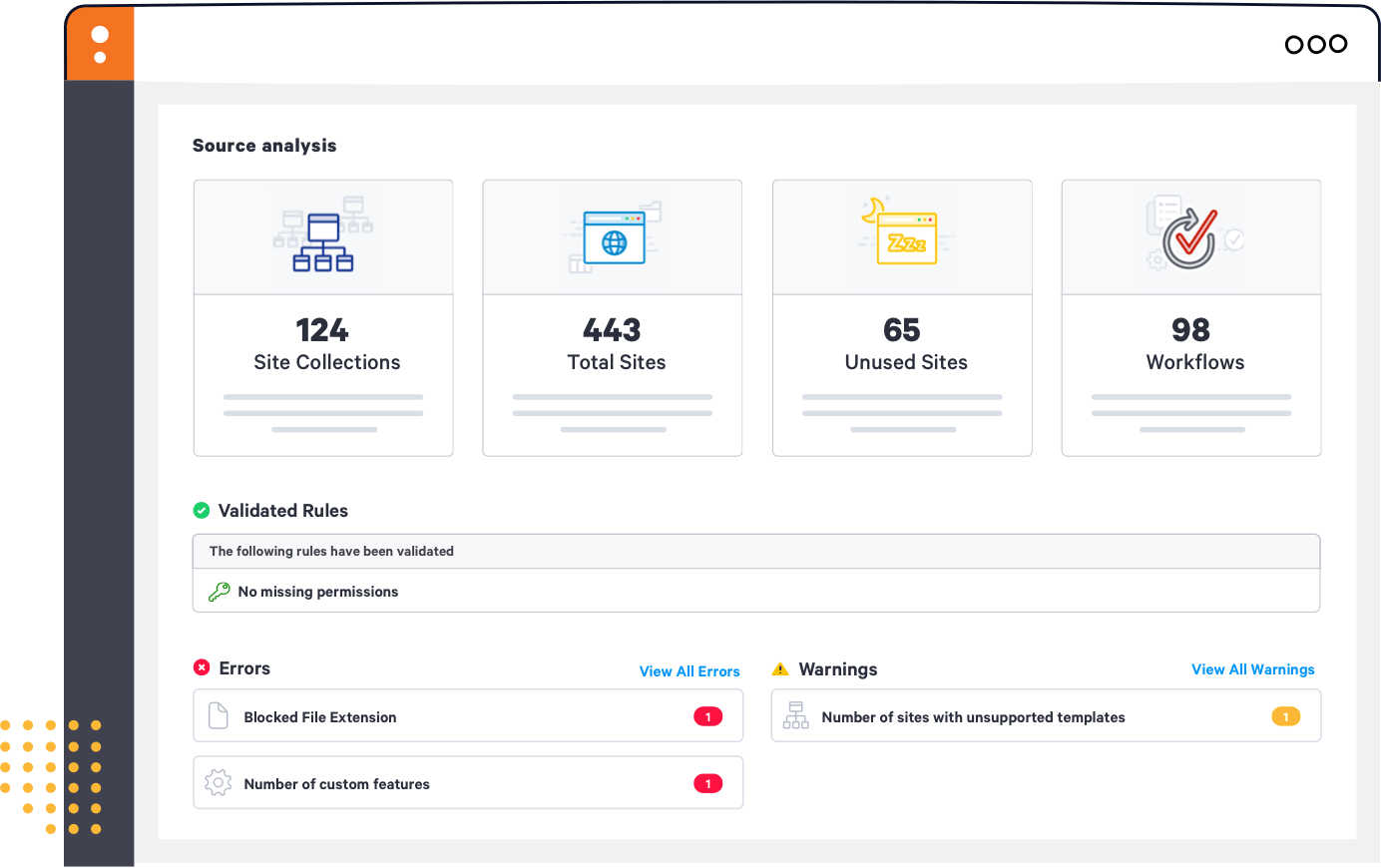 Pros: Streamlined user interface, comprehensive pre- and post-migration validation, support for migrating from file shares and Office 365, seamless migration between tenants, inclusion of customizable built-in reports, and the ability to migrate unlimited data while preserving permissions, metadata, and properties.
Cons: Limitations in scheduling migrations. Limited flexibility as no incremental data migration.
Read Also: SharePoint Migration Tool Download to Migrate SharePoint Content
Fly Migration tool from AvePoint
The cloud and SharePoint from AvePoint performs migrations along with many other migrations. The tool pre-scans the data, migrates with advanced filter options, mapping facility, and scheduling, and also monitors the migration project.
The Fly migration tool provides comprehensive support for bulk migration using CSV formatting. It seamlessly migrates permissions and metadata while offering a user-friendly drag-and-drop interface. Additionally, it displays real-time migration status updates for your convenience.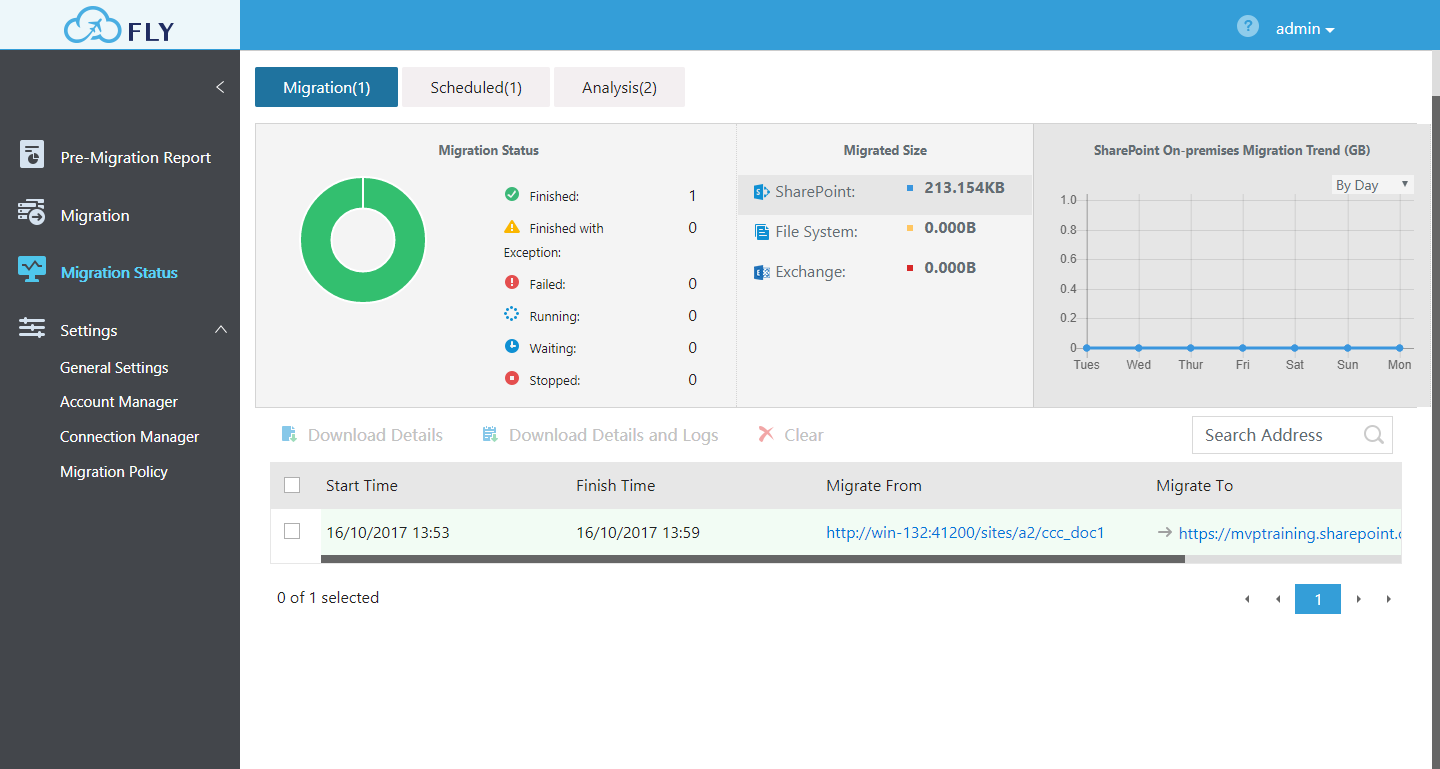 Pros: Enables advanced data pre-scanning, conducts scheduled migration tasks, monitors progress, and assesses performance through integrated reporting tools. Guarantees a secure and thorough migration process.
Cons: The tool does not work for older versions of SharePoint and Foundation. Also, a good interactive interface is needed.
Dockit Migrator by VYAPIN
The Vyapin SharePoint tool stands out thanks to its impressive and intelligent capabilities. This advanced tool facilitates the migration of various elements such as lists, content, sites, and more. It provides comprehensive support for all versions of SharePoint, including SharePoint Online, OneDrive for Business, and file shares. Additionally, it offers valuable features like migration planning, metadata restructuring, illegal character replacement, batch migration, workflow migration, incremental migration, and detailed migration status reports.


Pros: The tool has many useful advantages like pre-migration checklist, metadata editing, workflow migration, incremental & batch migration, NTFS permissions migration, etc.
Cons: Need to support more sources.
Read Also: Office 365 Vs SharePoint 2019 Brief Comparison
Quest Migration Solution
The Quest SharePoint solution has been tailored exclusively for migration purposes. It facilitates the swift transfer of content to both on-premises SharePoint and SharePoint Online environments. Furthermore, it incorporates a pre-migration assessment feature that enables users to enhance their migration planning by identifying potential issues in advance. Additionally, the solution provides post-migration synchronization capabilities.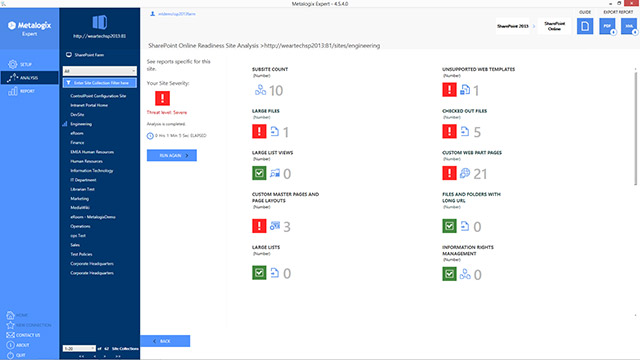 Pros: Quest SharePoint solution offers pre-migration analysis of source environment, instant migrations, simple interface, and more.
Cons: Need to revoke limitations on data migration which is linked to its license. Also, needs a simpler user interface.
Conclusion
We recently engaged in a conversation regarding five SharePoint content migration software options that show promise for the years 2022 and 2023. During our discussion, we delved into the capabilities, features, and functionalities of these tools, while also examining areas for potential enhancements. Each of these tools possesses the ability to migrate SharePoint data, albeit with unique options and features tailored to facilitate the migration process. While certain features are shared across these tools, it's worth noting that some limitations are present in specific software, as previously mentioned.
It is the sole responsibility and choice of the organization to go ahead and choose the best tool for SharePoint data migration, keeping all important aspects in mind.