Read time 9 minutes
FLV (.flv) video files are the most popular and common files used for live streaming on the Internet. It is an open standard file format supported by both Adobe and some non-Adobe products. This file does not support chapters, subtitles, etc., but has wide usage in streaming videos online whether on YouTube, Facebook, or any other platform.

Instant Solution
Try Kernel Video Converter Software to convert FLV to MP4 Video File. The software also supports to convert FLV, MP4, MOV, MPEG, MKV, AVI, ASF, WMV, DIVX, MJPEG, M4V, 3G2, TS, 3GP, AVCHD etc.
A Comparison between FLV and MP4 Formats
FLV-FLV files are also known as Flash Video Files. It was originally introduced by Macromedia and then developed by Adobe Systems. It is an open standard ISO/IEC 14496-12:2008 container file format that stores synchronized audio and video streams for digital video streaming via Adobe Flash Player v7 and later ones. Some FLV files are delivered embedded with SWF files. The file format supports both live streaming and progressive download, supported by non-Adobe programs too.
MP4 – MP4 stands for MPEG-4 developed by Moving Pictures Expert Group (MPEG) as a multimedia container for storing audio and video formats. It supports multiple audio as well as video codecs compatible with a wide range of media players. MP4, the most popular video file format, supports individual compressions for audio and video file formats. For audio, it uses AAC compression, and for video, it uses MPEG-4 compression. It uses open standard – ISO/IEC 14496 and supports video streaming as well as downloading websites.
Need to Convert FLV Videos to MP4 Videos
As we discussed, .flv videos are generally for online streaming but it can be downloaded and saved to the system or mobile devices as well. However, this file format might not be supported by the default codecs on your system and might require installing the supported ones. Also, it is difficult to play .flv files on your mobile devices.
So, it is required and recommended to convert your .flv video files to .mp4 format, which is a standard video file format supported my most of the devices.
Different ways to Convert FLV to MP4 Format
Here are some ways to convert FLV video files into MP4 video files:
Conversion Using VLC Media Player
This is a completely free manual solution to convert FLV to MP4 video files. It supports conversion between specific video file formats and allows customization of codecs. The process is slow and needs to be done carefully.
Start the VLC Media Player on your system.
Click on the Media tab and then select Convert/Save option from the drop-down list.

On the Open Media page, click Add option to add the .flv video files from the system for conversion.

Next, click on Convert/Save option.

On the Convert page, go to the Profile section and select MP4 format from the drop-down list. Click on Start to start the conversion process.

You can find the converted .flv file in .mp4 format on your system location.
Conversion Using Online Converters
This method includes the use of any online converter site to convert FLV to MP4 file format. This conversion needs an Internet connection. Thought it converts multiple video files together, it has file size limitations (can convert files up to a specific file size only).
The process involves visiting a website for online conversion, dragging/dropping or browsing files from the system location, selecting video file settings, and starting the conversion.
Conversion Using the professional Video Converter tool
Kernel Video Converter tool which supports conversion of video file from one format to another. It supports unlimited video files in multiple formats for simultaneous conversion. There is no limitation on the video file size and users can choose the saving location for the converted video files. The conversion is quick, and the tool ensures quality and originality of video files. It also has a free demo version on its website. Let us see the working process of this tool.
Download the tool from its website and install it on your Windows system. Follow these instructions.
Start the tool.
On the Welcome screen, click on the plus icon to start adding the .flv files from the system for conversion.

Choose the files for conversion and click on Open to add it.

The files are added. Now, click on Next to start the process.

On the Select Output Format page, select Simple Output – mp4 option and then click on Convert Now option.

Browse and select a saving location for the converted files and click on OK.

The conversion of video file format will get started and completed soon. The conversion status can be seen as Success. You can find the converted file at the specified location which you can reach after clicking on the given link directly. To save the conversion process report as a CSV file, click on Save report to CSV.

Hence the FLV to MP4 video files conversion is completed easily with this advanced tool.
The selected .flv files have now been converted to .mp4 files; using this tool, users can convert MP4 videos to AVI, MP4 to MP3 video formats or other file formats too as per their requirements.
Video Tutorial: Convert FLV to MP4 Format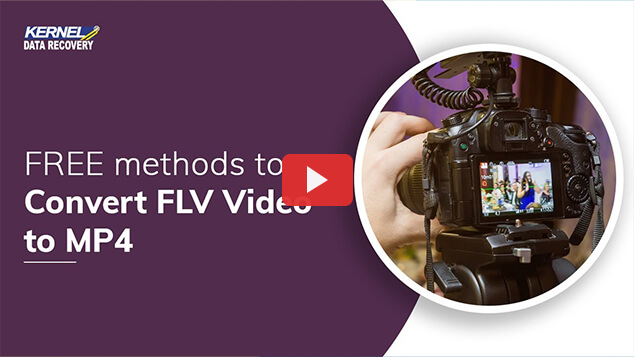 Summary
To play the downloaded .flv video files on any media player without any disturbance, their conversion to .mp4 video is necessary. However, manual FLV to MP4 conversion processes have some limitations, and so an effective automated video file converter tool is also suggested for FLV to MP4 video file conversion.