Read time 9 minutes
Summary: FLV files are widely used for online streaming but require conversion to MP4 for offline playback. The Kernel Video Converter tool offers an efficient and quality-preserving solution for this conversion.
FLV video files, denoted by the .flv extension, stand out as the prevalent and widely employed format for live streaming across the Internet. They conform to an open standard file format embraced by both Adobe and several non-Adobe software solutions. It's important to note that FLV files do not accommodate features such as chapters or subtitles. However, they find extensive utility in online video streaming, whether it's on popular platforms like YouTube, Facebook, or any other similar service.

Instant Solution
Try Kernel Video Converter Software to convert FLV to MP4 Video File. The software also supports to convert FLV, MP4, MOV, MPEG, MKV, AVI, ASF, WMV, DIVX, MJPEG, M4V, 3G2, TS, 3GP, AVCHD etc.
A Comparison between FLV and MP4 Formats
FLV-FLV files, often referred to as Flash Video Files, were initially introduced by Macromedia and subsequently developed by Adobe Systems. These files adhere to the open standard ISO/IEC 14496-12:2008 container format, designed for the storage of synchronized audio and video streams, primarily intended for digital video streaming via Adobe Flash Player versions 7 and beyond. In some cases, FLV files may be embedded within SWF files. Notably, this file format boasts compatibility with both live streaming and progressive download methods, making it accessible not only through Adobe products but also by various non-Adobe software solutions.
MP4 – MP4, an abbreviation for MPEG-4, is a multimedia container format crafted by the Moving Pictures Expert Group (MPEG) for the purpose of storing various audio and video formats. This versatile format boasts compatibility with a multitude of audio and video codecs, making it usable on a wide array of media players. As one of the most widely embraced video file formats, MP4 provides the capability to apply distinct compression techniques to both audio and video components. Specifically, it employs AAC compression for audio and MPEG-4 compression for video, enhancing the efficiency of data storage.
MP4 adheres to the open standard known as ISO/IEC 14496, which ensures its broad acceptance and compatibility across different platforms. Beyond merely storing media, MP4 facilitates video streaming, allowing for seamless playback directly from websites, and also enables the downloading of multimedia content for offline viewing. This versatility has cemented MP4's status as a ubiquitous and adaptable format for multimedia content delivery.
Need to Convert FLV Videos to MP4 Videos
Indeed, .flv videos are commonly used for online streaming, but they can also be downloaded and stored on your computer or mobile devices. However, playing these files offline can be a bit challenging. This is because the .flv format may not be supported by the default codecs on your system, necessitating the installation of compatible ones to ensure smooth playback. Additionally, playing .flv files on mobile devices can sometimes be tricky due to potential compatibility issues.
So, it is required and recommended to convert your .flv video files to .mp4 format, which is a standard video file format supported my most of the devices.
Different ways to Convert FLV to MP4 Format
Here are some ways to convert FLV video files into MP4 video files:
Conversion Using VLC Media Player
This manual method provides a cost-free approach for converting FLV to MP4 video files. It permits the conversion between certain video formats while offering the flexibility to customize codecs as needed. It's important to note that this process can be time-consuming and requires careful execution to ensure a successful conversion.
Start the VLC Media Player on your system.
Click on the Media tab and then select Convert/Save option from the drop-down list.

On the Open Media page, click Add option to add the .flv video files from the system for conversion.

Next, click on Convert/Save option.

On the Convert page, go to the Profile section and select MP4 format from the drop-down list. Click on Start to start the conversion process.

You can find the converted .flv file in .mp4 format on your system location.
Conversion Using Online Converters
This method involves utilizing an online converter website to change FLV files into the MP4 format. It's essential to have an active Internet connection during the conversion process. While this approach offers the convenience of converting multiple video files simultaneously, it's worth noting that there are limitations in terms of file size, as these sites can typically convert files up to a specific maximum size.
The process involves visiting a website for online conversion, dragging/dropping or browsing files from the system location, selecting video file settings, and starting the conversion.
Conversion Using the professional Video Converter tool
The Kernel Video Converter is a versatile tool designed to facilitate seamless video file format conversion. It offers support for an extensive range of video formats and allows users to convert multiple video files concurrently, without any restrictions on file size. Additionally, users have the flexibility to select their preferred destination for the converted video files.
This converter boasts rapid conversion speeds while ensuring that the quality and authenticity of the original video files are preserved. For those curious about its functionality, a free demo version is readily available on the official website. Now, let's delve into the operational workflow of this remarkable tool.
Download the tool from its website and install it on your Windows system. Follow these instructions.
Start the tool.
On the Welcome screen, click on the plus icon to start adding the .flv files from the system for conversion.

Choose the files for conversion and click on Open to add it.

The files are added. Now, click on Next to start the process.

On the Select Output Format page, select Simple Output – mp4 option and then click on Convert Now option.

Browse and select a saving location for the converted files and click on OK.

The conversion of video file format will get started and completed soon. The conversion status can be seen as Success. You can find the converted file at the specified location which you can reach after clicking on the given link directly. To save the conversion process report as a CSV file, click on Save report to CSV.

Hence the FLV to MP4 video files conversion is completed easily with this advanced tool.
The selected .flv files have now been converted to .mp4 files; using this tool, users can convert MP4 videos to AVI, MP4 to MP3 video formats or other file formats too as per their requirements.
Video Tutorial: Convert FLV to MP4 Format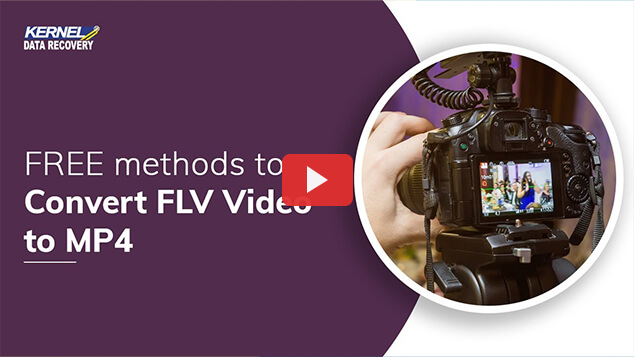 Summary
In order to enjoy uninterrupted playback of downloaded .flv video files on any media player, it becomes imperative to convert them into .mp4 format. Nonetheless, manual FLV to MP4 conversion methods have their inherent limitations. Therefore, it is highly recommended to utilize an efficient automated video file converter tool for the seamless conversion of FLV to MP4 video files.