There are thousands of Outlook users out there, and many are using the email client since it was released for the first time. The famous email client has now become the first choice of both businesses and individuals.
Many users like to store mails items in different Outlook accounts. But when several PST files are lying around, it is hard to manage PST files. The task becomes time-consuming and sometimes confusing for some users.
Therefore, the proper solution to this mess would be a single PST file with all your valuable data inside. Apart from that, there are some other reasons to merge Outlook PST files. But the question arises, how would you merge all PST data files into a single Outlook PST file. As, there are chances that you mess up and lose your mailbox data, and it might harm you in many ways.
In this article, we are going to guide you through the methods of merging multiple Microsoft Outlook PST files and shift all the distributed data to a single file, but without either harming or losing the PST file data.

Instant Solution
To Merge or Join multiple Outlook PST files, try Kernel Merge PST Software. You can merge all items of PST files, including emails, contacts, calendar, task, etc.


Merge PST Data Files Manually
The manual method is not straightforward; it is a two-step process.
Step 1: Create a New Outlook PST File
Open Outlook,
Click on Home tab, click New Items, click More Items > Outlook Data File.

Browse for the path to save the file, give it a name, and click Ok.
New Outlook PST file is now created.
Step 2: Import Outlook Data to New PST file
In this step, the data from existing PST data files will be transferred to the new file created in Step 1.
Open Outlook, and click on File tab.
Click on Open & Export > Import/Export.

Select Import from another program or file; click Next.

Select Outlook Data file (.pst) and click Next.

Browse the PST data file to import and click Next.



Note: Select between the options given in this step as per the need (shown in the screenshot above).

Select the folder(s) you wish to import to the new PST data file.

Note: Don't forget to checkmark on sub-folder(s) in case of partial selection of folder(s).

Click Finish.
Importing from old Outlook PST data file is successful, but Step 2 has to be repeated to complete the migration from multiple PST data files. Above, the data is imported from a single file only, though the iterative count of Step 2 would depend on the number of PST data files you have from which you wish to import data into a single Outlook PST file.
Merge Outlook PST Files Instantly
The manual method of merging PST files into one is quite complex, includes numerous steps, and requires full user attention; otherwise the chances of data loss, file corruption/damage would increase, which would affect the workflow and cost precious time & money.
Thus, for saving both time & money in addition to avoiding the chances of miss-happenings, preferring a professional solution is the best option.
Kernel Merge PST is a professional tool which enables to merge multiple Microsoft Outlook PST data files into one.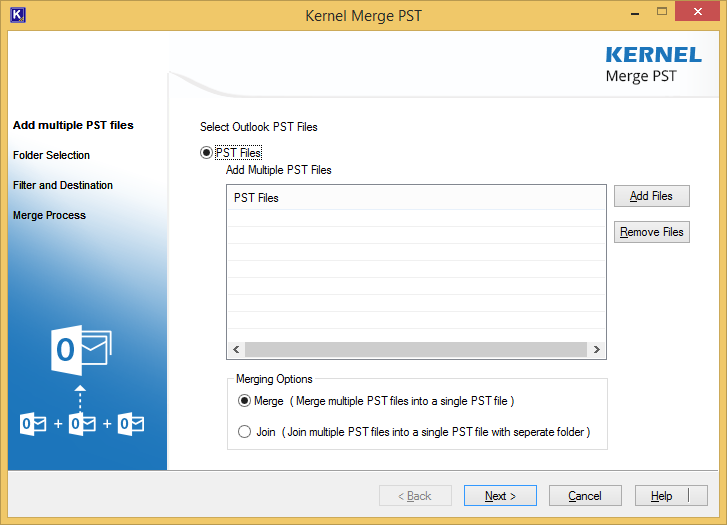 Kernel Merge PST tool offers ease of usability to the extent that anyone can use the tool without any advanced technical knowledge. Navigation through the menu options & other sections is of no effort; the GUI reflects design simplicity. There is no restriction on merging of any data/file/folder between Outlook PST files or on file size. Kernel Merge PST supports both UNICODE and ANSI Outlook PST files.
Follow below steps to merge/join Outlook PST files using the tool
Launch Kernel Merge PST tool.

Browse for the PST files you wish to merge/join.

Select the radio option whether you want to merge or join the PST files; click Next.

Here, upon completion of scanning the PST files content preview would pop on-screen. Select the required mailbox folders and click Next.

Apply filters to export selected folders from PST files or skip the step. You can apply filters by date range and by time-period to export specific PST file data as per the requirement.

Specify the file saving location and click Next.

The whole process would complete in a few seconds. Process completion time would depend on the size of the PST files.

Once merging or joining is complete, click Ok.
Conclusion
Manual migration method can be tricky and confusing, as there are a couple of steps in the process which requires total user attention. The is why many Outlook users use Kernel Merge PST tool. The tool is compatible with all the latest Outlook versions like Outlook 2019, 2016, 2013, 2010, and 2007. With the help of this tool users can easily merge multiple Outlook 2016 PST files.

Watch Video: To know Complete Process of Outlook Merge PST Tool