Kernel for Outlook PST Repair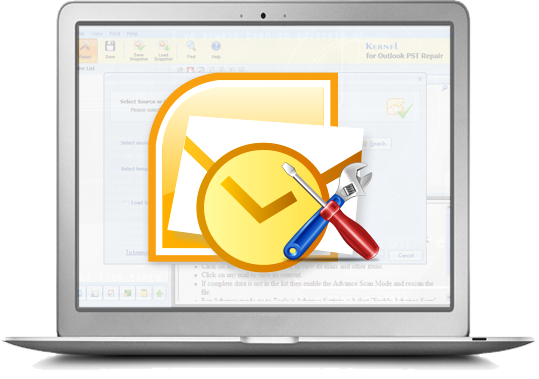 Bei Kernel for Outlook PST Repair handelt es sich um die wohl beste Anwendersoftware zur Wiederherstellung von PST Daten. Auch unerfahrene User können hier mit intuitivem Vorgehen, gelöschte und defekte MS Outlook Dateien retten und neu abspeichern. Erleichtert wird der Vorgang durch erweiterte Suchfunktionen.
Daten aus stark verschlüsselten und Passwort gesicherten PSTs wiederherstellen
Repariert auch große PST Dateien über 2 GB Größe, ohne dabei durch Größenlimitierung eingeschränkt zu sein
Stellt gelöschte Nachrichten und Anhänge wieder her
Ist in der Lage ein funktionsfähiges PST aus den geretteten Daten zu erstellen
Rettet auch E-Mail Zusätze wie Betreff, Absender, Empfänger, CC, BCC, Zeit oder Datum der Versendung und des Empfangs
Kompatibel mit MS Outlook 2016/2013/2010/2007/2003/2002/2000/98/97
Sie suchen nach einer Lösung für den Export von PST Dateien? Kernel Outlook PST ist eine leistungsstarke Software, die PST Dateien retten und in andere Ziele konvertieren und speichern kann. Das geht mit defekten, wie auch mit funktionsfähigen PST Dateien.
Speichern Sie gerettete PST Dateien in den Formaten:
DBX, MBOX, MSG, EML, TXT, RTF, HTML, und MHTML Format
Export von PST Dateien:
PST Dateien zu Office365
PST Dateien zu E-Mail Servern wie: MS Exchange Server, Novell GroupWise und Lotus Domino
PST Dateien zu Web Mail Diensten wie: Google Apps, Gmail, iCloud, Yahoo, AOL und Outlook.com
Lebenslange Lizenz (keine Gebühren zur Erneuerung der Lizenz)
Alle zukünftigen Updates werden kostenlos bereitgestellt
Sofortige Lieferung per E-Mail
30 Tage - Geld zurück Garantie
Die wichtigsten Funktionen von Kernel for Outlook PST Repair
Große PST Files reparieren
Mit Hilfe dieser Anwendung kann wirklich jeder Nutzer schnell und unkompliziert PST Dateien finden und wiederherstellen. Es können außerdem Dateien über 2 GB Größe gerettet werden und Kernel for PST bietet darüber hinaus Möglichkeiten, die Dateien nach Dateigröße oder Ordnergröße zu splitten.
Meta Properties beibehalten
Diese PST Recovery Software ist in der Lage, auch Metadaten der gesicherten E-Mails wiederherzustellen. (Empfänger, Absender, CC, BCC, Betreff, Datum, Zeit, Kontakte, Telefonnummer, E-Mail IDs, Firmenname, Aufgaben und Kalender, Ort, Notizen und vieles mehr).
PST Files exportieren
PST Postfächer wiederherstellen und in die neuesten E-Mail Server Formate konvertieren: MS Exchange Server, Novell GroupWise, Lotus Domino, E-Mail Dienste, Office 365 und Cloud Lösungen. Erfahren Sie mehr...
Vorschau auf wiederhergestellte Postfächer
Bevor Sie eine vollständige Outlook PST Recovery vornehmen, können Sie mithilfe der Anwendung alle Elemente die beim Scan gefunden wurden, ganz bequem in einer Vorschau betrachten. So können Nutzer von vorneherein selektieren, welche Elemente letztendlich in das neue Ziel gespeichert werden.
Erfolgreiches Abspeichern von E-Mails in verschiedenen Formaten
Durch die effektive Verwendung dieser Software, bietet Kernel for Outlook PST Repair sogar die Möglichkeit, ausgewählte E-Mails in variablen Dateiformaten zu sichern. So erlaubt die Software die Speicherung in den Formaten: DBX, MBOX, MSG, EML und sogar PDF.
PST File Suchfunktion
Die Software verfügt über eine gut eingebettete Suchfunktion, die den Nutzer in die Lage versetzt, aus den vielen wiederhergestellten Dateien die entsprechenden PST Dateien auf dem durchsuchten Laufwerk auszuwählen. Aus den angezeigten Ergebnissen, kann sofort eine Auswahl vorgenommen und die notwendigen Maßnahmen eingeleitet werden.
Kostenlose Testversion probieren
Download und Installation der Testversion von Kernel for Outlook PST Repair. Erleben Sie die volle Leistung unserer Software schon vor dem Kauf. Mit der Testversion können Sie sowohl E-Mails wiederherstellen, als auch Vorschauen erstellen und die 25 ersten Elemente jedes Ordners in ein beliebiges Ziel speichern.
Supported Versions
Windows OS Platforms – Windows 10/8.1/8/7/Vista/XP/2000/98/NT and 95 and Windows Server 2012/2008 R2/2008/2003 R2/2003
Outlook Platforms – 2016/2013/2010/2007/2003/2002/2000/98 and 97
Basic Requirements
Pentium Class Processor
256 MB RAM (minimum)
50 MB for software installation
Enough space to save the repaired PST files; for example, you should at least have 10 MB of free disk space if you want to repair and save a 10 MB PST file
Funktionen
Testversion
Vollversion
Vorschau der gesamten wiederhergestellten Daten
Speichermöglichkeiten
Speichert bis zu 25 Elemente pro Ordner
Keine Einschränkungen…Speichern Sie alle Daten und Ordner
100% Sicher
Kernel for Outlook PST Repair Aktuelle Version
(24x7) kostenloser technischer Support (Telefon, E-Mail, Live Chat)
Kompatibel mit allen neuen Versionen
Money-Back Guarantee Feel Free to Purchase Kernel tools! We are committed to 100% customer satisfaction and thus we provide 30 days money back guarantee. View details...
Schritte zur Wiederherstellung einer PST Datei
Diese Kernel for Outlook PST Repair Software erlaubt den kompletten Scan und die Reparatur der fehlerhaften PST Dateien. Die Anwendung stellt fehlerhafte Dateien wieder her und zeigt diese in einer Baumstruktur, wenn die folgenden Schritte ausgeführt werden:
Wählen Sie im ersten Schritt die Quelle Ihres PST Files mit einem Klick auf die Schaltfläche "Browse".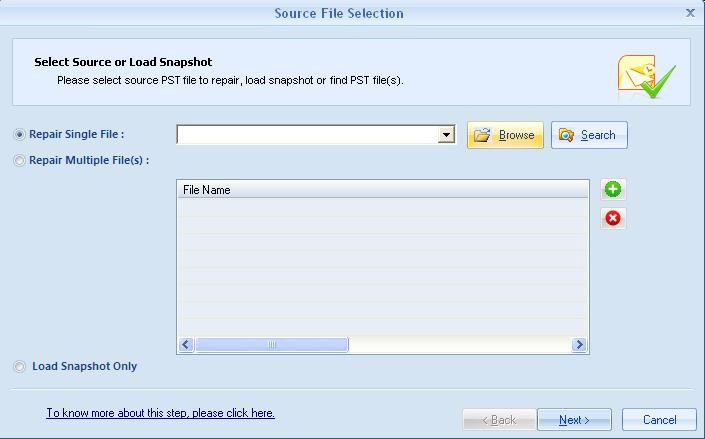 Sobald der Wiederherstellungsprozess abgeschlossen ist, zeigt die Software die wiederhergestellten Elemente in einer Vorschau an.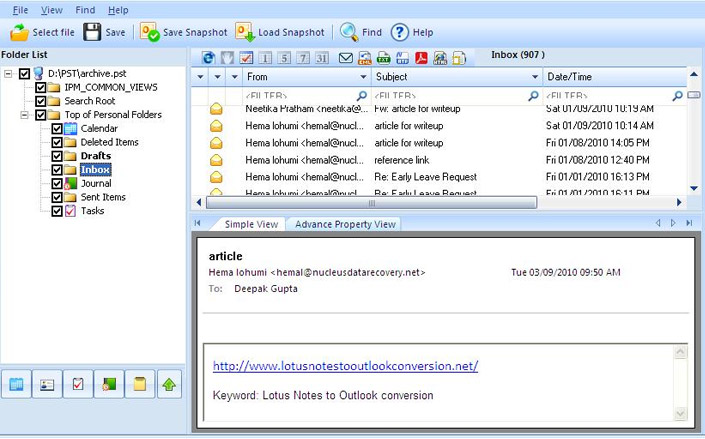 Im letzten Schritt werden die benötigten Postfächer und Ordner ausgewählt und durch einen Klick auf den "Save" Button in das ausgewählte Ziel gespeichert.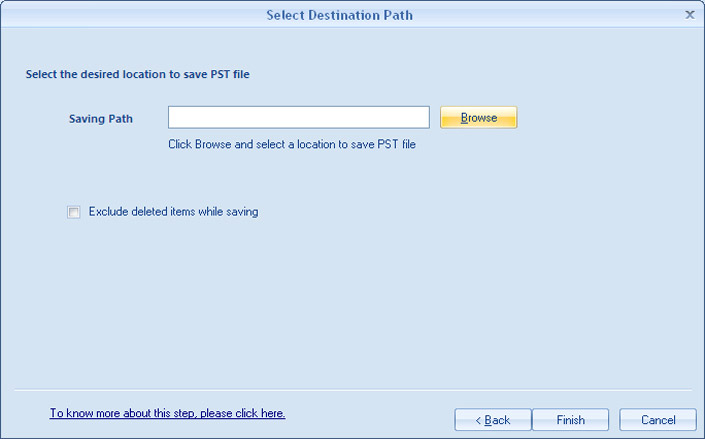 MVP Bewertungen

Justin Vendette
(Microsoft MVP)
United States Waukesha, WI
Gewinnen Sie Ihre verlorene E-Mails! – A Kernel Data Recovery Outlook PST Recovery Software Rezension Mit dem Fortschritt in E-Mail, sehr selten tun wir erhalten Briefe durch unsere lokalen Mail-Dienst. Kommunikation zwischen den Menschen hat zu einem digitalen Zeitalter bewegt, wie wir sehen, Briefe, Werbeanzeigen, Rechnungen und Informations Mail digital zu uns kommen.
View full review...