OneDrive for Business provides businesses with an excellent storage solution at a more cost-effective rate. It offers ample storage capacity, allowing organizations to securely store and effortlessly share a vast number of files with their team members. As a result, many users and organizations are increasingly inclined towards migrating from OneDrive Personal to OneDrive for Business. However, transitioning a substantial volume of data, often spanning multiple gigabytes, presents a formidable challenge, especially when considering the support infrastructure on the recipient end. To navigate this process smoothly and securely, it is advisable to explore the top OneDrive migration tools available. These tools can facilitate a seamless and secure migration of personal OneDrive data to business accounts, ensuring a clean and hassle-free transition.
Here, in this post, we will discuss how to migrate OneDrive (Personal) data to OneDrive for Business, Google Drive, and SharePoint Online using the Sharepoint Migration tool.
It Involves Two Steps:
Kernel Migrator for SharePoint tool excels in executing swift and secure migrations across SharePoint Server, OneDrive for Business, Google Drive, and File Systems. Its versatility extends to seamless customization, making it a breeze to migrate content across all iterations of SharePoint Server. In this context, we'll zero in on leveraging the tool for a seamless transition from OneDrive Personal to OneDrive for Business, Google Drive, and SharePoint Online.

Prerequisites:
The essential step is to integrate or link OneDrive (Personal) with your computer. You have two options for accomplishing this task: either utilize the built-in OneDrive application or download the OneDrive desktop application. After successfully installing OneDrive (Personal), you can log in with your Microsoft account. Subsequently, the OneDrive folder will seamlessly present all its contents within the File Explorer.
Migrate OneDrive Personal to Business, Google Drive and SharePoint
Ensure you're connected to OneDrive (Personal) on your PC, and have the necessary login credentials for OneDrive for Business, Google Drive, or SharePoint, depending on where you intend to migrate the data. After confirming your connections and credentials, initiate the software on your system and proceed with the following steps.
On the left pane of the Welcome Screen, find the OneDrive application folder. Note: The exact location of the OneDrive application is within C Drive > Users > (Username) > OneDrive.
Next, under the destination panel, choose the option as per your requirement.

OneDrive for Business: Right-click on the OneDrive for Business option and choose Add OneDrive for Business.
Google Drive for Business: To add Google Drive as the destination, right-click the Google Drive option and select Add Google Drive.
SharePoint: Add SharePoint (On-premises or Online) as the destination by right-clicking on the SharePoint Server option and then choosing Add New SharePoint Site.

Add destination details like Project Name, Site Address, Username, Password, etc. Click OK. It will add the OneDrive for Business account as the destination.

To add Google Drive as a destination, you need the following details. It will redirect to the login page where you can add the Username and password to add the Google Drive account directly.
Provide details like Site URL, Username, and Password to add your SharePoint Server as the destination.

Go to the Source Panel and right-click on OneDrive (you can either choose the full folder or the sub-folders and right-click on them . Here, we are selecting the full folder). Right-click the OneDrive folder and then click Copy to > OneDrive For Business. Note: You can choose other options (SharePoint or Google Drive) as the destination at this step as per your requirement. The process is the same.
Select the folder, choose data from the Add option, and provide Groups/User Permissions as per your choice. Click the Next option.
On the next page, the tool will automatically fetch the added destination OneDrive For Business details from Step 3. You can choose to perform either Simple or Bulk Migration. After that, click Next to continue.
Select the users in the destination to which you want to move the source data and click Next.
Select your choice for Copy options, and add Filters (Date Filter, File Filter, or User Filter) if needed. Click Next.
Here you can set permissions for migration and remap users or groups. Click Next to continue.
You can either execute immediately or schedule it on a particular day/time. After the selection, click Next.
Check the details of the added Source and Destination. Click Next.
The process of migrating data from your OneDrive (Personal) account to OneDrive for Business is now underway. This migration is remarkably swift and includes real-time progress updates. Simply click "Finish" when the migration is successfully completed.
Hence, you have just experienced the simplest way to migrate data from OneDrive Personal to OneDrive for Business, Google Drive, and SharePoint Server destinations.

Kernel Migrator for SharePoint Working Video Tutorial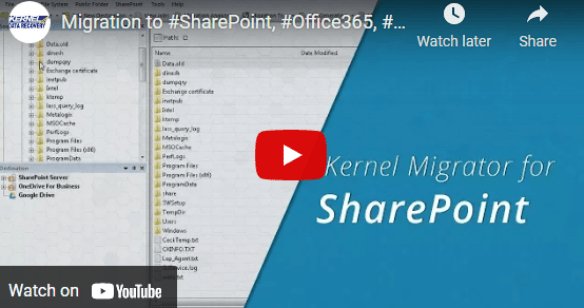 Conclusion
As evident, Kernel Migrator for SharePoint offers seamless assistance in migrating your personal OneDrive to Business and various other destinations. This versatile tool excels in executing bulk, selective, and incremental migrations while ensuring the utmost data integrity. Feel free to explore its capabilities further by downloading the complimentary demo version to discover the tool's extensive feature set.