Kernel for Exchange Server offers a secure and dependable solution for retrieving corrupt Exchange database files and saving them to a suitable destination. Unlike some other methods, it doesn't rely on transaction logs for data recovery; instead, it recovers the entire data using the database file (EDB) alone. A free version of the software is available for download from the website, which you can later activate. Please note that the free version allows you to save up to 25 items per folder. To save the entire dataset, you'll need to activate the trial version into a full version.
Click the 'Download Free' icon, and an executable file will be downloaded.
Install the software.
The setup file, also known as the executable file, can be found in the Downloads Folder. Here's a guide on how to install the software:
Double-click the executable file. It will open the setup wizard of the software. Click Next.
Read the License Agreement and click 'I accept the agreement' option and click Next.
The software will install at the following folder -
C:\Program Files (x86)\Kernel for Exchange Server - Evaluation Version
You can click the Browse button and install the software at a different folder. Then click Next.
Click the Install button.
The software will be installed and opened instantly.
Limitations of the Trial Version
When conducting recovery or migration with the trial version, you'll encounter a message stating, "The trial version allows copying and exporting a maximum of 25 items per folder." To remove this limitation, you'll need to purchase a software license.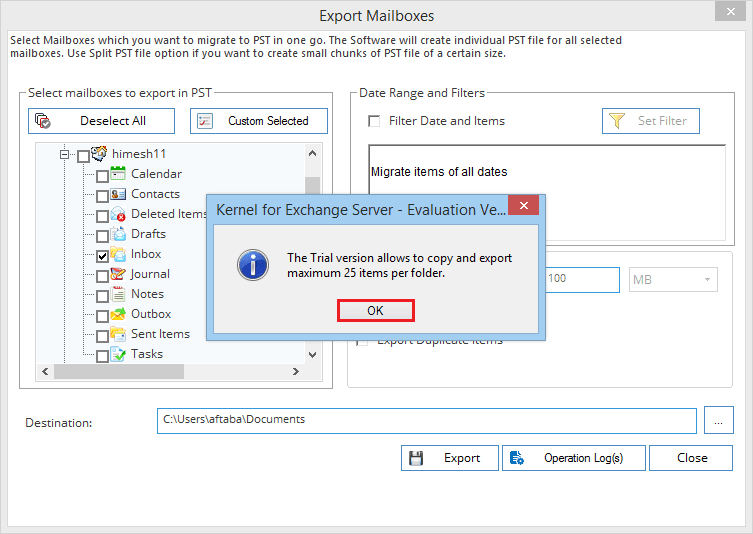 Activate the software
To activate the tool, you need to buy its license. To buy it, go to Help and click Buy Online.
The Buy Online link open the following URL - https://www.nucleustechnologies.com/buy-exchange-server-recovery.php
Here, you have the option to purchase either a Corporate License or a Technical License. Once you've completed the purchase, you will receive an email containing the URL to download the full version of the software, along with the necessary credentials. After downloading the setup from the provided URL, running the file will initiate the installation process. Before you begin working with the software, a Registration wizard will open, prompting you to input the credentials received in the email.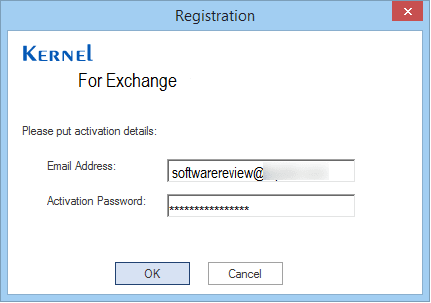 Update the software
To update the installed software, you should first uninstall the current version you are using. Then, you can download the latest version using the same download link (provided in the email you received upon purchasing the license).