Kernel Migrator for Exchange software delivers quick migration between different Exchange versions (On premise, Exchange Online) and Exchange to Office 365 platform as well. The support team which is 24*7 available always welcome the software users with their queries. We are going to discuss one frequent user query here which is resolved by the expert available at the support.

The user query was like that "I am receiving an error - Error in IMAPISession::OpenMSGStore: MAPI_E_FAILONEPROVIDERulVersion: 0 while adding Exchange Server 2016 as target using administrative credentials. Actually, I was trying to migrate Exchange 2010 to Exchange 2016 with Kernel Migrator for Exchange tool and on adding the target details, this error occurred eventually. On my repeated attempts, the error is still existing, and I am unable to complete the migration. Please guide me on how to fix this error."
The error which the user was talking about is displayed like this: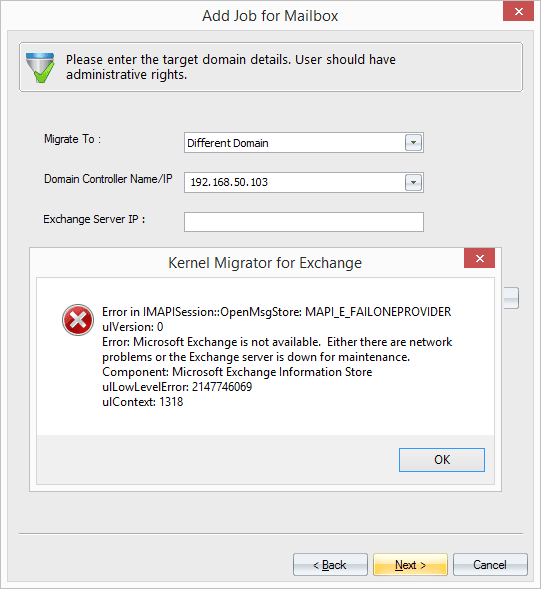 This IMAPI Session error while adding Exchange Server as the target pops up due to the following reasons:
Added Exchange Server database is dismounted.
Added Exchange Server Services is disabled or not working.
Solutions To Fix This Error
Mount the dismounted database: From Exchange Admin Center in Exchange 2016, check whether the database is dismounted or not. For that, go to Servers>databases and check the status of the database. If it is mounted state, go to the next solution but if it is in the dismounted state, select the database and click on 3 dots. Then click on Mount option to mount it again. After that, try adding the target Exchange Server 2016 in Kernel Migrator for Exchange and see if the error is fixed.
Check and Run all Exchange Server services: If the database is in mounted state, then you can try this method. On the Exchange system, press Windows+R and type services.msc to open the Exchange Server Services page. Check for all the Microsoft Exchange Services, if they have Running status or not. For those services which do not have Running status, select them, right-click and select Start option. This will run those Exchange Services as well.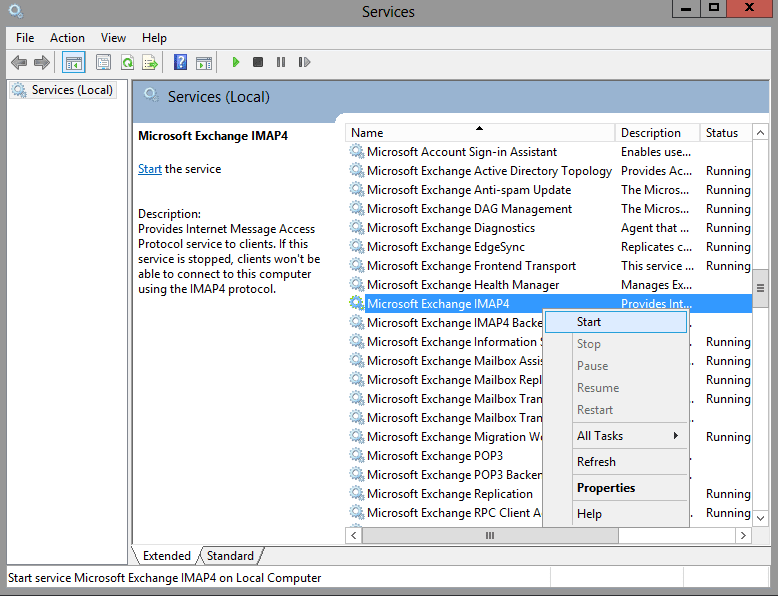 Now, try adding this Exchange Server 2016 as target in Kernel Migrator for Exchange software and see if the problem is resolved.
Kernel Migrator for Exchange software user's queries is a source of inspiration to more improvements in the software designing. Also, one gets to know more about the Exchange Server and software requirements from it. This "IMAPI error" in the Exchange Migration software is resolved with some checks and manually handling the Exchange Server. The software users can feel free to generate more queries as the team is ready to answer them anytime.