Microsoft Office Word stands out as a pivotal component within the MS Office suite, finding extensive application in the creation of diverse document types such as reports, newsletters, blogs, prescriptions, receipts, resumes, and technical papers. Consequently, the inadvertent deletion or inaccessibility of a crucial document could lead to significant repercussions. In such circumstances, the utilization of a Windows Data Recovery tool becomes imperative.
Kernel for Windows Data Recovery stands out as the ideal software for the recovery of a wide range of Windows data. You have the flexibility to select either physical or logical drives, and initiate a comprehensive data scan.

Windows corruption can indeed pose a significant threat to businesses that heavily depend on Word documents for tasks like report generation, letter writing, and maintaining financial records. Several scenarios illustrate the diverse problems associated with inaccessibility of MS Word files.
Scenario 1:
I had just finished a comprehensive project report that was meant to be sent to my client today, but it seems to have been inadvertently deleted from my computer. I find myself in an incredibly challenging situation since this report contained crucial project information. The potential financial repercussions are a source of great concern for me.– Marshall
Scenario 2:
As a final year law student, I frequently compose numerous case studies for various courses, which can be time-consuming. I consistently save these case studies in one of my desktop folders for easy access. However, today, upon opening my computer, I was dismayed to find that the folder had disappeared. Now, I am faced with the daunting task of recreating these case studies, which I anticipate will demand a minimum of a month's worth of work. – Peter.
Scenario 3:
In my role as a professional blogger, Microsoft Word is an indispensable tool for creating and publishing content for my clients. I was diligently working on a series of blogs, consistently saving them in one location. However, owing to a PC corruption issue, I am now unable to open any of these blogs. This setback is not only disheartening but also a considerable loss of my time and effort, jeopardizing my ability to meet my client's assignment deadline.
The situations described above indeed paint a bleak picture, with users experiencing significant losses, be it in business, finances, or time, due to deleted MS Word files. While the recovery of deleted files can be challenging, there are various methods that can be employed to attempt to trace and retrieve these lost files:
Check the recycle bin: When a file is accidentally deleted, it's a common response to check the recycle bin. Operating systems typically move deleted files to the recycle bin rather than deleting them immediately. This means that a recently deleted file can usually be easily recovered from the recycle bin, as long as it hasn't been permanently deleted by emptying the recycle bin.
Recover from backups: If you have enabled backup functionality in MS Word, it can be a helpful resource for recovering deleted Word files. MS Word typically saves backup copies of files with a .wbk extension in a designated folder, often labeled as 'Backup copy of [file name].' By locating and saving this backup file, you can often recover your deleted Word document. This method is particularly useful for retrieving previous versions of your document, especially if the backup feature was active when the document was last saved.
Recover from temporary files: Temporary files with a .tmp extension are often stored in the Local Settings folder on the C drive. To recover a deleted file, you can search for it within the temporary folders, but it's essential to ensure that you have enabled the option to view hidden files and folders in your file explorer settings. Once you've enabled this option, you can navigate to the temporary folders, search for the specific file you need, and copy it back to its original location. Temporary files sometimes contain valuable data, and this method can help recover lost work.
Use Kernel for Windows Data Recovery Free Version
Kernel for Windows Data Recovery Free Version scans the logical and physical drives of the system and recovers all data including the deleted items.

It works in three different modes Quick Scan, Deep Scan, and File Trace.
Quick scan: It is the fastest scan which quickly recovers recently deleted files. It can be used in case of file corruption, the presence of bad sectors, and index corruption.
Deep scan: It should be used when quick scan fails to recover the data.
File trace: It is the most efficient scanning method. Though slow, it searches each sector to recover the maximum data.
The user interface of the tool is also quite simple. It presents all three scanning modes on its home screen. Click on any scan mode.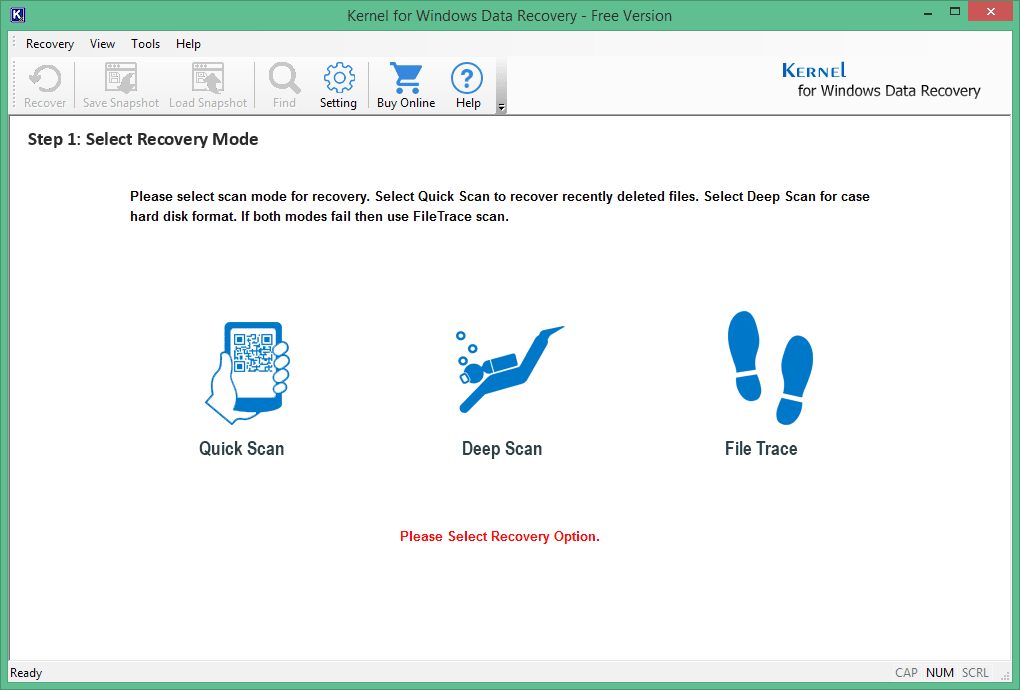 The next window will let you choose the logical drive or physical drive. Never choose the drive where the software is installed. Click Next.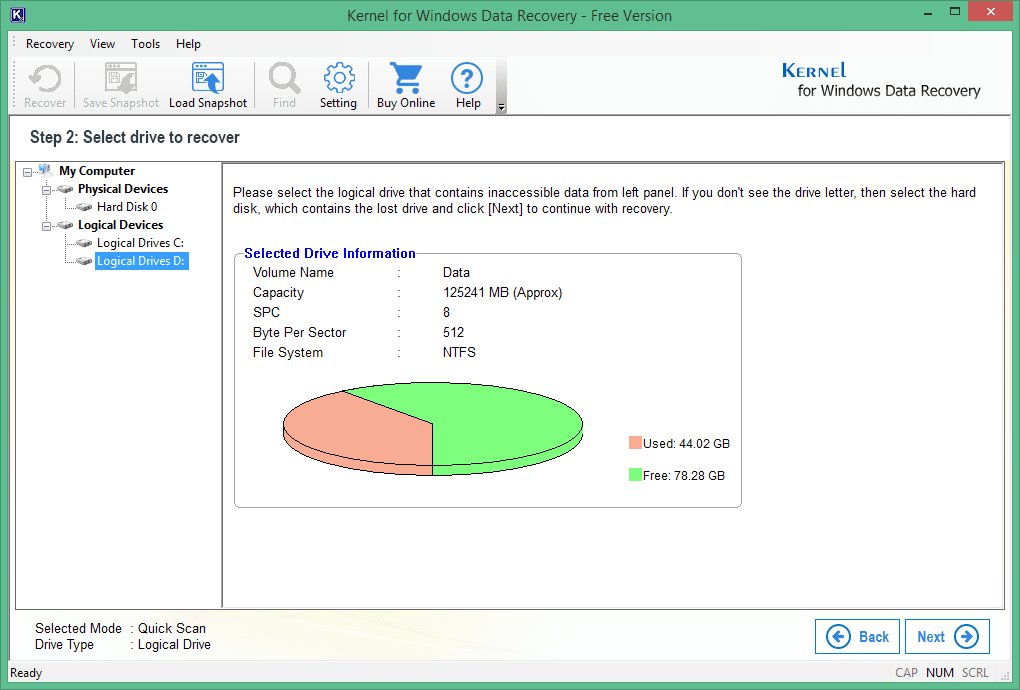 The third window will inform you about the option you have chosen, the used space, and the free space. Click Next.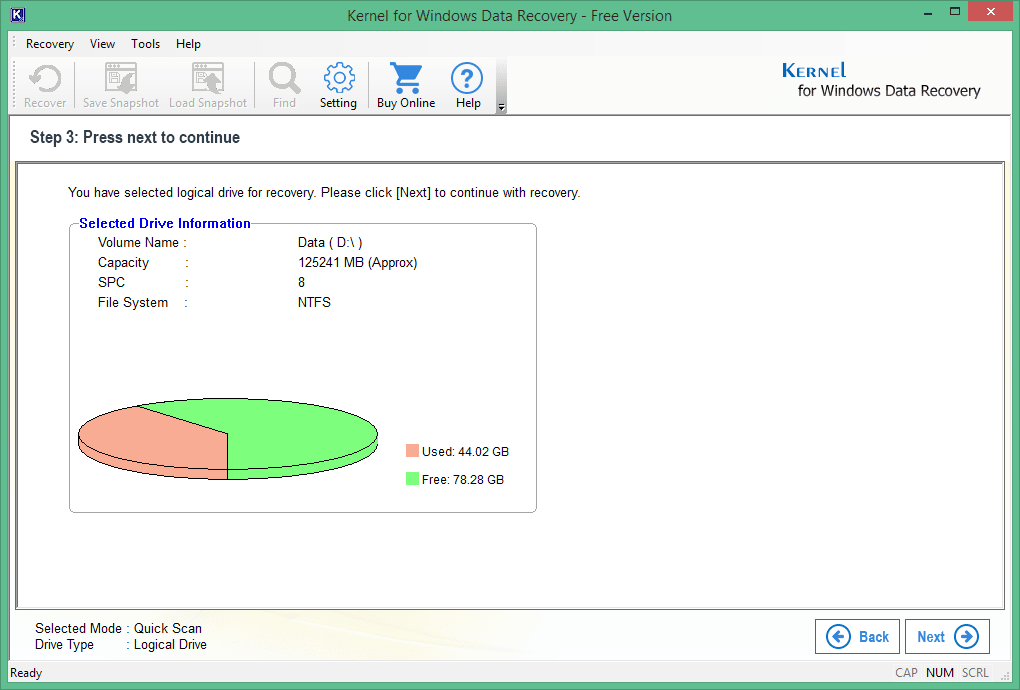 The tool starts recovering the data. You can choose to either stop it or hide the progress bar.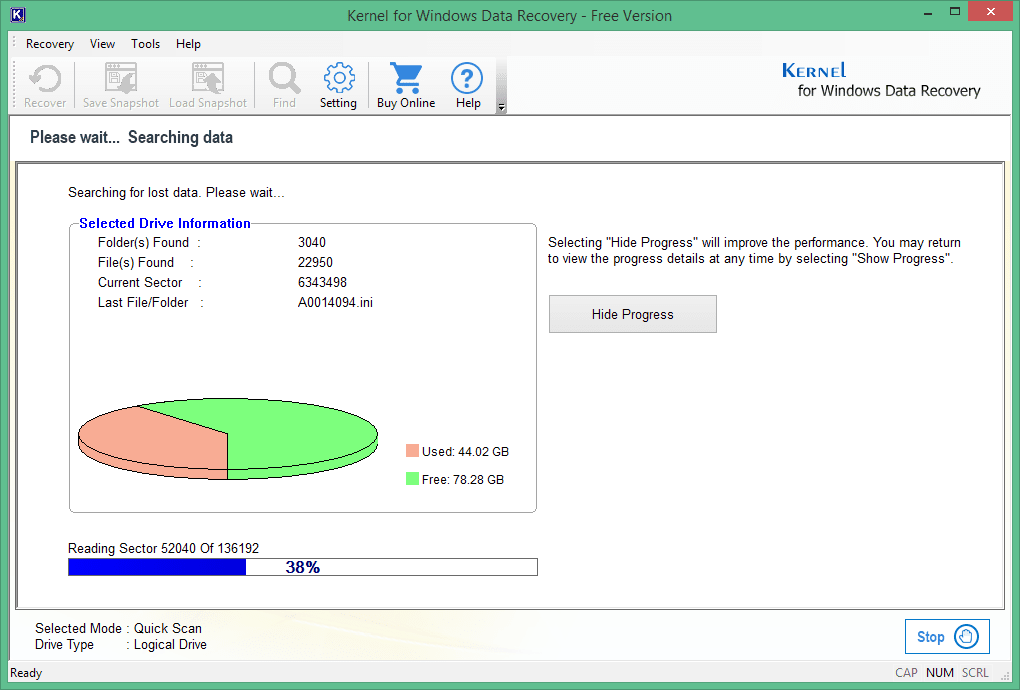 As soon as the scanning finishes, the tool arranges the recovered data in a structured tree-format. You can click on any file and see its preview. To recover the data click Recover icon.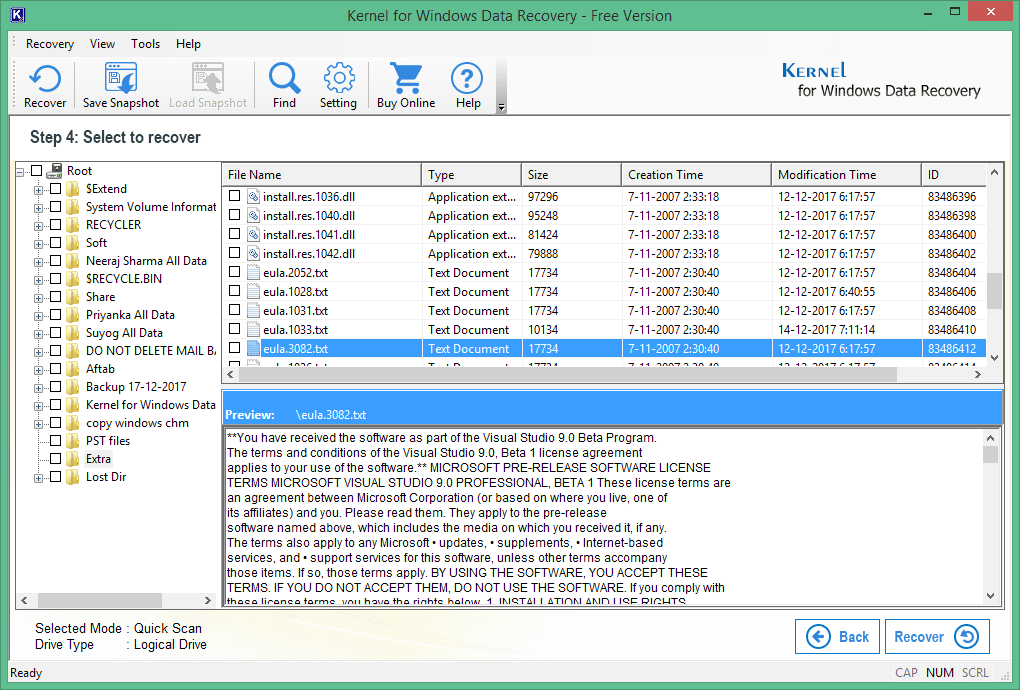 Select the folder where you want to save the data.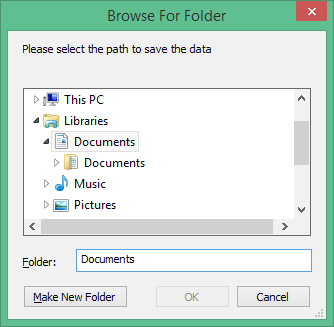 Finally, you will get File saved successfully message. Click OK to finish the process.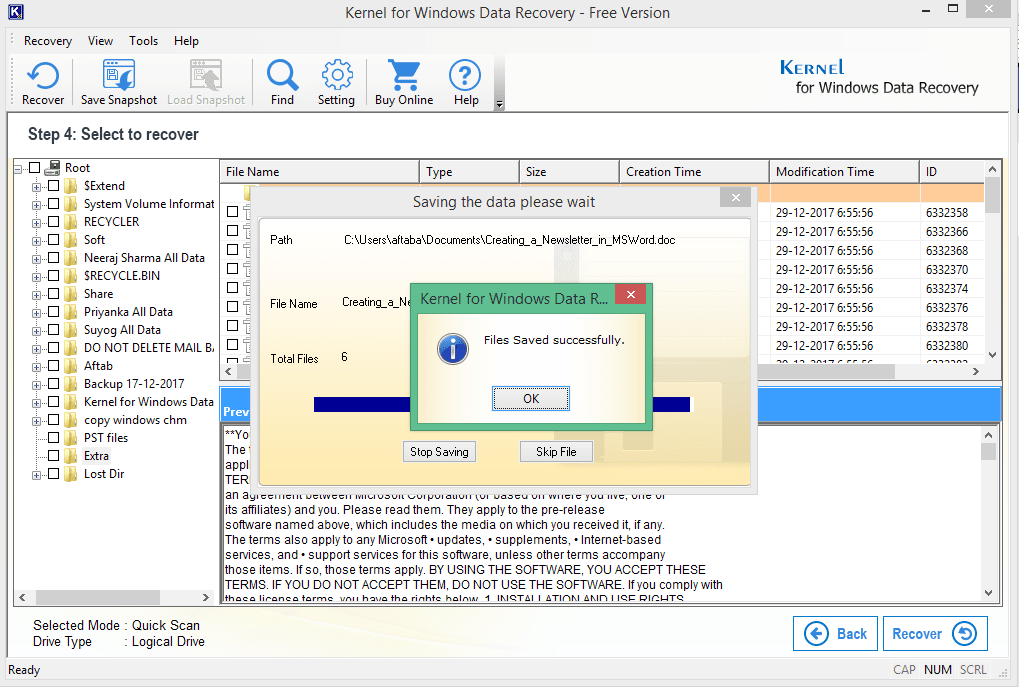 Kernel for Windows Data Recovery Free Version is a distinctive tool specifically crafted for the recovery of various data types, including audio, video, and documents, that are stored on a computer. Users can take advantage of this free version to recover data up to 2 GB. For larger data recovery needs, a licensed version is available. It's worth noting that using the Free Data Recovery tool is often a more effective approach than relying on manual methods, as it offers advanced scan options capable of retrieving even deleted data, thus enhancing the chances of successful recovery.