MS Excel is used by the professionals and normal users to create spreadsheets to keep records of basic accounting, scheduling, employee data, sales data, data analysis, reporting etc. Losing such an important file can cause severe ill effects to individuals and businesses. So, Kernel for Windows Data Recovery is essential for all.
Kernel for Windows Data Recovery software scans the chosen drive and retrieves the inaccessible and deleted data including Excel files.

Here are some scenarios which a user may face in case of a deleted or corrupt Excel file:
Scenario 1:
"I have a departmental store where almost every daily utility product is available. I keep the information on daily sales, employee salary, and inventory needs in different excel spreadsheets. Last weekend, perhaps due to virus infection, the Excel file are not opening at all. It will affect my business in a very negative way."
Scenario 2:
"Being in the HR department, I am completely aware of the importance of Excel files. We keep all our employee information in a common folder along with other important files. But somehow that folder got deleted, and we will have to start all over again."
Scenario 3:
"We always conduct an annual analysis of our e-commerce data. The data is taken from various Excel sheets of different departments, but some of Excel files got deleted accidentally, and we did not have enough data to complete the analysis."
As Excel files have become a core component of business operations of Excel data is costly in terms of money and reputation. But there are some recovery techniques which can help you retrieve the data back:
Recover from unsaved workbooks: MS Excel has a feature for recovering the data which the user forgot to save. Using this feature, you can recover the data which you did not save.
Search in recycle bin: Windows OS does not delete any file completely but put it in the recycle bin until the user deletes it completely or removed automatically after some time. Searching in recycle bin should be the first action if you have deleted the Excel file unknowingly.
Restore from backup: A deleted Excel file can be recovered from backup if the Windows backup functionality has been enabled. Just locate the folder where you had saved the file. Right-click it and select "Restore previous versions",. Then select the desired file from the list.
Use Kernel for Windows Data Recovery Free Version
In case manual methods are not helpful in recovering the Excel files, you can use the Kernel for Windows Data Recovery Free Version which can easily recover lost, deleted, or corrupt windows items including Excel files.

It works in three different modes:
Quick scan: The quickest method to recover data. It scans for the lost data after bad sectors on the hard drive.
Deep scan: It conducts a thorough scanning, though it is a little bit slower than the Quick Scan. But it recovers data more efficiently.
File trace: It is the most efficient scan which performs search quite deeply in every sector of the hard drive.
All three scans modes are available at the home screen of the tool and user can easily select any one of them: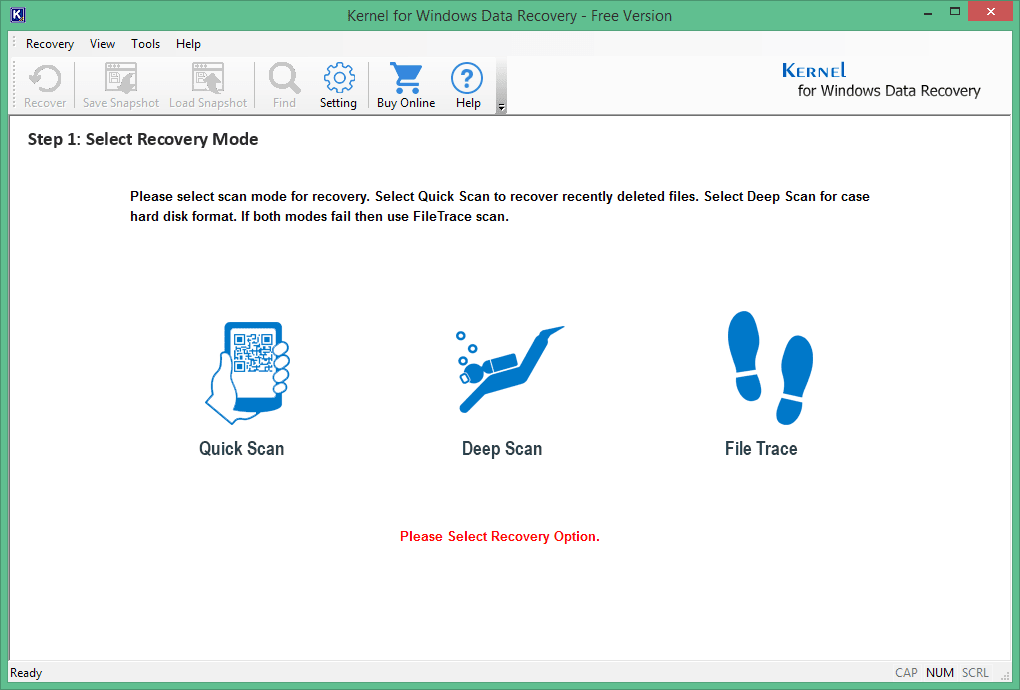 After selecting any scan mode, you can choose from the logical drive or physical drive depending on the location of Excel file.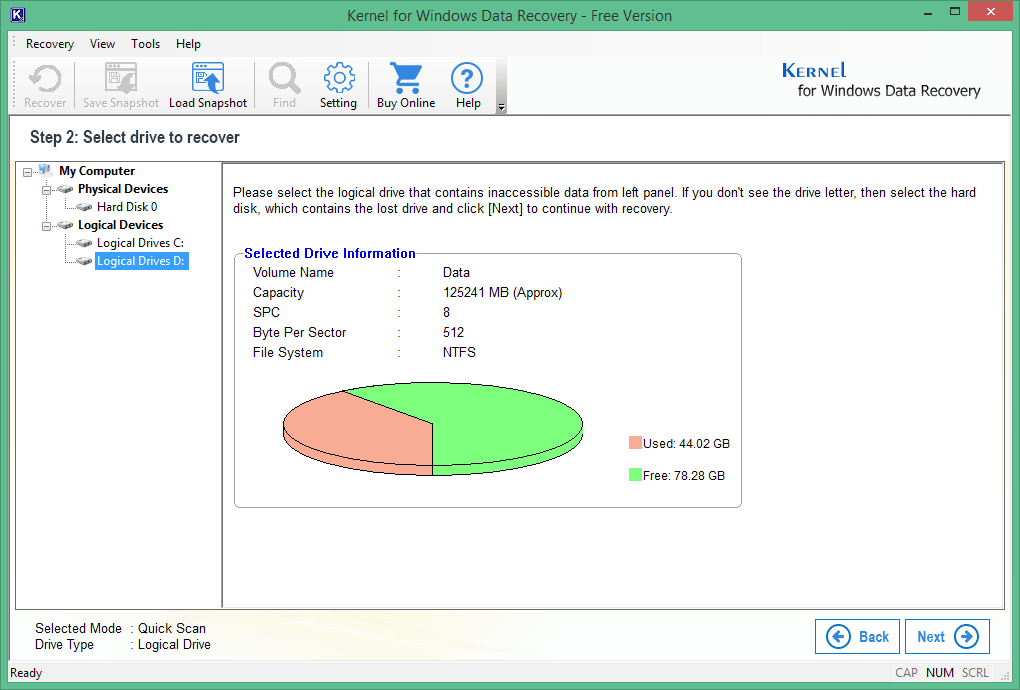 Note: Do not choose the drive where the software is installed.
Next windows will inform you of the drive you have selected, its capacity, SPC, file system, used space, and free space. Finally, click Next.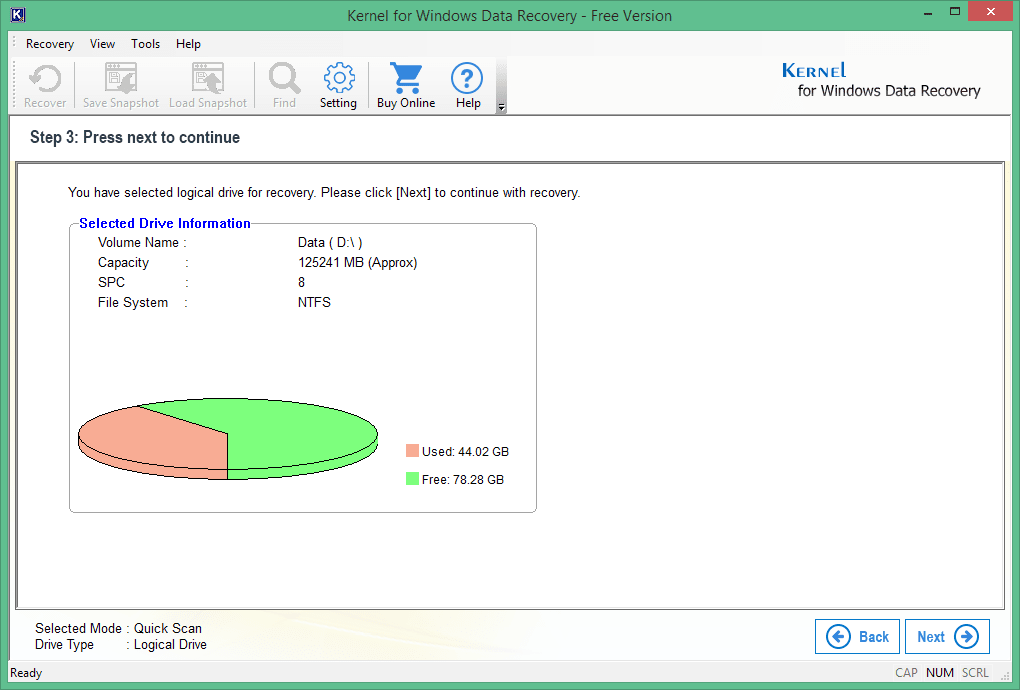 The tool begins searching for the data; you can choose to hide the progress or even stop it at any point.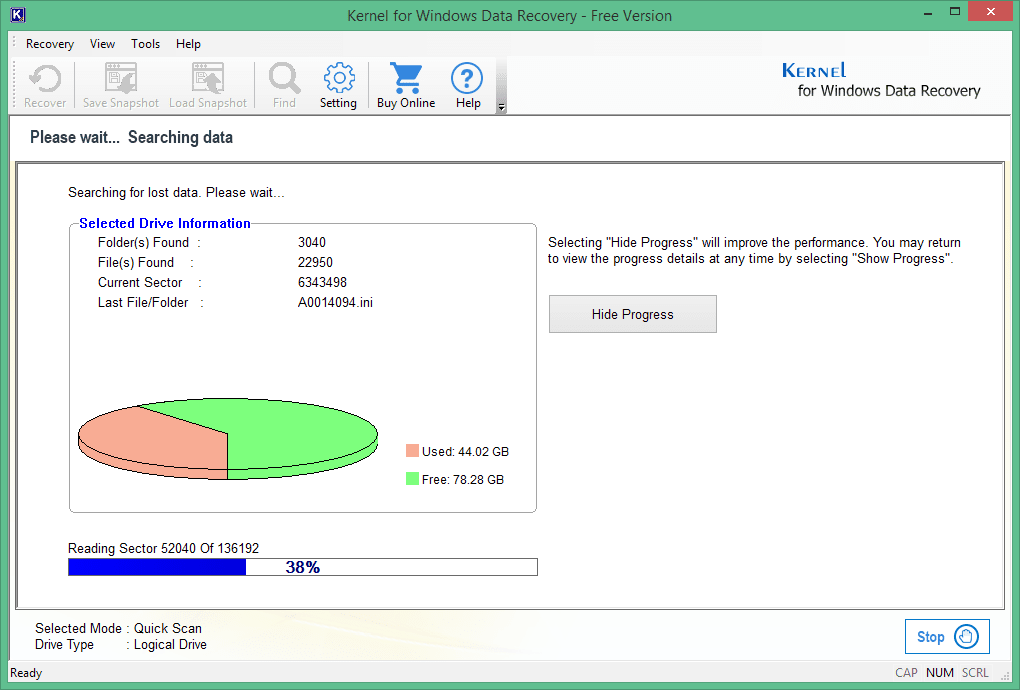 After the search, the tool arranges all the folders in a structured tree format and lets the user to see the preview of any file. Select the required file and click Recover. Choose a location, and the tool will save the file there.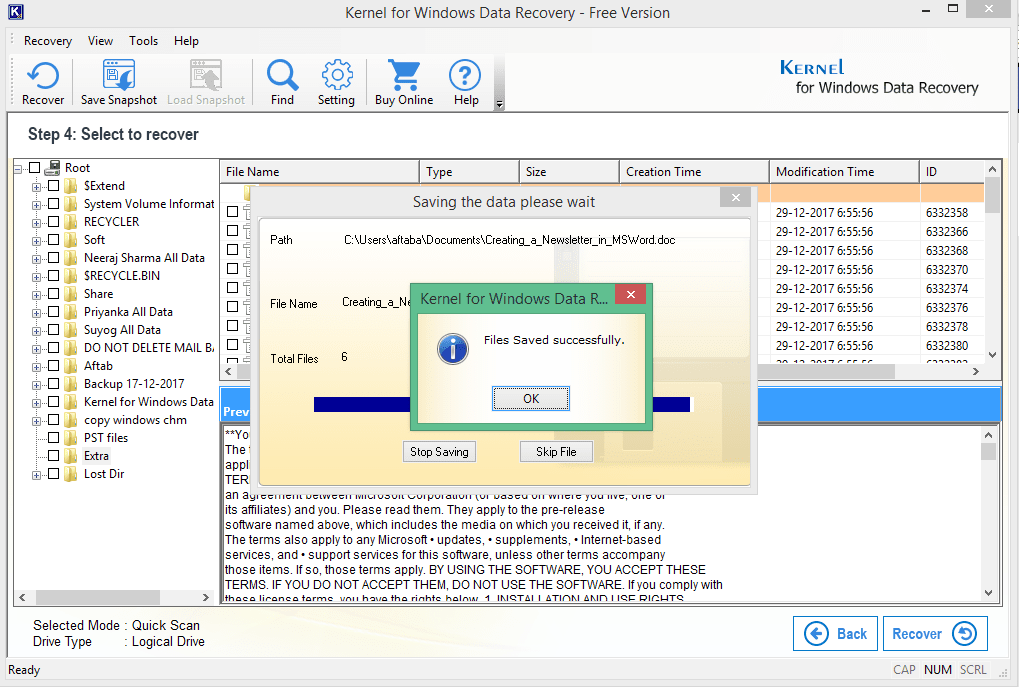 Kernel for Windows Data Recovery Free Version recovers Windows data after accidental deletion, virus attack, corruption, or hard-disk formatting. It can recover audio, video, images, documents, spreadsheets, etc. It also supports recovery from removable objects like USB, memory card, removable hard drive. To help you save the right file, it provides a clear preview of selected items. Free Data Recovery software can easily recover file up to 2 GB completely free.