Many Lotus Notes users are in need of a seamless NSF to PST conversion solution. If you're among them, you have two options at your disposal: you can attempt the manual method or opt for a hassle-free professional tool like Kernel for Lotus Notes to Outlook. This powerful software streamlines the migration process, effortlessly converting your Lotus Notes NSF files to PST.
More About Lotus Notes and MS Outlook
Lotus Notes and MS Outlook are two prominent players in the realm of professional email clients. Lotus Notes, developed by IBM, and MS Outlook, a product of Microsoft, have garnered recognition for their user-friendly interfaces and robust security features, making them the top choices for individuals and enterprises alike. These email clients serve as comprehensive platforms for managing a wide array of tasks, including handling emails, notes, calendar entries, journals, and more.
Despite their similar functionalities, it's important to note that they are not compatible with each other's file formats. Lotus Notes relies on the NSF file format for data storage, while MS Outlook uses the PST file format. This differentiation in file formats underscores the need for effective conversion tools when users transition between these two email platforms.
Reasons for Migrating from Lotus Notes to MS Outlook:
Numerous factors drive the decision to transition from the Notes email client to Outlook. Here are some of the key reasons:
Professionals switching their jobs (new office environment may be having MS Outlook).
Email client is different at the Office and home.
MS Outlook is easer to use compared to Lotus Notes
Maintenance cost of Lotus Notes is high as compared to Outlook
Read Also: Reduce Organizational Cost by Migrating from Notes to Outlook
If we count the benefits, then Outlook has some advantage in terms popularity. There are several benefits and features such as maintenance cost is low, no special configuration is required for installation, training cost is low, user familiarity is high and much more.
NSF file to PST Conversion using Kernel Tool
When users make the transition from Lotus Notes to MS Outlook, they often require NSF to Outlook PST conversion. While there are some free NSF to PST conversion methods available, I highly recommend considering a secure, user-friendly, and widely trusted NSF file conversion tool, especially for non-technical users. This ensures a seamless and hassle-free migration process, safeguarding your valuable data during the transition.
Before diving into the email conversion process using both the free and full versions of the tool, let's begin with a brief overview of the software's features and functionality. This will provide you with a comprehensive understanding of how the tool operates and its capabilities. Once we've covered that, we'll walk you through the migration process using both the free and full versions of the software.
Lotus Notes to MS Outlook Software Details
This efficient tool facilitates the seamless migration of your NSF files to the PST file format, ensuring no data loss in the process. The most recent iteration, version 17.2, introduces enhanced performance with faster conversion speeds, improved accuracy, increased efficiency, and a higher quality preservation of email content post-migration. Additionally, it incorporates numerous technical updates, including backend algorithm enhancements, to guarantee the integrity of your NSF data throughout the conversion process.
Notable features:
The software offers a variety of features to the users. Some of them are:
Software Specifications
Technical Specifications

Lotus Notes - Lotus Notes IBM Smart Cloud Notes/IBM Verse/9.0.1/9.0/8/7/6
Microsoft Outlook – 2019, 2016, 2013 (32 and 64 bit), 2010, 2007, 2003, 2002, 2000, 98, 97
Domino Server – 9.0.1, 8.5.3, 8.5, 8.0, 7.0, 6.5, 6.0
MS Exchange Server – 2019, 2016, 2013, 2010, 2007, 2003, 2000, 5.5, 5.0 and Hosted Exchange Server
Operating system (Both 32 and 64 bit) – MS Windows all latest and earlier versions.

System Requirements

Processor: Pentium Class Processor
OS: MS Windows all versions (latest and older)
Memory: Minimum 64 MB (128 MB Recommended)
HDD: Require 50 MB Free Space
IBM Lotus Notes: Any version (latest or older)

Special Benefits Offered

Offers Lifetime License Validity
Quick delivery of license key over the registered email
Updates are free of cost
24*7 Technical assistance available
Migrate NSF file to PST file using Free and Full Version
Convert NSF file to PST with the Free Trial Version
Once you've verified that your system meets the minimum requirements, the next step is to download the free version of the software. The trial version provides access to the same set of benefits and features as the full version but comes with restricted data-saving options. With the trial version, you can save only up to 10 items from each folder, while still having the ability to preview the entire dataset. For users looking to save all of their NSF data in PST or Exchange Server formats without limitations, the licensed version of the software is available.
We will outline the migration process using the licensed version below, as both the free and licensed versions follow the same procedure.
Note: Your system should be installed and configured with working Lotus Notes and Microsoft Outlook for flawless conversion of NSF file.
Convert NSF file to PST with the Full Version
Lets' start with the process of migration from Notes to Outlook in these simple steps.
STEP 1: Selection of NSF file
As shown in the image below, select Add Local NSF File(s), and browse to the location where you have saved the NSF file. Select the required NSF files and click Open.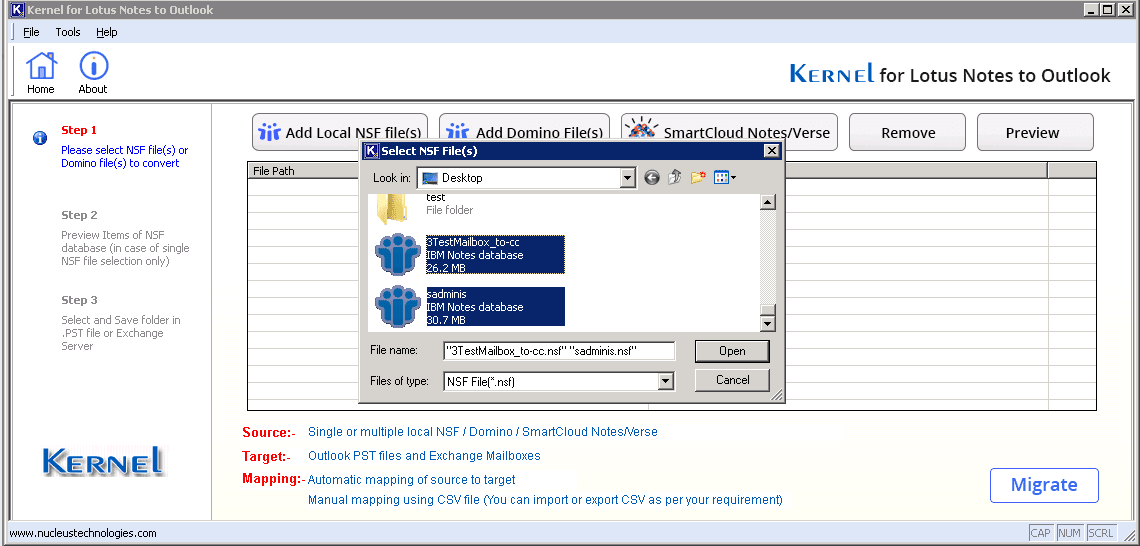 STEP 2: Preview and Save the Converted File
Begin by selecting a folder from the NSF files to preview its contents (please note that the preview option is available for one file at a time). To save the data from the chosen file, simply select the desired folders and click the 'Migrate' button. If you intend to save all the added files, you can click the 'Back' option and then proceed to click 'Migrate' to initiate the process.
A dialog box will appear offering saving options.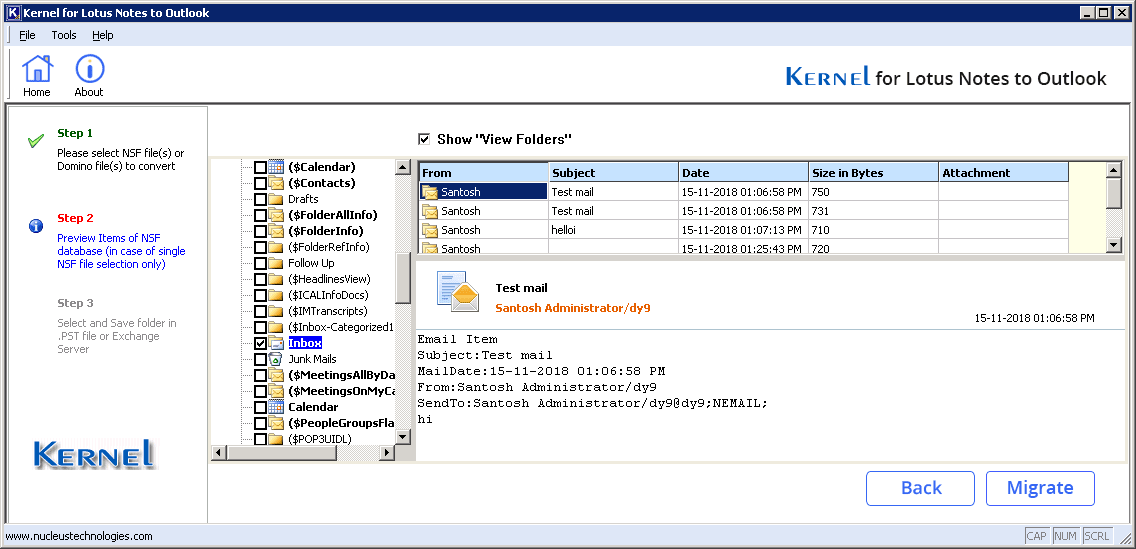 Select Outlook PST and click OK.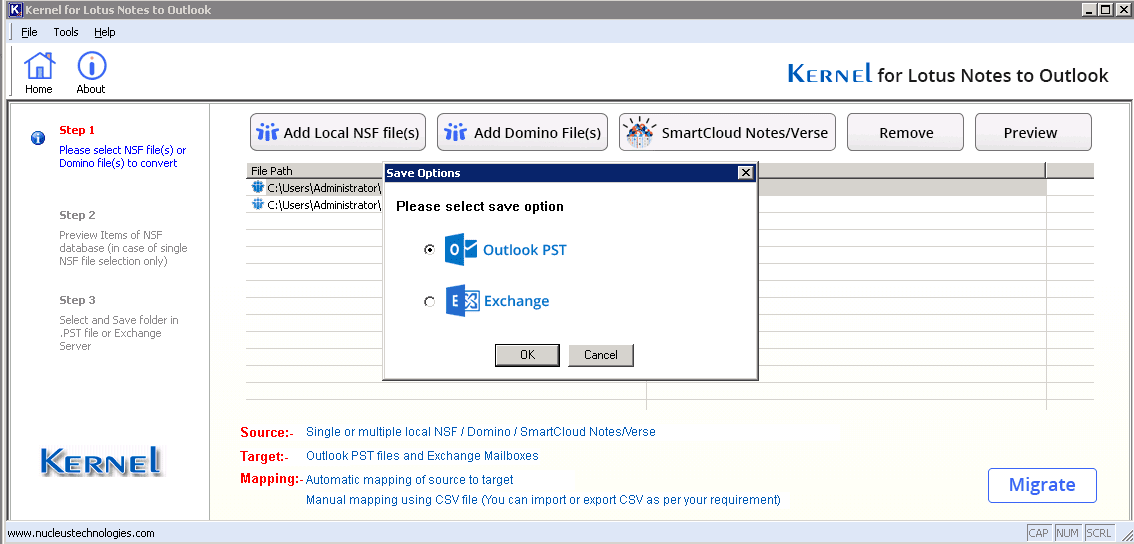 After, clicking OK, the tool gives you the option to select saving location and perform mapping. Then, click OK.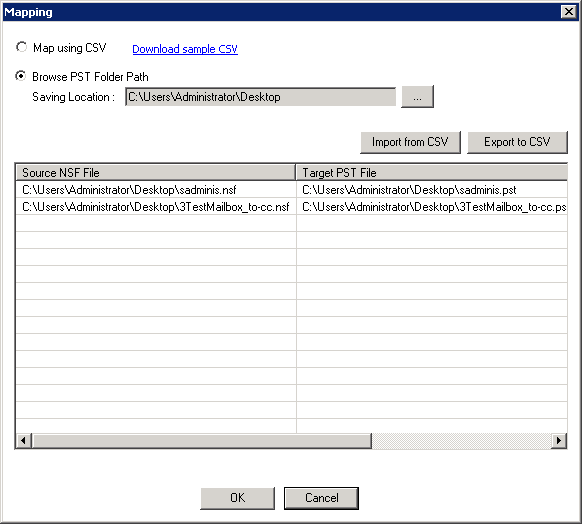 Then apply suitable filters and click OK.
STEP 3: Saving the Converted File
Now, you will see three options to save your converted data and mark read/unread messages choice, choose your options and click OK.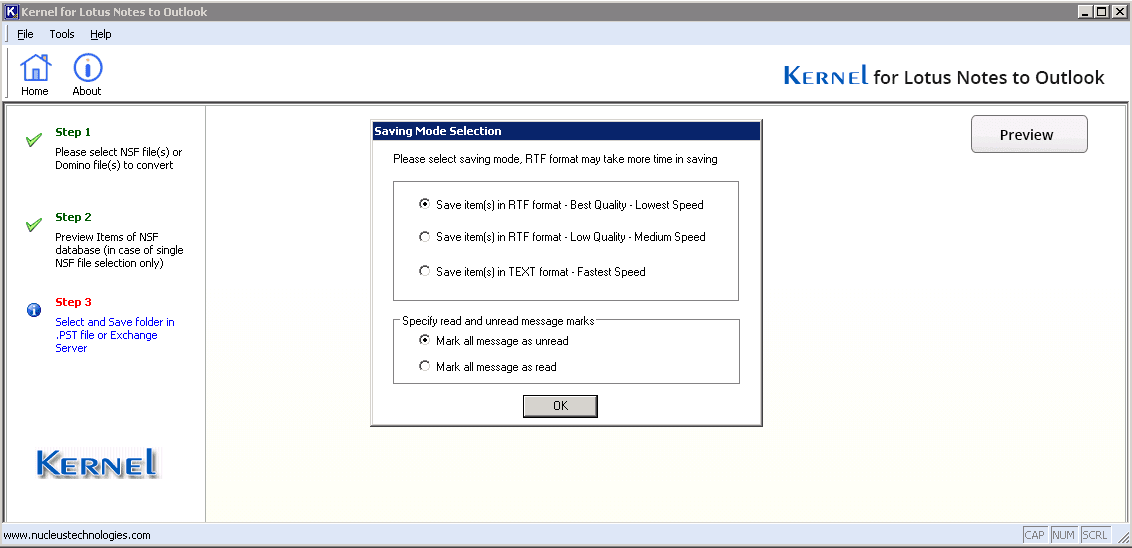 The saving process begins. Once the saving is complete, you will see a dialog box showing the location of the saved file. Click OK.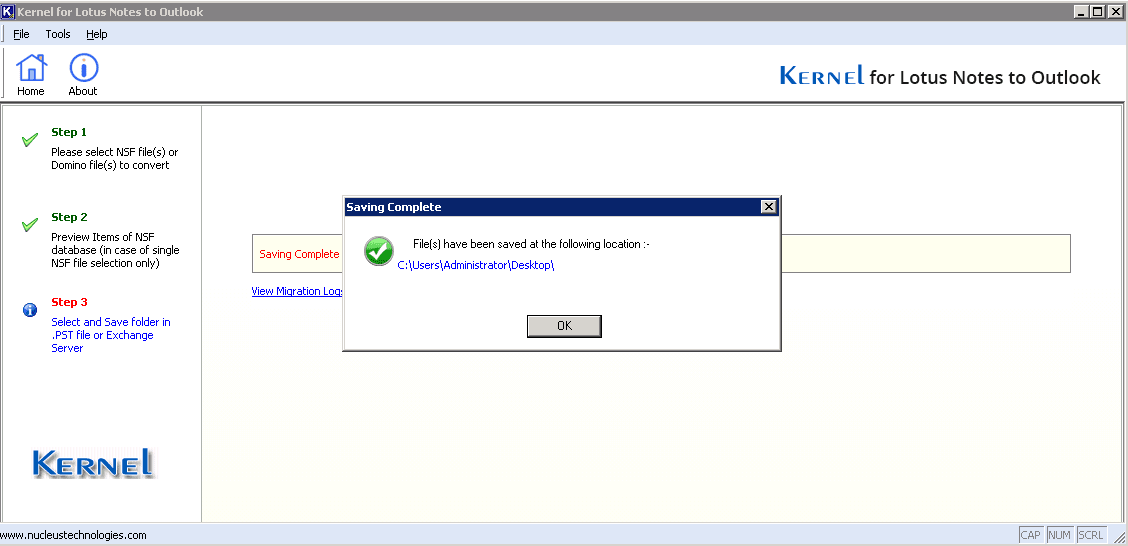 Final Words:
The Full version of the software is a remarkably capable tool that can seamlessly migrate the entire mailbox from both IBM Notes and Lotus Notes. Additionally, it has the capability to directly access NSF files from their respective locations and apply filters as needed. With its rich set of features, the software is well-equipped to accommodate unlimited migrations, ensuring a smooth transition from your current email client to the destination of your choice.
It marks email messages as reading/unread.
There is an automated batch migration using the CSV file to migrate NSF files.
There are smart filters to select the necessary files only.
It shows the preview of selected items before migrating them.
Large-sized NSF files can be saved in multiple PST files.
The software gives migration logs to provide the migration report.