Download Kernel Exchange Suite
Download Kernel Exchange Suite and try it free..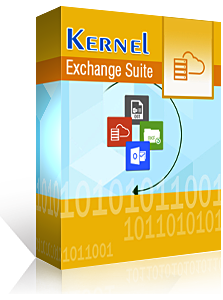 The trial version of this software:
is free of cost
is secure and reliable
helps you evaluate the software before purchasing
Please fill the short form below to get the trial version:
We provide free Technical Support for the software. Our team will guide you through each and every query regarding its features and functionalities. Contact us at
support@nucleustechnologies.com
* We do not share your email address with others. We respect your privacy.
System Requirements
Supported Versions
Microsoft Outlook - 2016/2013/2010/2007/2003/2002/2000/98 and 97
MS Exchange Server - 2016/2013/2010/2007/2003/2000/5.5 and 5.0
Outlook Express - 6.0/5.5/5.0 and 4.0
Windows Windows 10/8.1/8/7/XP and Windows Server 2012/2012 R2/2008/2003/2000
Virtual Environments
VMware® Server 1.0x, 2.x
VMware® Workstation v6.0x for Windows
Microsoft® Virtual PC 2007
VMware® ESX 4.0, ESXi
Basic Requirements
Pentium Class Processor
Minimum 2 GB RAM required
Minimum 100 MB of free space for software installation