How to Export a User Mailbox from Offline EDB File to Office 365?
Kernel for EDB to PST Converter allows users to export an offline EDB file to Office 365 quickly. The tool can be installed easily on any Windows system and can be used to export one or more mailboxes to Office 365.

Here, we discuss the special case of migrating a single mailbox using the Copy/Paste Folder option of the tool.
Pre-requisites for exporting to Office 365
Before migrating an EDB file to Office 365, there are some things that you have to keep in mind:
The MS Outlook in your system must be configured with the Office 365 profile/account.
The Cached Exchange Mode must be disabled in your MS Outlook.
Steps to export a user mailbox from EDB to Office 365
Here, we will see how the Copy/Paste Folder option of the tool can be used to copy the data from offline EDB file (source) to Office 365 (destination). The steps are: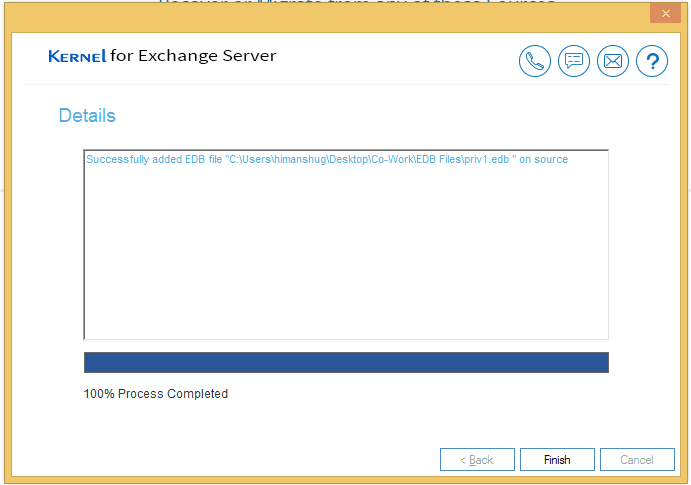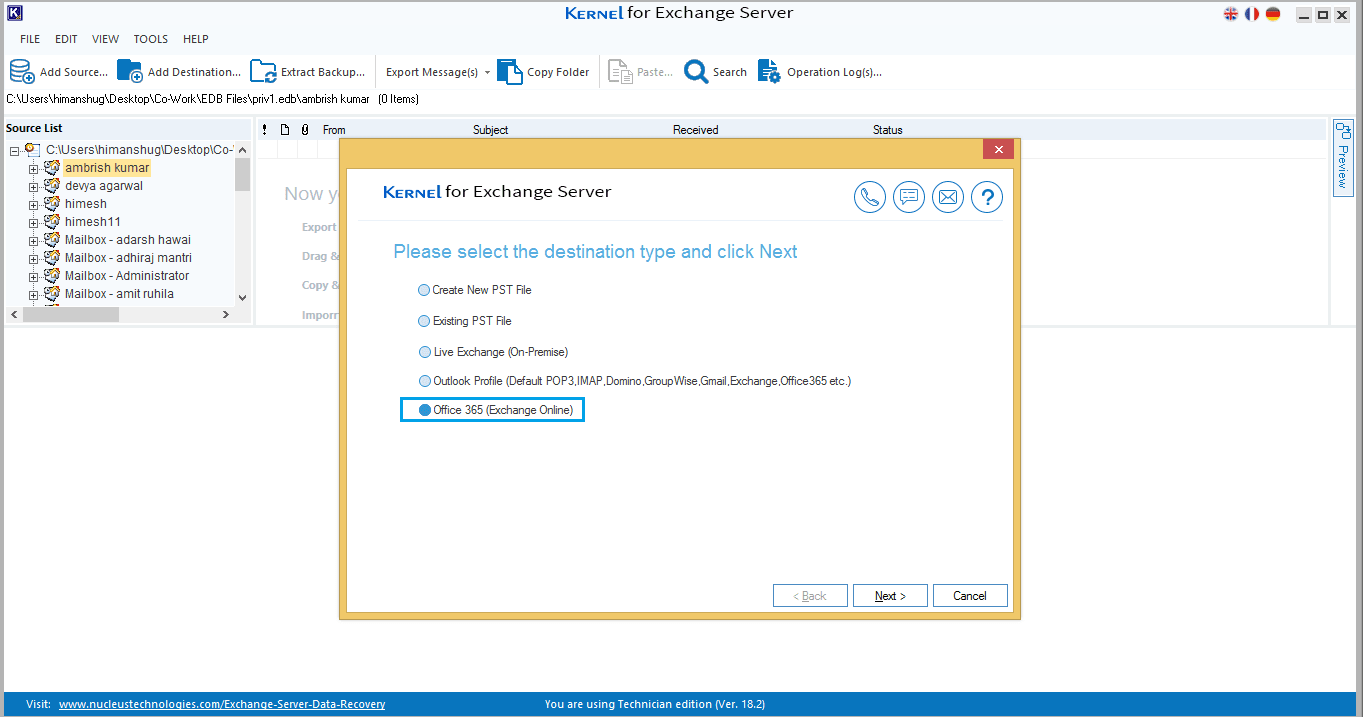 In the next step, enter the email id, password, and server name for the Office 365 account and click "Next."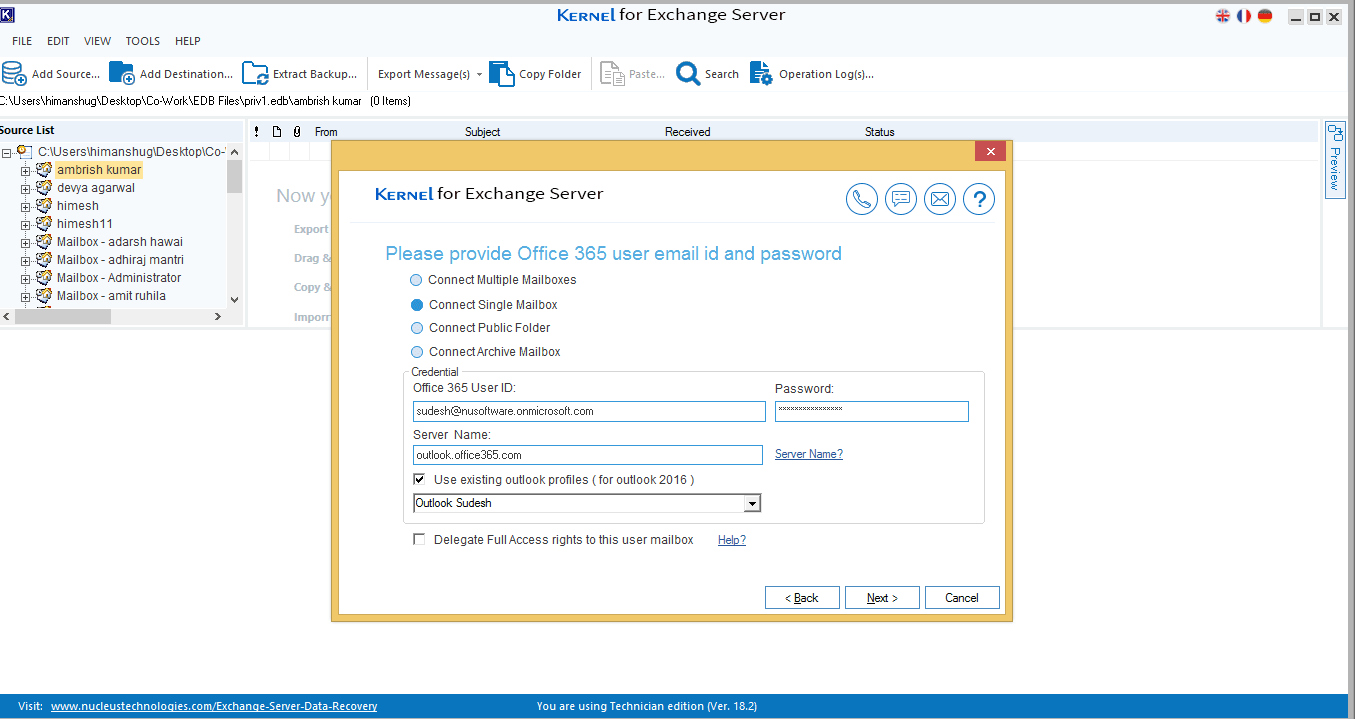 Note 1: From this window, you can select the connection option. In this article, we are selecting "Connect Single Mailbox."
However, if you want to migrate multiple mailboxes, then choose "Connect Multiple Mailboxes." The other options you can choose are "Connect Public Folder" and "Connect Archive Mailbox."
Note 2: For a hassle-free process in Exchange 2016, please check the checkbox "Use Existing Outlook Profile."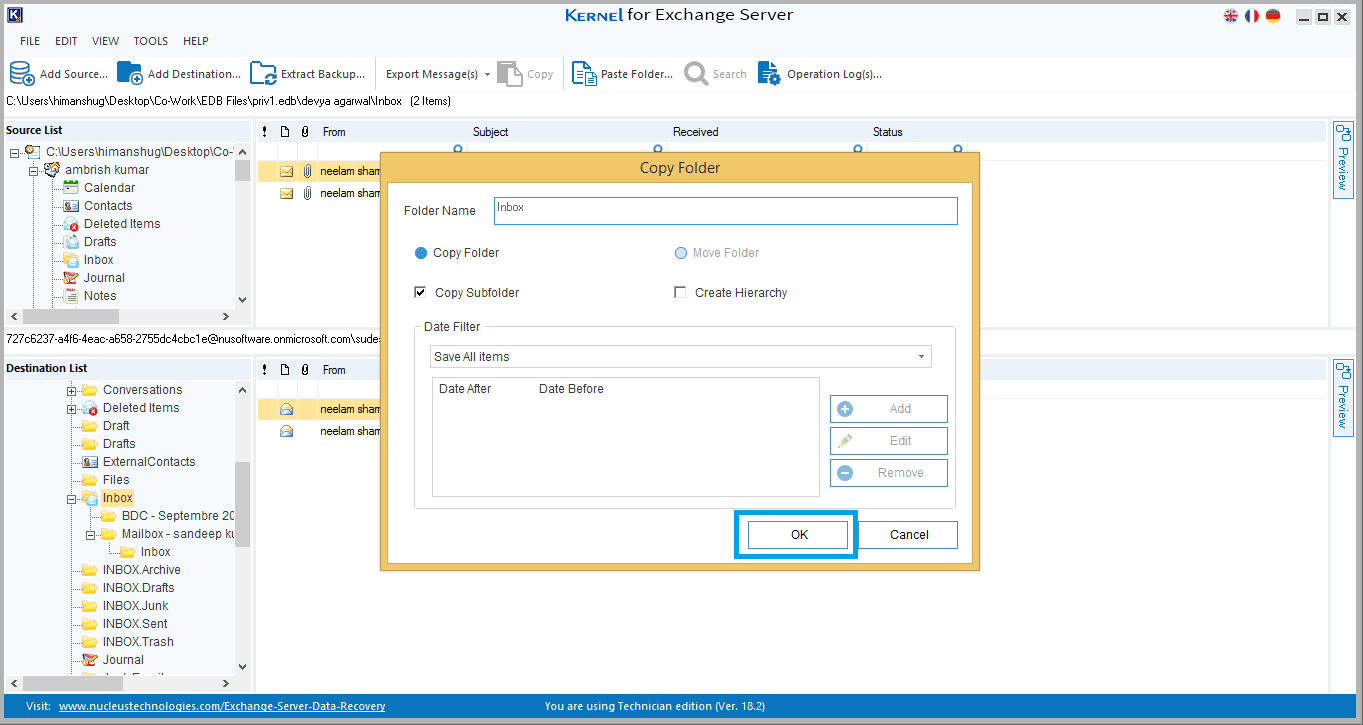 On exporting the mailbox, a notification window will appear. You can view all the details of the migration here. Click "Cancel" to exit the window.
The EDB mailbox/folder has been successfully exported to your Office 365 account. You can check these messages/items by opening your Office 365 mailbox in Outlook.
Special Feature: Drag and Drop
The "Drag and Drop" option of the tool allows to select emails/items from any folder and copy them into the destination folder. To drag and drop items from an EDB file, follow these steps:
In the source EDB file, go to the folder from which you want to copy items. Select the required items.
Now, drag the selected items and drop them to the destination folder. You can see the migrating process on a window like this:
Now, you will get a notification on the window "Items exported from right pane." Click "Cancel" to complete the process.
Thus, you can easily drag and drop your emails/items from EDB file to Office 365 mailbox folders.

Video Tutorial - Kernel for Exchange Server