Exchange database files (EDB files) store the data within your Exchange environment, while Outlook data files (PST files) contain the data associated with your Outlook.
This article shows how you can perform recovery with the help of Exchange Recovery Full Version by converting EDB file to PST.

Now that you're aware of this, you might wonder why there's a need to convert EDB files to PST.
Don't worry! We will talk about it as well.
All the data within the Exchange server is stored in EDB files on the server. However, as the database size increases, you may begin encountering numerous errors that render the Exchange Server data inaccessible.
For large organizations, this can often be unacceptable. Therefore, you may need to recover some data to PST files. Let's explore other reasons to convert EDB files to PST besides Exchange mailbox recovery.
Reasons to Convert EDB file to PST
There could be various reasons to convert EDB files to PST, but the most common ones include:
When the size of EDB file increases
To recover data of corrupt EDB files
To reduce mailbox size and improve server performance
When you want to backup Exchange mailboxes
To migrate from Exchange to Office 365 using PST files
To backup specific mailbox data from Exchange Server
Regardless of the reason, you require reliable and secure software to perform the recovery process. In this regard, you can consider using the Kernel for Exchange Server Full Version software.

Exchange Server EDB Recovery software
Exchange Server EDB Recovery Full Version is an advanced software equipped with intelligent algorithms designed to facilitate the conversion of EDB files to PST. This software offers various benefits, including the integration of filters that enable you to convert EDB data according to your specific requirements. Let's delve a bit deeper into understanding how this utility works.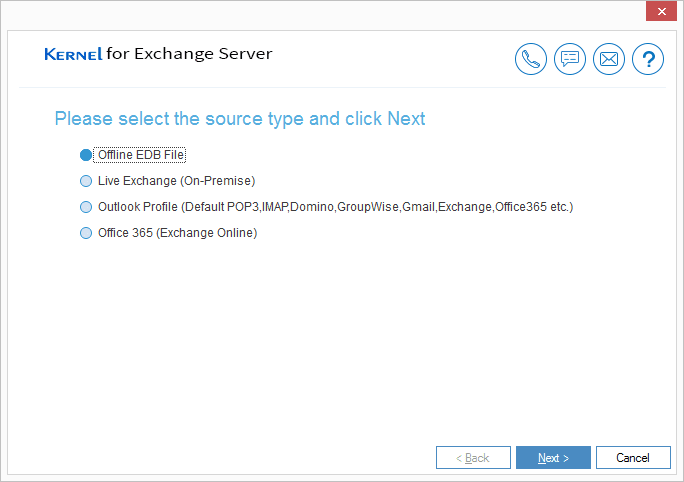 Select the specific EDB file to convert to PST and click Next.
Note: If you don't know the location of Exchange EDB file, then use the Search feature to find the EDB files on your system.
Choose a scanning method to fix errors in the EDB file and click Next.
Once the EDB file is added, a notification will appear on the screen displaying Successfully added EDB file. Click Finish to complete the process.
You can see all the EDB mailboxes in the left pane. To preview any of these mailboxes, select the specific mailbox, and then click the data item for its preview.
To export these mailboxes to PST, right-click on the root folder and select Export Mailboxes to PST.
In the opened window, select the mailboxes that you want to export to PST. Select a saving location for the PST files, and then click Export. Note: You can apply specific filters to the mailboxes based on their date and item type by clicking the Filters option.
The software will start converting EDB file to PST; once it is complete, a notification will appear confirming the completion of the process. Click OK to complete the process.
As you click OK, a new window will appear on the screen displaying the information related to the conversion process. Click OK again to end the process and close the software.
While it may seem like a lengthy process, using full version recovery software is still a superior option compared to many free EDB to PST conversion methods and other third-party tools.
Conclusion
Exchange Mailbox Recovery has often been a time-consuming task for many individuals. Additionally, manual approaches often lack the reliability needed, posing a risk of data loss. Therefore, we offer an efficient solution: Exchange Server EDB Recovery Software Full Version, which ensures comprehensive EDB file recovery to PST format without any risk of data loss.

Working Video of EDB file to PST