Kernel Office 365 Migration Suite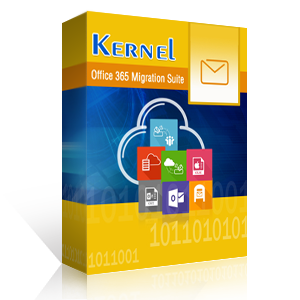 Office 365 Migration Suite
Kernel Office 365 Migration Suite is the ultra-modern bundled solution to accomplish the requirement for migrating hosted email items of varied platforms, such as Exchange Server, MS Outlook, IBM Lotus Notes/Domino Server, Novell GroupWise, MBOX-Enabled app, and Outlook for Mac, into the next-generation Office 365 cloud accounts.
Restores corrupt Exchange database mailboxes & transfers to cloud Office 365 accounts
Streamlines IBM Domino Server/Lotus Notes migration into Office 365 accounts
Allows easy export of Novell GroupWise email items on cloud subscribed Office 365 accounts
Restores Outlook PST file and migrates mails to cloud-supported Office 365
Resolves OST file error and directs quick migration to cloud Office 365 accounts
Proactively exports MBOX mailboxes into cloud-enabled Office 365 accounts
Executes migration of Outlook for Mac accounts to cloud-based Office 365 accounts
Lifetime license validity (no license renewal charges)
All future updates and technical support are available at free of cost
Instant delivery of license by Email
30 day – money back guarantee
Components of Kernel Office 365 Migration Suite
Kernel for Exchange Server: Amazing Exchange Server database recovery software to recover damaged Public and Private EDB mailboxes from worst cases of Jet engine errors, dirty shutdown states, virus attacks, etc. The software is outfitted with Office 365 migration facility that adds more dynamicity to the EDB recovery & restoration operations. It is enhanced with tactical email filters that extracts desired mail items fulfilling the specified conditions like item type and date range. This tool, allows you to export EDB files to live Exchange Server, Public Folders, Archive Mailboxes, or MS Outlook platforms. This one-stop-solution works best with MS Exchange Server 2016, MS Outlook 2016, and Windows 10 platforms.
Kernel Office 365 Migrator for Lotus Notes: Designed with handy migration modes, this Office 365 Migrator can accomplish the migration of IBM Lotus Notes into a subscribed cloud-enabled Office 365 account. With an effective usage of its batch file processing mode, you can export unlimited number of Domino Server mailboxes into Office 365 accounts. You can choose the desired Lotus Notes NSF files to export by applying the date range and item types filter alternatives. Furthermore, this powerful Office 365 migrator tool has the provision to save emails in HTML, TXT, or RTF formats with approximate higher speeds. Using this solution, you can seamlessly connect with any version of IBM Domino Server and Office 365.
Kernel Office 365 Migrator for GroupWise: This result-oriented Office 365 Migrator can single-handedly migrate all the GroupWise mailboxes into the latest cloud-based technology, i.e. Office 365. With the provision of batch file mode, the software has greatly reduced the users task of exporting GroupWise mails one by one as now a user can use the .NUCON batch file to facilitate the migration of hundreds and thousands of GroupWise mailboxes to Office 365 accounts in the single cycle. The software is optimized to work compatibly with Novell GroupWise 2014, 2012, 8.0, 7.0, 6.5, 6.0, and 5.5 editions. Apart from this, the software is outfitted with rich preview feature, and precise email filters, which makes it suitable Office 365 Migrator solution.
Kernel for Outlook PST Repair: It is the most supreme utility to repair severe cases of Outlook PST corruption by employing its best-in-class algorithms. The software allows the restoration of Outlook PST files like emails, contacts, drafts, sent items, calendars, etc. on Office 365 subscribed accounts. Apart from choosing cloud saving option, one can authoritatively select the PST, EML, MSG, DBX, MBOX, Gmail, AOL, Yahoo, Exchange Server, or various other saving options from the integrated dashboard. Furthermore, the software is enriched with user-friendly PST split capability and can deal with PST files of MS Outlook 2016 edition.
Kernel for OST to PST: The tool is devised to execute the conversion of critically corrupted OST files into most definite Outlook PST format file that are also supported by MS Outlook 2016 edition. The software is uniquely configured to enable the migration of repaired Offline files into highly available cloud-based Office 365 accounts. To offer more saving choices, the software is incorporated with many dynamic options such as PST, MSG, EML, TXT, MBOX, RTF, HTML, PDF, AOL, IBM Domino, Exchange Server, Gmail, AOL, etc. Apart from this, the software interface is reinforced with outstanding search facility and preview technology that eases the management of email items while minimizing the overall time consumption.
Kernel for MBOX to PST: It is an innovative application to convert distinct and incompatible MBOX email items into Outlook PST files without affecting the originality of emails. The software is geared with Office 365 migration functionality that lets user access emails across the world using cloud technology as it facilitates easy migration of MBOX emails to Office 365 accounts. Moreover, this result-driven email migration utility supports almost 20 plus MBOX-supported platforms. In addition, the software offers you three more options to save MBOX email, i.e. PST, MSG, or EML. The software works compatibly with MS Outlook 2016 and Windows 10 platforms.
Kernel for OLM to PST: Engineered with advanced programming methodologies, this tool is meant to transform the Outlook for Mac emails into the Microsoft Windows based Outlook PST email items. Enhanced with cloud migration technology, the software facilitates the complete migration of OLM files to the cloud Office 365 account. In addition to the cloud option, the software is eligible to move and save all Outlook for Mac emails into IBM Domino, Exchange Server, Novell GroupWise, AOL, Gmail, Yahoo, Outlook.com, MSG, EML, MBOX, etc. It also has the provision to generate File Analysis Reports that renders various email activities in bar-graphical form.