Kernel for

Notes Calendar to Outlook

añadir Archivo(s)-
Le permite añadir archivo(s) .NSF disponibles en el disco duro de su computadora/ordenador para convertirlos en archivos PST o XLS. Con esta opción, usted puede añadir al software varios archivos NSF para su Conversión.
Anadir Archivo(s) Domino-
Le permite navegar el archivo NSF directamente desde el Servidor Lotus Domino para realizar conversiones a archivo(s) PST o XLS. Sin embargo, para añadir el archivo NSF directamente desde el Servidor Domino, usted necesita proporcionar con los datos de acceso al Servidor Domino.

El software para exportar Calendario de Notes a Outlook, respalda casi todas las versiones de Lotus Notes, Lotus Domino Server, MS Outlook y MS Excel para realizar conversiones del Calendario de Lotus Notes a Outlook:

Lotus Notes 6.5, Lotus Notes 7.0 y Lotus Notes 8.0
Servidor Lotus Domino 6.5, Servidor Domino 7.0 y Servidor Domino 8.0
MS Outlook 97, Outlook 98, Outlook 2000, Outlook 2003, Outlook 2007
MS Excel 97, Excel 98, Excel 2000, Excel 2003 and Excel 2007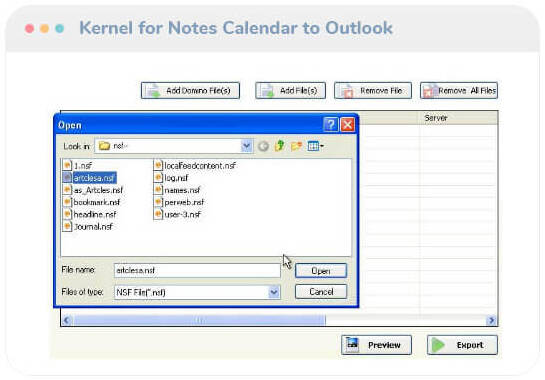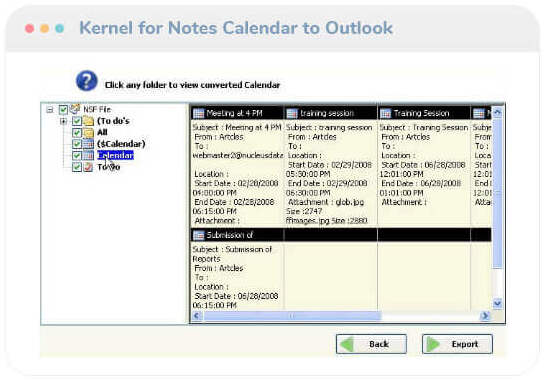 Versión de

Evaluación Gratuita

Aproveche la Versión de evaluación gratuita, la cual le permite un buen conocimiento de las características y funciones del software. La Versión de demostración del software para convertir Calendario de Notes a Outlook, le permite guardar los primeros cinco elementos del calendario disponibles en el archivo NSF. Para poder guardar todos los elementos del calendario, la compra de la Versión completa del software es necesaria.