Read time 6 minutes
It is quite common that your MS Excel files might turn corrupt or damaged, and the possible reasons for this could be Virus attacks, hasty system shutdowns, sudden MS Excel application crashes, file saving errors, etc.
Kernel for Excel Repair has been an important player in the market, as a solution to repair corrupt Excel files, providing a simple but effective MS Excel files recovery tool ensuring high level of customer satisfaction.
Due to regular updates and addition of new features, it has become better year by year and this is not achieved only by working on the code part but by listening to the users, learning from their feedback and making the tool more accessible and reliable for everyone.
What's New in Kernel for Excel Repair v18.10
Kernel for Excel Repair v18.10 is now available for download with various improvements. Let's walk through the improvements, first:
Now supports Microsoft Office 2019
Kernel for Excel Repair now fully supports Microsoft Excel 2019. Also, Kernel for Excel Repair v18.10 can easily repair corrupt Excel files in any of the following MS Office versions 2010, 2013, 2016 & 2019.
Can Read Corrupt Files Faster
The Excel Repair tool now can read the Excel file content much faster as compared with the earlier version; the algorithms are now improved, and so the difference in scanning speed can be seen easily. Barely, it takes a few seconds to scan the corrupt file. And the user can have a preview of each file even faster.
Recover & Save Images Faster
Users insert images into the Excel sheets when there is a need. In case that file becomes corrupt anyhow, Kernel for Excel Repair v18.10 performs deep scanning to fetch all the contents of the Excel file without compromising with the content quality. Importantly, you can recover images saved with all available versions of Microsoft Excel (2010, 2013, 2016 & 2019) much faster.
More Reliable & Robust
With continuous updates, the tool is completely reliable now. You can rely on it for complete Excel recovery, and get the job done instantly.
Improved Text Recognition
Excel Repair v18.10 now packs major improvements in text recognition algorithms. Now it is much easy for the tool to recover the text data precisely.
Improved Formula Recognition

The latest version of Excel Repair tool can now recover the formulas used in the file, all thanks to the new & improved algorithms; the scanning accuracy has also improved.

Can now Repair & Save Big Files
The Kernel for Excel Repair v18.10 can now repair bulky Microsoft Excel files which are corrupted or damaged. Due changes are made in the tool's mechanism and file saving functionality; now it is much easy to scan & save big Excel files without compromising with the data integrity.
Tool a Tour
Let's go through the working of the software, to understand the features & the options you can use:
Once you launch the latest version of Kernel for Excel Repair v18.10, below is the main screen with all the necessary features.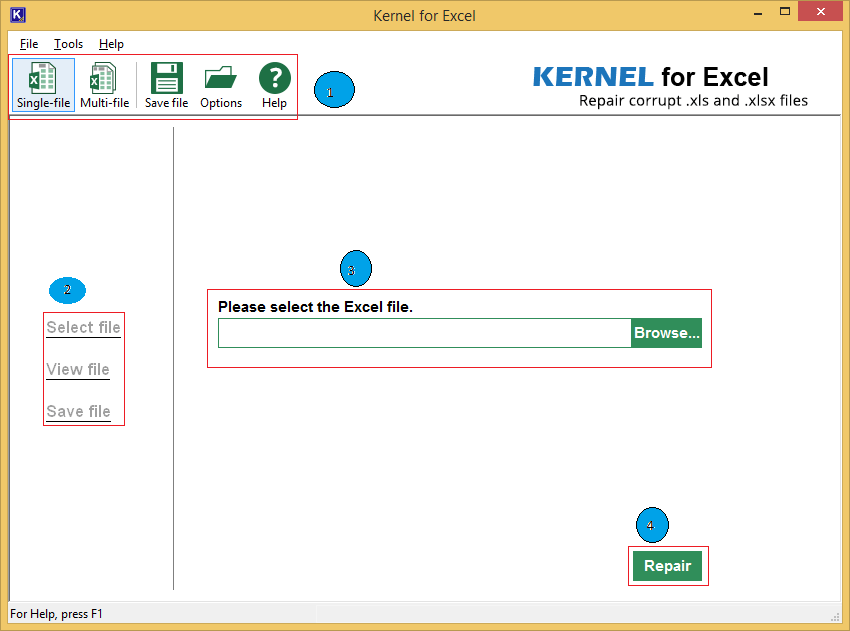 In Kernel for Excel Repair v18.10, there are two modes available to start with, Single File & Multi File mode. If the need is to recover more than one file at a time, set the mode to Multi File and proceed.
The step for selecting a corrupted/damaged Excel file is almost similar in both. Click Single File to select a file and then and press Repair to start the process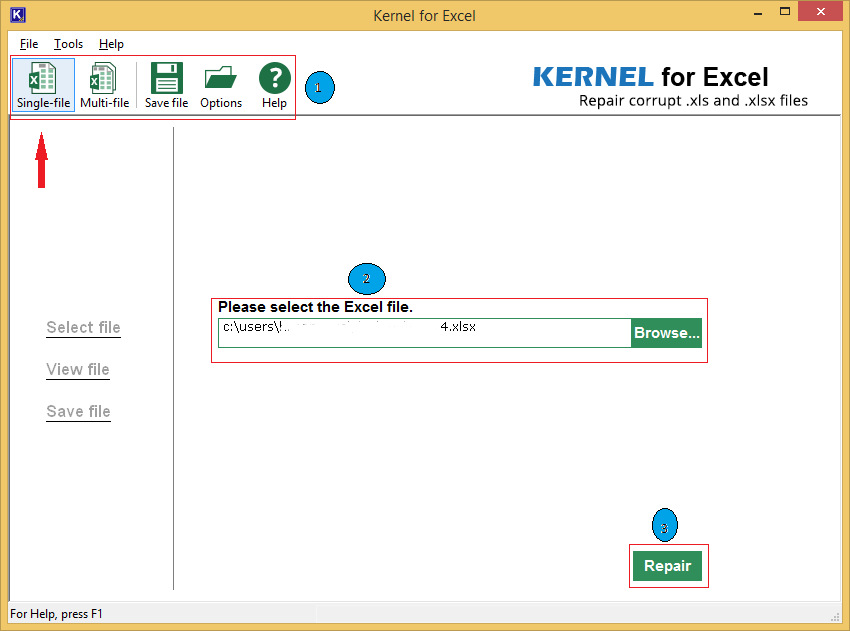 Changing operating mode is super easy, move to the main menu bar and click on Multi-File menu button as shown in below image. This feature is admired by many users. In Multi File mode, you can add multiple files one by one using the Add files button.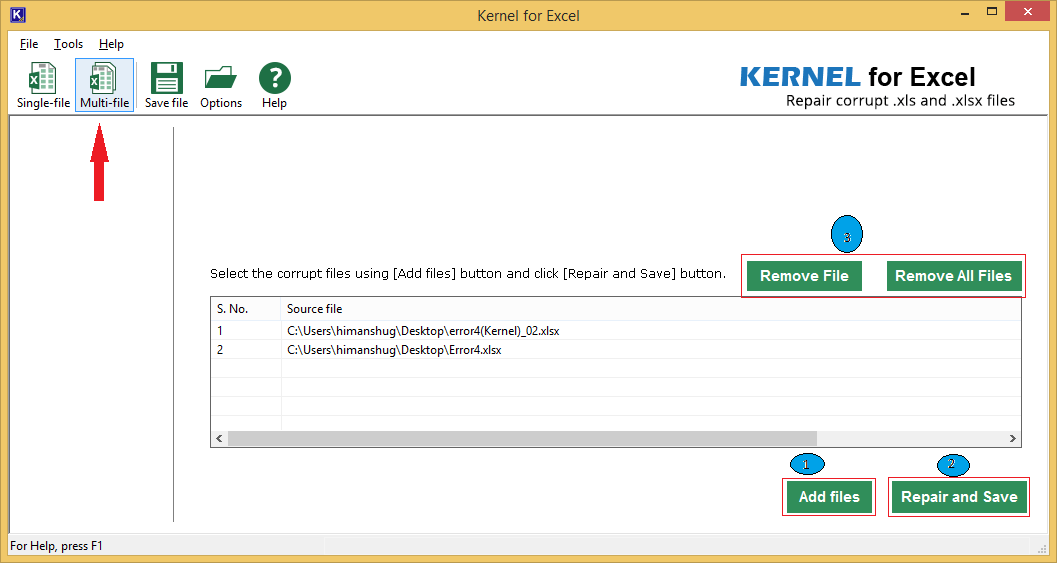 To bring the best experience, the idea is "Less Clicks More Result." In the same screen, saving the file is a toggle away (as shown below). If no file is selected, a window would pop-up.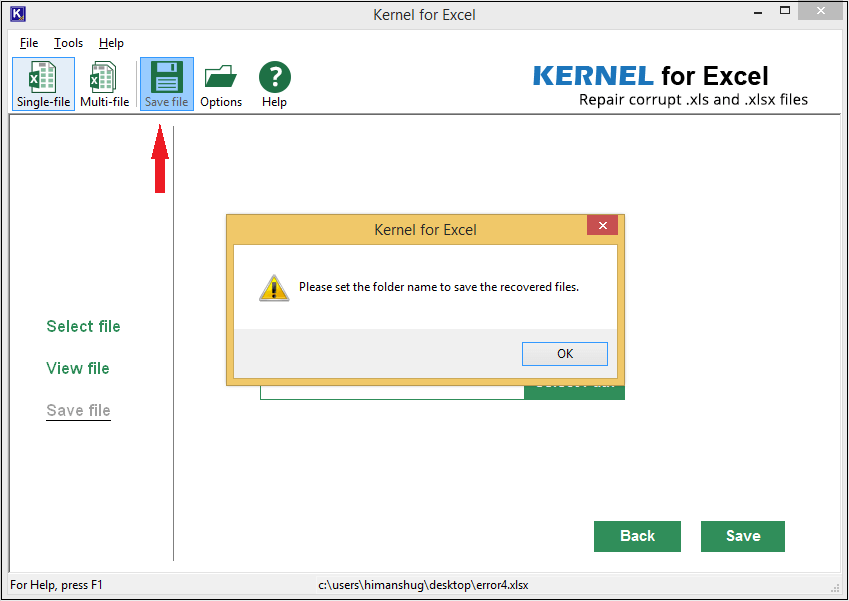 The options screen also holds the necessary options like Selecting the default File Mode, Setting the default location for saving a File and Adding a Suffix to the File name upon completion of the repair & recovery.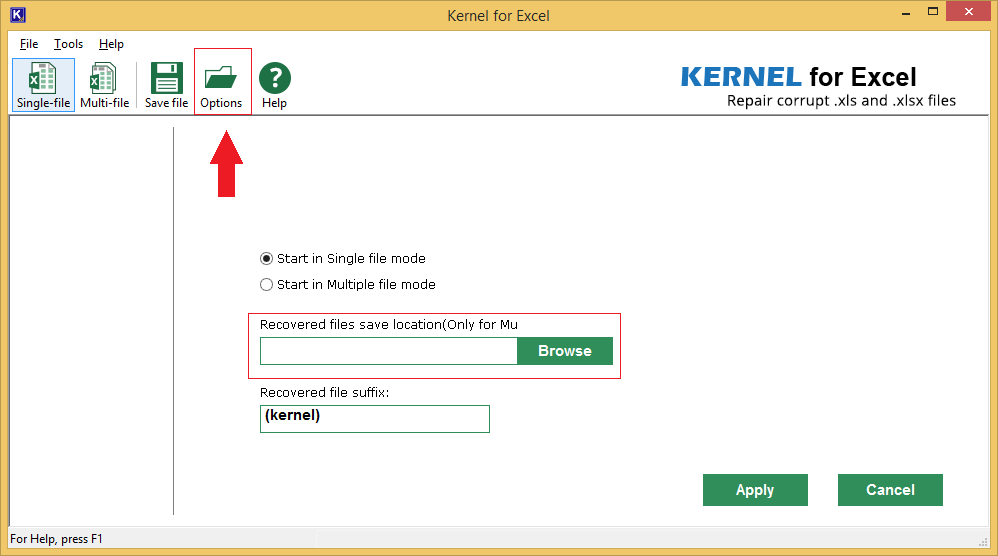 Conclusion
Managing MS Office files is such a mess, especially when you deal with a ton of those files. File integrity & availability has the highest presidency.The easy way to repair Excel files and recover lost data is this awesome tool, Kernel for Excel Repair is the one-stop solution for data recovery from corrupt/damage Microsoft Office Excel files. Kernel for Excel Repair v18.10 is the latest version available which now supports Microsoft Office 2019. With lots of improvements & inside enhancements, the user experience is raised to another level.
How to use Kernel for Excel Repair Tool to Fix a Corrupt Excel file