Read time 6 minutes
Summary: Kernel for Excel Repair v18.10 is a robust tool that efficiently recovers and repairs corrupt Excel files. It offers faster file reading, image recovery, and improved text and formula recognition, ensuring reliable data retrieval and compatibility with Microsoft Office 2019.
It's not uncommon for your MS Excel files to become corrupted or damaged, and potential causes for this include virus attacks, abrupt system shutdowns, unexpected MS Excel application crashes, errors during file saving, and more.
Kernel for Excel Repair has played a significant role in the market as a solution for repairing corrupt Excel files. It offers a straightforward yet effective MS Excel file recovery tool, delivering a high level of customer satisfaction.
Continuous improvements through regular updates and the addition of new features have made it better with each passing year. This progress isn't solely a result of working on the code but also stems from actively listening to user feedback, learning from their input, and striving to make the tool more accessible and reliable for all users.
What's New in Kernel for Excel Repair v18.10
Kernel for Excel Repair v18.10 is now available for download with various improvements. Let's walk through the improvements, first:
Now supports Microsoft Office 2019
Kernel for Excel Repair now fully supports Microsoft Excel 2019. Also, Kernel for Excel Repair v18.10 can easily repair corrupt Excel files in any of the following MS Office versions 2010, 2013, 2016 & 2019.
Can Read Corrupt Files Faster
The latest version of the Excel Repair tool boasts significantly improved file content reading speed compared to its predecessor. Thanks to enhanced algorithms, users can now notice a noticeable difference in scanning speed. In fact, it takes just a few seconds to scan a corrupt file. Additionally, users can now preview each file even more swiftly, enhancing the overall efficiency and user experience of the tool.
Recover & Save Images Faster
In Kernel for Excel Repair v18.10, when users insert images into Excel sheets and encounter file corruption, the tool conducts a thorough deep scan to retrieve all the contents of the Excel file while ensuring there is no compromise in the quality of the content. Notably, this version enables faster recovery of images that were saved using various versions of Microsoft Excel, including 2010, 2013, 2016, and 2019. This ensures a swift and comprehensive recovery process for Excel files with embedded images.
More Reliable & Robust
Thanks to its continuous updates and improvements, the tool has become highly reliable. You can confidently rely on it for comprehensive Excel file recovery, ensuring that your files are restored effectively and efficiently. It's a dependable solution that gets the job done instantly, providing peace of mind when dealing with Excel file recovery needs.
Improved Text Recognition
In Excel Repair v18.10, significant enhancements have been made to the text recognition algorithms. These improvements make it considerably easier for the tool to accurately recover text data from damaged Excel files. Users can now expect more precise text data recovery when using this version of the tool.
Improved Formula Recognition

The newest iteration of the Excel Repair tool introduces the capability to recover formulas used in Excel files, thanks to the implementation of new and enhanced algorithms. Additionally, the scanning accuracy has been significantly improved, ensuring a more reliable and thorough recovery process for Excel files.

Can now Repair & Save Big Files
In Kernel for Excel Repair v18.10, the tool has been enhanced to repair large and bulky Microsoft Excel files that may be corrupted or damaged. These improvements include changes to the tool's mechanism and file saving functionality. As a result, users can now easily scan and save sizable Excel files without compromising the integrity of their data. This update ensures that even extensive Excel files can be effectively repaired and recovered with ease.
Tool a Tour
Let's go through the working of the software, to understand the features & the options you can use:
Once you launch the latest version of Kernel for Excel Repair v18.10, below is the main screen with all the necessary features.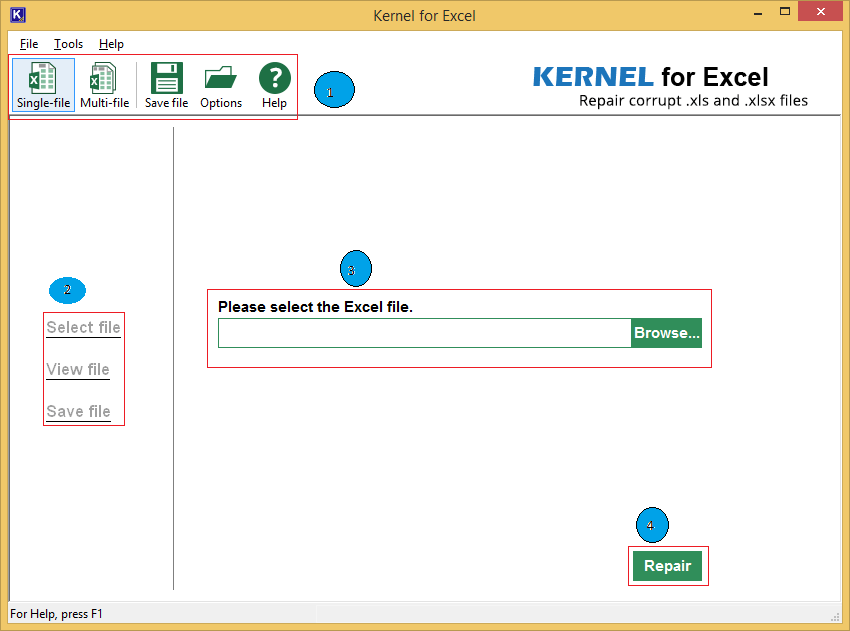 In Kernel for Excel Repair v18.10, you have the option to choose between two modes when starting the recovery process: Single File mode and Multi File mode. If you need to recover multiple files simultaneously, simply select the Multi File mode and proceed with the recovery process for multiple files at once. This feature enhances the tool's flexibility and efficiency when dealing with batch recovery tasks.
The step for selecting a corrupted/damaged Excel file is almost similar in both. Click Single File to select a file and then and press Repair to start the process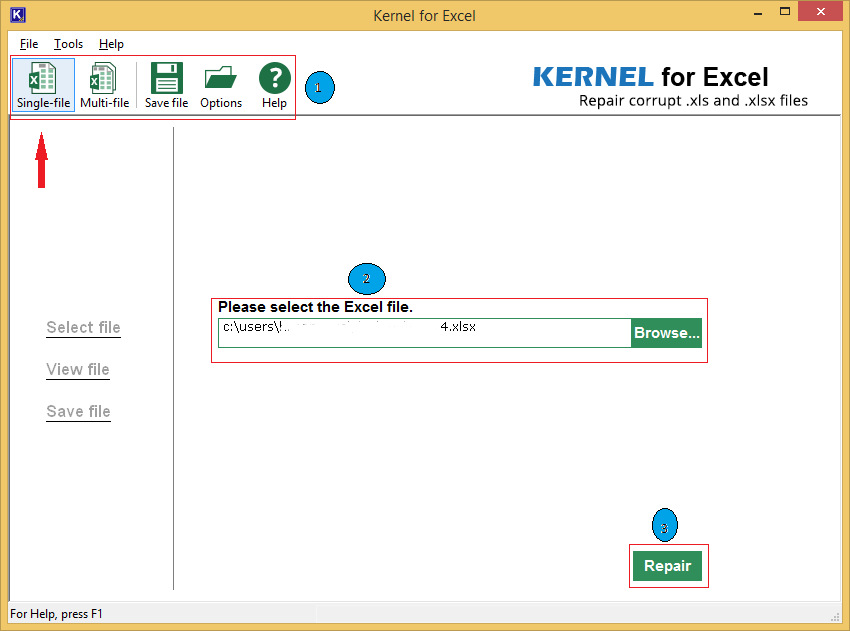 Changing operating mode is super easy, move to the main menu bar and click on Multi-File menu button as shown in below image. This feature is admired by many users. In Multi File mode, you can add multiple files one by one using the Add files button.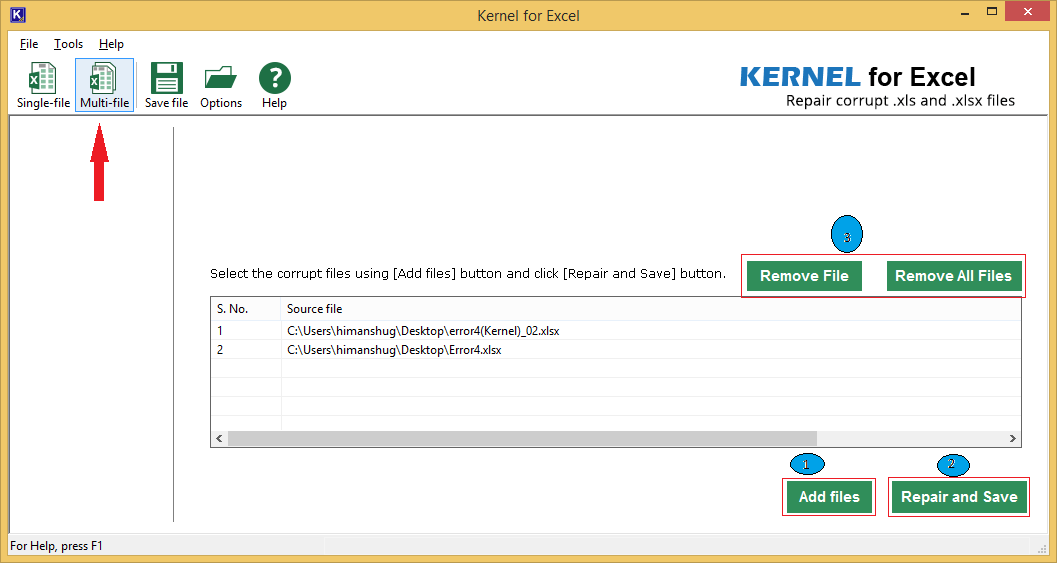 To bring the best experience, the idea is "Less Clicks More Result." In the same screen, saving the file is a toggle away (as shown below). If no file is selected, a window would pop-up.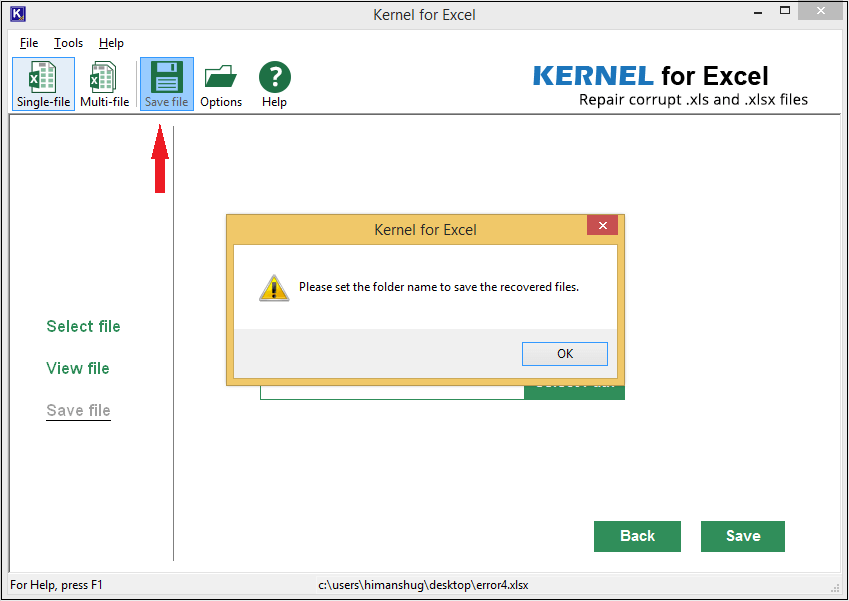 The options screen also holds the necessary options like Selecting the default File Mode, Setting the default location for saving a File and Adding a Suffix to the File name upon completion of the repair & recovery.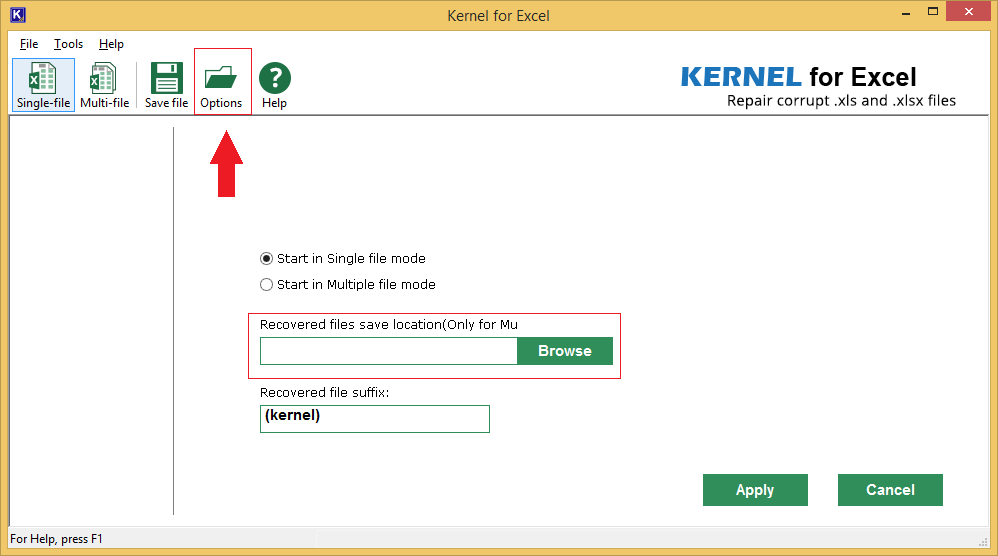 Conclusion
Managing a multitude of MS Office files can be challenging, particularly when file integrity and availability are top priorities. For a hassle-free solution to repair Excel files and recover lost data, Kernel for Excel Repair is the go-to tool. It serves as a comprehensive solution for data recovery from corrupt or damaged Microsoft Office Excel files. The latest version, Kernel for Excel Repair v18.10, now extends its support to Microsoft Office 2019. With numerous improvements and internal enhancements, it elevates the user experience to a whole new level, making it an invaluable tool for handling Excel file recovery and ensuring data integrity.
How to use Kernel for Excel Repair Tool to Fix a Corrupt Excel file