Read time 7 min
A quick overview of the Facts behind the top-rated OST to PST Converter
The OST to PST conversion has been a very common requirement of the Outlook users, who urge to migrate from one platform to another, or when they face OST corruption issues. The biggest drawback with this type of data file is that you cannot access its data by copy-pasting it to another place. You've to eventually convert the OST file to PST file in order to read them in MS Outlook environment. The problem may exaggerate if the file is already corrupt or in an inaccessible state.
Though, Microsoft has provided an inbuilt repair utility – Scanost.exe (till Outlook 2007 version) and Scanpst.exe (for Outlook 2010 and above versions). But there is a limitation with this utility that it cannot recover lost, deleted items from the file or may fail to fix if the corruption problem is severe.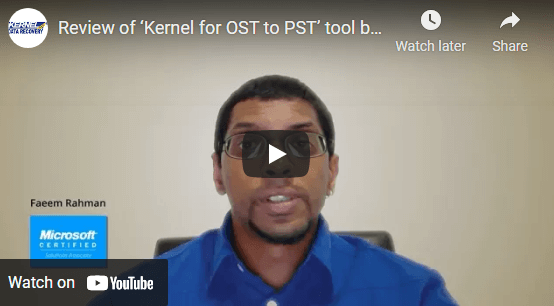 This is where you need a trusted third-party resource – such as Kernel for OST to PST converter. The tool specializes in recovering lost/deleted mailbox items from corrupt OST file and restoring it to PST files, Office 365 and Exchange Server.
Fact No.1 – The 5-Star Rated Downloads
Kernel for OST to PST converter is available for free download and use through its Trial Version. The free converter has attained 5-star rated download by its users for its user-friendliness and successful recovery results.
It also stands a record of over 200,000 successful downloads.

What is There in the Free Version?
With the free version, it allows the users to repair corrupt OST files and preview them for completely free. Also, it allows to restore 25 emails, items from each folder to PST file for completely free of cost. The important thing about this free utility is that it does not compromise at the data integrity of the converted file.
Fact No.2 – Made for All Outlook Versions
Kernel for OST to PST converter is compatible with all MS Outlook versions – including Outlook 2016, 2013, 2010, 2007, 2003, 2000, 5.5 and 5.0. The tool is designed to run smoothly on all Windows platforms: including 2016, 2013, 2010, 2007, 2003, 2002, 2000, 98 and 97.
Fact No.3 – Frequently Discussed and Recommended Tool over Top-notch Tech Communities
Kernel for OST to PST converter is highly discussed and recommended solution for resolving OST related problems over top-notch tech communities like Spiceworks and Experts-exchnage.com.

This converter has been recommended as the best OST to PST conversion solution by many technical geeks and experts. It has been recommended for converting OST files to a myriads of different messaging formats, Exchange and Office 365 servers.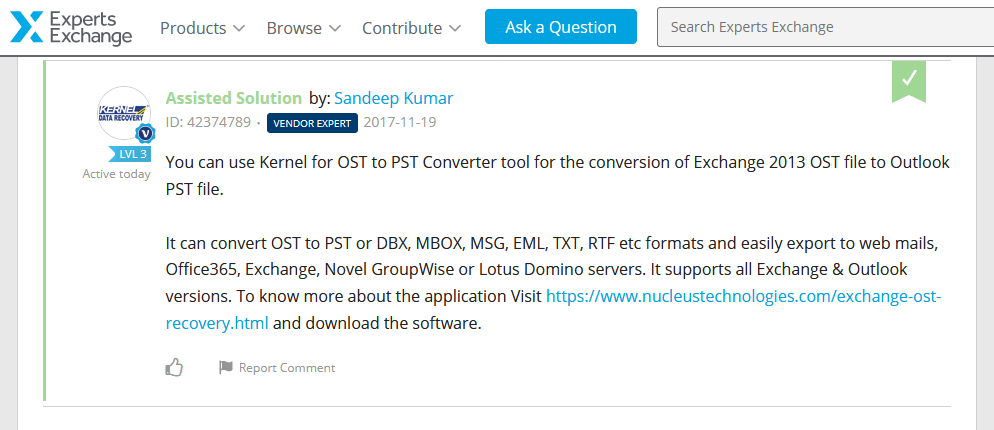 Fact No.4 – Outstanding Ratings and Reviews on Popular Blogging Platforms
We thank FinancesOnline.com for these recognition's. Our software emerged with a score of 8.4 out of 10 and 100% user satisfaction rating.



The software users have published their honest opinions and views regarding the use of Kernel for OST to PST Converter.

The experts have also shared their hands-on experience of OST to PST converter through the means of their blogging platforms.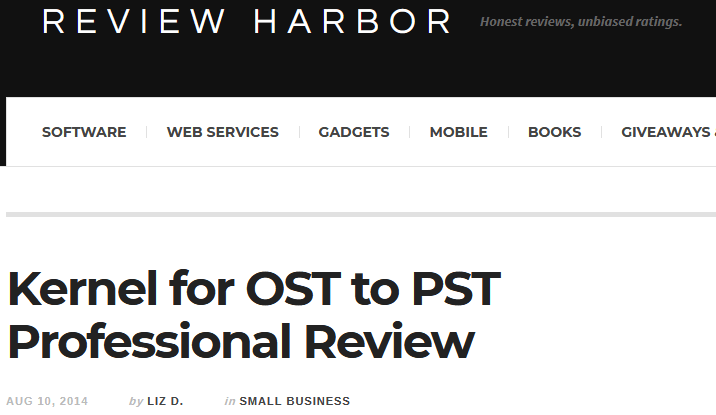 Also, there are detailed 'How-tos' articles that describe the step-by-step processes for using Kernel for OST to PST conversion tool. The tool has also received outstanding user ratings based on their ease of use and software satisfaction.

Fact No.5 – Problem Solving Case Studies
Kernel for OST to PST software has provided successful resolution to the thousands of customers across the world. Here are some of the popular case study snippets, shared for your knowledge.
Kernel Data Recovery restored the emails by performing OST to PST conversion.
Resolved the Exchange crash issues that resulted in Database corruption
Resolved the missing OST data issues that restricted access of Outlook mailbox items.
Resolved the insufficient Memory error that restricted access of Outlook mailbox

The above shared stories prove this converter to be the versatile OST to PST converter solution available till date.

Fact No.6 – What makes this converter so special for the Outlook Users?
USP of Kernel for OST to PST converter
Easy usability: The graphical user-friendly interface of the tool is easy to understand and use, which makes it likable even among the first timers or non-technical users.
Accomplishes email recovery needs: It not only converts the OST to PST file, but ensures full recovery of lost/missing emails, calendars, attachments, etc. from the file before that.
No data compromises: The tool does not hamper the integrity of the original data file, it just scans the data and restores it the way it was, without any alterations.
Open Attachments Before Saving: Preview is an exclusive software feature that provides the flexibility to open and check the emails, attachments, calendars before even saving them.
Locate OST file: This feature is helpful to quickly and automatically search all OST files from the selected disk/drive.
Multiple Saving Options: With a single tool, the user can convert OST file to a number of different formats like DBX, MBOX, MSG, EML, TXT, RTF, HTML, MHTML, & PDF files. Also, it allows to export OST to Office 365 and Exchange Server.
FREE Tech Support/upgrades for lifetime: When buying a licensed version of the converter, the user is assisted with free and round-the-clock technical support via technology experts. Also all the future upgrades of the OST to PST converter is absolutely free for lifetime.
Fact No.7 – Who should use this Converter?
Users facing OST file related error messages
When Exchange server has abruptly crashed down
Want to migrate OST to different platform – like Office 365 server, Exchange server
Having an over-sized, corrupt OST file
Looking for freeware to read and save OST file items
Conclusion
By now you would have recognized the capability of Kernel for OST to PST converter from inside-out through the interesting facts shared in the article. It's probably the most accurate, and user-friendly OST to PST converter available till date.