Read time 5 min
Microsoft Exchange (on-premises) and Office 365 are two popular utilities used for daily communications, storage of data, and collaboration. Every organization uses these platforms based on its business requirements and budget. But, there is still a massive difference between these platforms that can change your decision to stay in your current environment.
Microsoft Exchange is an on-premises platform that gives you complete control over your activities while providing you the flexibility to customize your tasks. On the other hand, Office 365 is a cloud-based platform that empowers your company to get all the facilities without a traditional on-premises infrastructure deployment. Staying on Exchange (on-premises) has its own advantages, but it also has drawbacks like losing your data, hardware and high license costs, etc. Office 365 offers additional features that make it worth migrating from your existing platform.
In this article, we will tell you the top 9 benefits of Exchange to Office 365 migration if you're planning to migrate from on-premises infrastructure.
Flexibility to Work from Anywhere
Office 365 gives you the flexibility to work from anywhere while giving you access to files and other essential data just with an internet connection. Access to apps like Teams, Yammer, and Outlook from any device makes it even easier to communicate with others. The advantage that you don't get with Office 365 is flexibility. With Exchange (on-premises), you will not have it.
Enhanced Security
Being a cloud-based platform, Office 365 comes with advanced security features to ensure that your business remains secure even in the cloud environment. For instance, Office 365 applications are accessed via SSL/TSL encryption that doesn't allow access to anyone without authorization from the administrator. Besides, Microsoft keeps updating its security features with regular security audits and enhancements.
Unlimited Mailbox Storage (Based on Subscription)
Whether small or large, every organization needs storage space to store their emails, attachments, files, and other essential reports. With Exchange Server, you get limited storage space. Whereas Office 365 gives you more storage as compared to Exchange to store your data. You can also opt for unlimited Office 365 storage based on your business requirements and subscription plan.
Real-Time Collaboration
Microsoft/Office 365 offers real-time collaboration to employees via Groups. As an administrator, you can easily integrate all other applications into your Office 365 account. You can share documents and work on files in real-time while communicating effectively with others. Office 365 applications like Yammer, Teams, and SharePoint make it even easier to collaborate with others while making changes to any file or document.
Offers High Scalability
Office 365 is a highly scalable platform that allows you to grow your facilities as your business gains recognition. For instance, some of the standard features of Office 365 include email, calendars, and contacts, which are similar to your on-premises Exchange platform. However, with Office 365, you get 50GB of online email storage that can be synced on smartphones, tablets, PCs, and MACs with ActiveSync. You don't need to spend an additional amount on unnecessary email accounts or storage. But later, you can upgrade very easily as your business requirements grow.
Saves Costs
Pricing is one of the best benefits of moving to Office 365, as it provides more than an email service based on your subscription. First, there are multiple options to choose from when it comes to moving to Office 365. With Exchange, you need to buy and install every service you opt for, such as SharePoint, OneDrive for Business, etc. With Office 365, you get everything at a lower cost.
Easy Integration with other Applications
On the ground level, another advantage of migrating to Office 365 is the seamless integration of other applications and tools. For instance, if your enterprise highly relies on Microsoft Outlook, PowerPoint, Word, Publisher, and other solutions, you don't need to think about learning any of these all over again, as they're already integrated with Office 365.

All these existing applications will continue to work, even if you move to Office 365 due to the cloud-based nature of Office 365. Furthermore, after moving to Office 365, you'll be able to use these applications to their maximum potential.

Continuous Updates and Notifications
Office 365 gets continuous updates from Microsoft related to security, features, bugs fixes, and patches. You'll always have the latest solution for your email while gaining access to enhancements and innovations as soon as they're released. Besides, it's easy to adapt to new changes in Office 365 to improve the overall productivity of your organization.
Hybrid Option
This is an important option you should consider before moving to Office 365 completely.
Office 365 gives you a hybrid facility with Exchange (on-premises). With hybrid flexibility, you can integrate your Active Directory/Exchange server with Office 365 while maintaining the scalability and flexibility of a trustworthy cloud platform. You can also preserve your existing on-premises Exchange server during the migration, making it easier for employees to adapt.
Migrating from Exchange to Office 365
Now, you know the benefits of migrating from your Exchange to Office 365; it's time to choose a solution for the migration. Going for the manual method requires expertise in both environments, and the process will be complicated and time-consuming. In our opinion, it's best to choose an alternate solution like Kernel Migrator for Exchange that can quickly migrate all your Exchange data to Office 365 quickly without any hassle.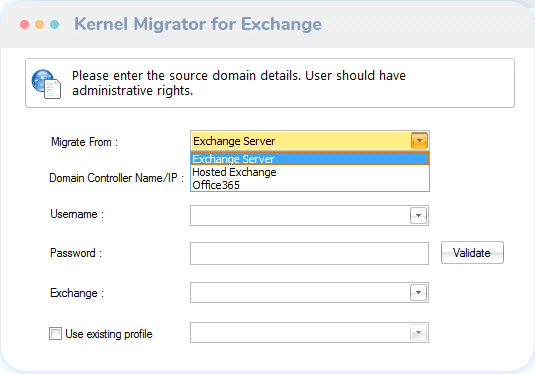 Kernel Migrator for Exchange (KME) is an advanced utility designed to help you migrate your data from Exchange 2007, 2010, 2013, 2016, 2019 and hosted Exchange Servers to Office 365 (Exchange Online). It is capable of performing all types of migrations, including intra-forest, cross-forest, & hybrid migrations. With this Exchange Migration tool, you can even migrate public folders from the Exchange Server to Office 365 shared mailbox or upgrade to a higher version of the Exchange Server. It comes with an easy and friendly UI that makes it ideal for beginners as well.

Wrap Up
Migrating from Exchange to Office 365 will provide you with multiple benefits and extensive features that are only available on the cloud. If you're still confused about why you should move to Office 365 from Exchange, the above benefits will clear your doubts.