Read time: 4 minutes
To store emails, calendar, contacts, etc., on local storage, Outlook uses Personal Storage Table (PST) file format. Every email account created or added to Outlook has a PST file. When the PST file gets damaged or corrupted due to various reasons like the large size of the files, virus infection, abrupt shutdown of the device/application, bad sectors on the storage device, or accidental deletion, it becomes inaccessible.
Scanpst.exe (Inbox Repair Tool)
Microsoft Outlook has the inbuilt Scanpst.exe (Inbox Repair Tool) to scan & repair damaged/corrupt PST files. Sometimes scanpst.exe cannot be found when Outlook is installed from Microsoft Store. And sometimes, it does not work or fails to repair corrupt PST files, as Scanpst.exe can repair files up to 2GB only. Also, this tool may fail when the extent of corruption of PST files is severe.
Scenarios when Scanpst.exe fails to work?
Scanpst.exe cannot repair large-sized PST files; it can only repair files of sizes up to 2GB.
It can fix only minor corruption.
Deleted emails cannot be accessed at all by using this tool.
Various other corruptions in data files and errors in the Outlook application are not fixed by Scanpst.exe
When you wish to move your mailboxes from Outlook to any other application or file format, you cannot do it using Scanpst.exe.
In all the above situations, you need a good third-party tool. And we recommend Kernel for PST Repair for all such needs.
Kernel for PST Repair – An Ultimate Solution to Repair PST Files
It is an efficient tool to recover complete data from the user mailbox, including inbox, contacts, drafts, journals, tasks, deleted items, Outlook notes, etc. It has a very simple GUI, and it not only repairs mailbox data by removing corruption but also protects the data while doing so. Once you have recovered data from the PST file, you have a choice to save the same to Office 365, Exchange Server, Outlook PST & Gmail. And it supports all versions of Outlook.
How does the PST Repair tool work?
This tool works in 3 simple steps, viz. Select> Preview> Save.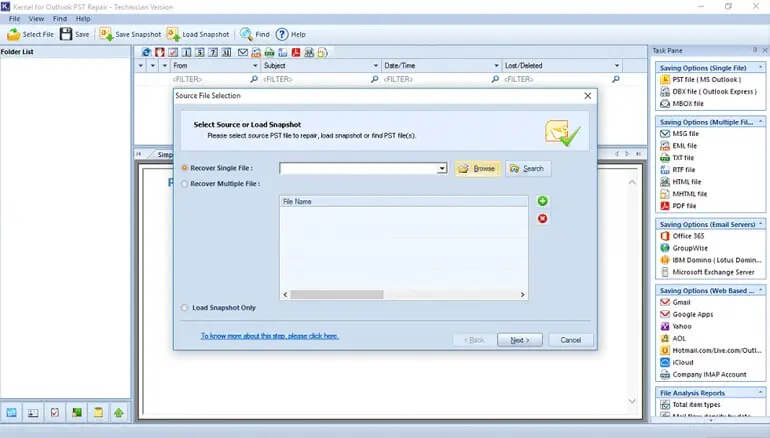 After launching the Kernel for Outlook PST Repair tool, you can select Recover Single File or Recover Multiple File as per your need. Then to find the file to be recovered, you can either use Browse or Search. You can add or remove files using the + (green) or x (red) buttons, respectively. After adding the file, you can preview the complete data of PST files added for repair. And finally, to save the recovered data, select the required saving option from the list of the saving option(s) given on the right. You can proceed to filter the PST data and then save it in the selected destination by following the on-screen instructions.
To avoid the corruption of large files, it automatically splits large-sized PST files into smaller sizes like 1GB/1.5GB/2GB/2.5GB. You have various options to save your recovered emails in formats like DBX, MBOX, MSG, EML, TXT, RTF, HTML, MHTML & PDF, etc. You can also save PST files to Office 365 or email servers like Exchange Server, Lotus Domino (IBM Domino), or webmail clients like Gmail, Yahoo, iCloud, and company IMAP accounts.
You can test the tool by using the free demo version, which helps you recover and save 25 items per folder to some formats. It has no limitation with respect to various versions of Outlook as it supports all versions of Outlook, viz. Office 365, Outlook 2021, and earlier versions.
Conclusion
Scanpst.exe (Inbox Repair Tool) has many limitations while repairing PST files. But Kernel for PST Repair easily recovers mailboxes from inaccessible, corrupt, lost, and damaged PST files, irrespective of their size and degree of corruption. If you wish to recover your permanently or accidentally deleted emails, then this tool can do it successfully with attachments, contacts, tasks, calendar, etc., retaining the original metadata, hierarchy, and format.