Read time: 4 minutes
Outlook employs the Personal Storage Table (PST) file format to house emails, calendars, contacts, and more in local storage. Each Outlook account is associated with its own PST file. If the PST file encounters damage or corruption, which can occur due to factors such as excessive file size, virus intrusion, sudden device/application shutdown, flawed sectors on the storage medium, or inadvertent deletion, it renders the data inaccessible.
Scanpst.exe (Inbox Repair Tool)
Microsoft Outlook comes equipped with Scanpst.exe, also known as the Inbox Repair Tool which is designed to scan and rectify damaged or corrupted PST files. However, in certain cases, especially when Outlook is installed from the Microsoft Store, scanpst.exe cannot be found Moreover, it has limitations in handling files larger than 2GB, rendering it ineffective in such instances. Additionally, when PST files are severely corrupted, Scanpst.exe may not be able to successfully repair them.
Scenarios when Scanpst.exe fails to work?
Scanpst.exe cannot repair large-sized PST files; it can only repair files of sizes up to 2GB.
It can fix only minor corruption.
Deleted emails cannot be accessed at all by using this tool.
Various other corruptions in data files and errors in the Outlook application are not fixed by Scanpst.exe
When you wish to move your mailboxes from Outlook to any other application or file format, you cannot do it using Scanpst.exe.
In all the above situations, you need a good third-party tool. And we recommend Kernel for PST Repair for all such needs.
Kernel for PST Repair – An Ultimate Solution to Repair PST Files
This tool is highly effective in retrieving all data from the user's mailbox, encompassing inbox, contacts, drafts, journals, tasks, deleted items, and Outlook notes, among others. Its user interface is intuitively designed, ensuring easy navigation. Moreover, it not only restores mailbox data by eliminating corruption but also safeguards the data throughout the process. After successfully recovering data from the PST file, you have the option to save it to Office 365, Exchange Server, Outlook PST, or Gmail. Additionally, it is compatible with all versions of Outlook.
How does the PST Repair tool work?
This tool works in 3 simple steps, viz. Select> Preview> Save.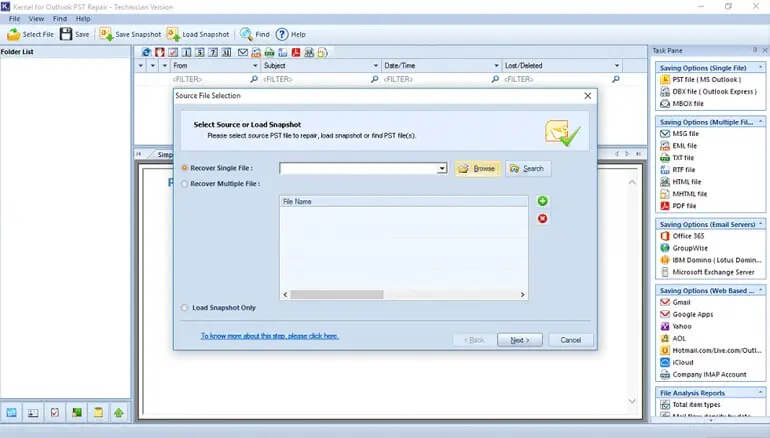 Upon launching the Kernel for Outlook PST Repair tool, you have the option to choose between Recovering a Single File or Multiple Files, depending on your specific needs. To locate the file you wish to recover, you can either utilize the Browse or Search functions. Files can be added or removed using the + (green) or x (red) buttons, respectively. Once the file is added, you'll have the opportunity to preview the complete data of the PST files slated for repair. Finally, to store the retrieved data, simply select the preferred saving option from the list provided on the right. You can then proceed to filter the PST data and save it in your chosen destination by following the on-screen instructions.
In order to prevent corruption of large files, it autonomously splits large-sized PST files into more manageable segments such as 1GB, 1.5GB, 2GB, and 2.5GB. You are provided with a range of options to store your recovered emails, including formats like DBX, MBOX, MSG, EML, TXT, RTF, HTML, MHTML, and PDF, among others. Additionally, you have the capability to save PST files directly to Office 365 or email servers such as Exchange Server, Lotus Domino (IBM Domino), as well as webmail services like Gmail, Yahoo, iCloud, and corporate IMAP accounts.
You can try out the tool with the complimentary demo version. This version allows you to retrieve and save up to 25 items per folder in various formats. It is compatible with all versions of Outlook, including Office 365, Outlook 2021, and earlier editions, with no restrictions.
Conclusion
While Scanpst.exe (Inbox Repair Tool) comes with several limitations when it comes to repairing PST files, Kernel for PST Repair excels at recovering mailboxes from PST files that are inaccessible, corrupt, lost, or damaged. This applies regardless of their size or the extent of the corruption. Should you need to retrieve permanently or accidentally deleted emails, this tool accomplishes it effectively, along with attachments, contacts, tasks, calendar entries, and more. It ensures the preservation of the original metadata, hierarchy, and format.