Today, iPod is the most widely used portable media player among people of all age groups. Because of its portability it can be easily carried anywhere. You can use it for music listening, viewing videos, studying through audio/video study guides, and playing games at home, on the way to work, or anywhere you would like to enjoy music, video, etc. An iPod consists of micro drive on which data files (music files, video files, etc.) are stored. Like other storage drives/storage media, iPod micro drive is also susceptible to data loss.
There can be many reasons for data loss from iPod's micro drive, like restoring iPod using iTunes Restore command, deletion of data files from iPod, etc. When you use the Restore command in an iPod then it erases the micro drive setting it back to the original factory condition. Similarly, when you willingly or accidental delete files from iPod, the space covering those data files in micro drive gets erased.
Accidents can happen with anyone, with you too. Just a single click and all of your favorite music collection that you might have collected from various resources spending lots of time will be lost. What you will do, if fall in such a situation? How will you get your music collection back? There is no need to worry about that because the music files that you have accidently deleted are still available on micro drive of your iPod. Only the files index numbers are lost. Until the memory location where the files were actually stored is not occupied by other files, you can recover files.
Yes! It is possible to get your favorite music/video collection back in just few minutes. But, for that you have to take help of Kernel Recovery for iPod, iPod data recovery software. The software helps you recover music files in various formats like mp3, mp4, etc. from your Apple iPod. The software supports Apple iPod models are- iPod Shuffle, iPod Nano, iPod Mini, iPod Touch, etc.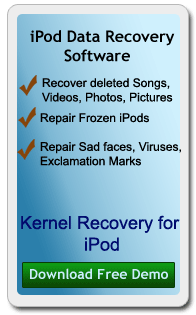 How to Use Kernel Recovery for iPod?
When you view the iPod was corrupt and need to be restored message or you have accidentally restored iPod or have deleted music files, stop using the iPod and do the following:
Attach the iPod from your computer's USB port and confirm that it appears as a drive.
Now, start the software and select the iPod appearing as a drive in your computer.
Start the software processing.
After completing the processing, the software displays list of recovered items and saves the recovered music files at a desired location on your computer system from where you can reload them in your iPod.