Read time: 5 minutes
Kernel Office 365 Migrator for Lotus Notes has been launched again with its new version, 19.4, incorporating some new options and functions.
We are going to discuss all the newly introduced and modified features in detail so that users can make use of them to migrate Lotus Notes to Office 365.
Let us go through the changes in the user-interface of Kernel Office 365 Migrator for Lotus Notes.
Office 365 Login Details PageAfter adding NSF file(s) (either from Notes or Domino Server) and clicking Migrate, the Office 365 Login Details page appears.In the new interface, you can select whether you want to migrate Single Mailbox or Multiple Mailboxes.


Also, you can assign Impersonation Rights to a mailbox in Office 365 by selecting the checkbox for the same. And by visiting the web page directed from the link Execute the PowerShell command manually, you can learn how to assign Impersonation Rights to mailboxes manually using PowerShell cmdlets.

Preview and MigrateThe new version offers you to have a preview of the mailboxes of the selected NSF file.


And after the preview, you can directly migrate the mailbox to the destination.


Mapping OptionThe current version has a Mapping page that allows mapping source and destination mailboxes. There are two options for Mapping – Map using CSV file or Map automatically.If you choose Map using CSV, you need to add an already mapped CSV file with the complete information like login details, mailboxes names, etc. of both the source and the destination (you can also download sample CSV from the tool).After choosing the second option Map automatically and clicking Get target mailboxes, the tool will list all the source mailboxes. On selecting a mailbox and then clicking Mapping, a list of target mailboxes is shown.


Select the required mailbox and click OK.


Similarly, the mapping can be done for all other source mailboxes. You can also export this mapping information to a CSV file using the Export to CSV option.


More Filtering OptionsKernel Office 365 Migrator for Lotus Notes, ver. 19.4 comes up with some new filters. Along with filters such as Set Date Range, Select Categories, Include/Exclude folders, there are three new filters. One is Do not allow duplicate items, second is Folder Mapping, and the third is for saving the file items in data hierarchy in a new folder.Select the checkbox saying Do not allow duplicate items to skip duplicate items from content for migration.Select the checkbox saying Select if you want to save all data hierarchy into a new folder if you want to keep the mailbox in the original hierarchy to a newly created folder.With the Folder Mapping option, clicking on Settings will take you to the Advance Settings dialogue box.


Here, you can set filters like Show "View Folders" and Edit Folder Mapping. Thus, you can map the folders as per your requirement.


Now, Lotus Notes to Office 365 migration is easier, instant and accurate with the newly introduced features like filter options, mailbox migration options, impersonation rights assignment, etc. Such modifications are introduced to meet the user demands and to make this software more efficient and accurate.
Video Tutorial: Kernel Office 365 Migrator for Lotus Notes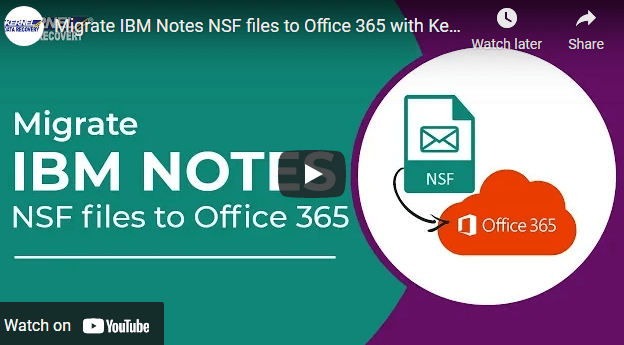 Conclusion
This article makes you familiar with the new explanatory user- interface of the advanced migration tool, Kernel Office 365 Migrator for Lotus Notes. The interface got the new Office 365 login page details and features like Impersonation rights, single/multiple mailboxes migration; preview facility for selected NSF file; automated & CSV mapping; new additional filters for duplicate items, data hierarchy saving, folder mapping, etc. Thus, you will get an in-depth understanding of the modified user-interface of the software with each new function and feature explained in detail.