Read time 6 min
Kernel EML Viewer is used in such scenarios where the user wants to read emails from EML files of different email clients such as Apple Mail, Mozilla Thunderbird, Outlook Express, DreamMail, etc. The EML Viewer tool is smartly designed as an independent application that does not require any external application and special configuration to view EML files. Therefore, due to different workable reasons and high performance the tool has received many positive reviews from its users, ratings and huge downloads on Brothersoft, cnet, CoolUtils, Download Plaza, and Softpedia.
Brothersoft:
The tool has got trustworthy 4 out of 5 genuine user ratings which simply proves that it has performed at its best for the users. As you can see the clear statistics of total downloads 6613 and ranked 17 in the category of Outlook Tools.
The most amazing part of EML Viewer tool is that it is available as a Freeware and requires no special technical requirements for installation. Any user who is looking out to view EML files can just opt for this perfect utility.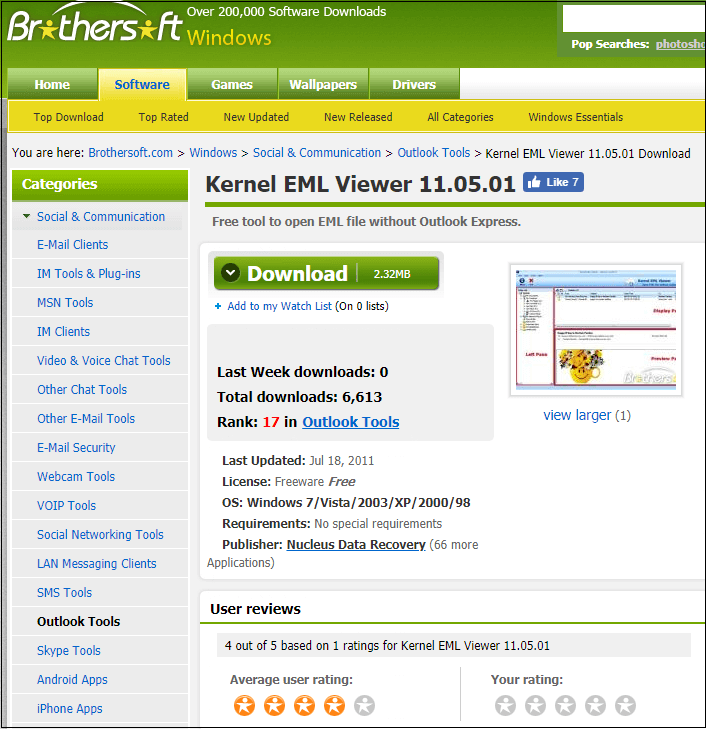 Cnet:
The tool has got the highest number for downloads i.e. 98,469 on cnet which indicates that it has efficiently worked for users. The average download per week is around 41, which is not all that bad for an application specifically designed for a solving a purpose.



CoolUtils
Kernel EML Viewer has been used by many users who mentioned that it a very easy to use and helped them much. And, due to that, it has got user attention, and people are talking about the tool by CoolUtils.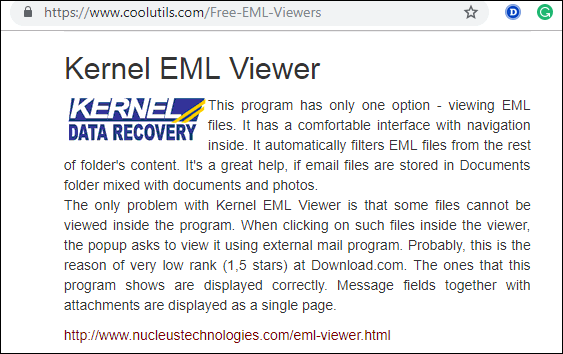 Download Plaza
The utility has worked like a magic wand for customers at Download Plaza. This tool has got 4 out of 5 average rating which is based on 208707 customer reviews. That is a huge number to prove that this tool has worked amazingly to resolve customer issues.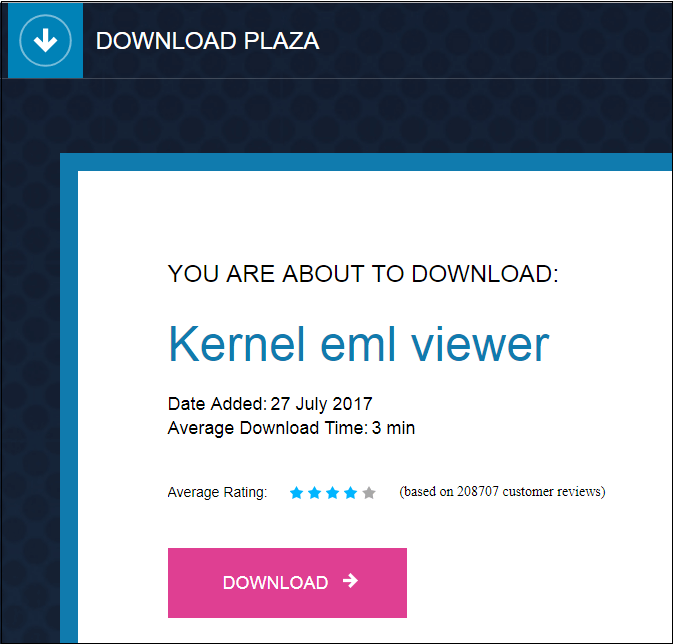 Softpedia
Kernel EML Viewer has made its reputation by offering the best performance to the users at Softpedia. It has received 14,250 downloads by customers and 3 out of 5-star ratings.



The software is reviewed by Elena Opris, who is Softpedia editor profile and review archive team, member. She has reviewed and rated Kernel EML Viewer by its security and performance to read and view EML file data items correctly.


About Kernel EML Viewer Free Tool
Kernel EML Viewer is a freeware utility available for reading healthy as well as corrupted EML file by various email clients like Mozilla Thunderbird, Apple Mail, Outlook Express and more. The EML Viewer utility works instantly for viewing EML file content without pre-requisites and email client installations on your system. It is a free tool which provides no restriction on viewing your data items.

Why is Free EML Viewer Tool a Standalone Utility?
There are many integrated features in this simple yet powerful utility which makes it a standalone utility:
Works with EML files of any version of email clients.
Instant solution to open and view EML file data items.
Integrated with the Advanced setting to enlist EML messages that are saved on your machine.
No file size restrictions for viewing emails.
You can preview entire data items of your EML file.
You don't need to spend a single penny to open and view the content.
How to Use Kernel EML Viewer Tool?
Follow the simple steps one by one to view EML file data instantly:
Step 1: Launch Free Kernel EML Viewer Tool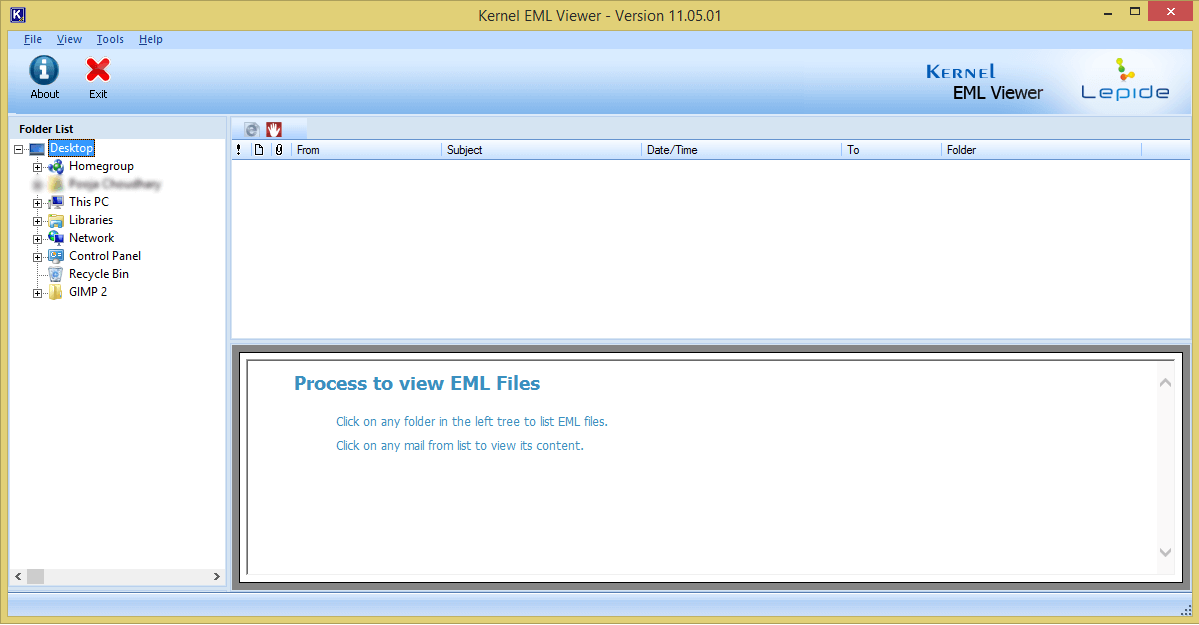 Step 2: The software automatically scans for EML files stored on your computer and lists them in the left pane, and you can click on the desired folder to view the data items.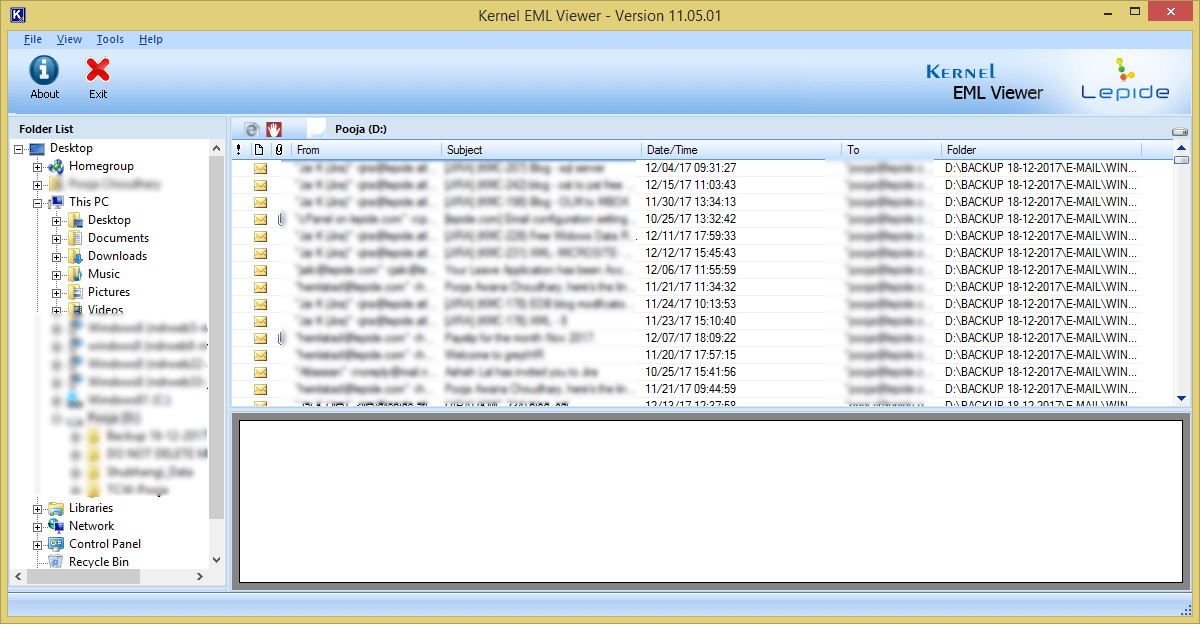 Step 3: Click on any data item to Preview its content.

Is Saving of EML File Data Possible with Trial Version?
You can comfortably open and view EML data items with the help of Free EML Viewer tool. But, you are not allowed with a data saving feature with the trial version of EML Viewer tool. If you wish to save complete EML file data items, then you can register for a licensed version of Kernel EML Viewer Tool. The trial version and licensed version offers the same interface and features except for the saving option. The licensed version allows you to convert EML/EMLX files to PST and MSG format. It is also featured to convert EML/EMLX to PST & import to Office 365 platform safely. Therefore, it is highly recommended for your convenience to opt for a licensed version of this tool.