Read time 8 minutes
Summary: This blog explores two methods for migrating from G Suite to Office 365 (Microsoft 365). The first method is a manual approach that involves multiple complex stages, while the second method utilizes the automated tool Kernel G Suite to Office 365 for a smoother and more efficient migration process. Users are presented with the flexibility to choose the method that best suits their needs, with a strong recommendation for the automated approach for simplicity and reliability.
With its advanced features and robust offerings, Microsoft 365 has become an attractive option for users migrating from other cloud applications like Google Workspace (formerly G Suite). This popular cloud platform offers a diverse range of plans, seamless integration with desktop email clients, and a host of advantages over alternative online storage solutions. Office 365's focus on security and flexibility makes it particularly well-suited for enterprise-level usage.
If you're planning to migrate from G Suite to Office 365, you've come to the right place. In this article, we'll explore various methods for performing this migration. Read through these methods one by one to determine which one best suits your needs.
Methods to Migrate Google Workspace to Office 365
Method No. 1: Migrate Google Workspace to Office 365 Manually
Migrating from G Suite to Office 365 using the manual or native method involves a multi-stage process that utilizes the Admin Center features of both platforms. However, this method can be complex, time-consuming, and prone to errors. Even a slight mistake can lead to migration failures.
The stages of the migration in a sequence are – Verifying both platforms domains to be the same > creating users in destination account > creating a list of mailboxes for migration in CSV file > creating Gmail IMAP migration endpoint > Creating migration batch and moving mailboxes > updating DNS records.
For a successful migration from G Suite to Office 365 using the manual method, it's crucial to perform all the steps in different stages accurately. Any errors or mistakes in the process can lead to a wasted effort without achieving the desired migration results.
Drawbacks of the manual G Suite to Office 365 migration
Maximum number of mailboxes– 50, 000; maximum file size – 10MB
Migrates only emails; Calendars and Contacts cannot be migrated
Long, complex process (creating migration end point fails mostly)
A single manual error can cause the failure of the whole process
Technical expertise is required to perform the process correctly
Risk of incomplete migration or data loss
Now, let's explore the next method, which allows you to migrate all items from Google Workspace mailboxes to the Office 365 platform in a more comprehensive manner.
Method No. 2: Migrate Google Workspace to Office 365 with Kernel G Suite to Office 365 Tool
This method relies on a third-party professional tool called Kernel G Suite to Office 365, which streamlines the automated migration process of G Suite data to Office 365.
Let us see the steps for the migration, once you have installed this software.
Launch the Kernel G Suite to Office 365 tool. The Welcome Screen will get opened. Move to the Add Source section and click Add to add the source G Suite account.
To add the source G Suite account, users need to create a service account in G Suite. Once the service account for G Suite is created, provide the account details like Login email ID, Service Account Id, P12 File Path, etc. Then, if you want to migrate multiple mailboxes from the account, select the second radio button – List all Mailboxes. Click on the Get User Mailbox(es) tab to retrieve the mailboxes in the G Suite account. Select the desired mailboxes for migration and click Add to add this as a source.
The source account is successfully added. To add the destination account, click Add option under the Add Destination section.
Add the Office 365 login details – username and password. Select the second option – List all Mailboxes and click on the Get User Mailbox(es) to list the mailboxes. Select the desired user mailboxes to which you want to move the selected G Suite mailboxes data. Then click Add.
The tool allows mapping source mailboxes to the target mailboxes. So, select and choose the desired target mailbox against the added source mailbox one by one. Click Set Filter and Migrate option.
Users have the choice to select the destination type from Mailbox, Archive Mailbox, or Public Folder as per the requirements. Click the Migrate option.
Now, select the desired source mailboxes folders, or apply date filter, item filter, etc., choose the option to save data hierarchy to a separate folder, and other options if needed. Click I am OK, Start Migration to start the migration finally.
The migration will get started and completed soon. The migration report can be saved to the CSV file format with the details.
The tool is exceptional in migrating G Suite to Office 365 owing to its following functions:
Migrates Contacts and Calendars/Appointments along with emails to Office 365
Easy and direct steps for migration
No limitations on the number of mailboxes for migration
Options to migrate to archive mailboxes and public folder
Advanced filters for migrating only what is required
Maps source mailboxes to the target mailboxes
Descriptive user interface with all the details of the process
Incremental migration facility to avoid item duplication
Additionally, this tool offers several advantages, such as a free trial version and comprehensive support for all plans, making it an excellent choice for migrating G Suite or Google Workspace account data to Office 365 efficiently and effortlessly.
Complete Guide for Kernel G Suite to Office 365 Tool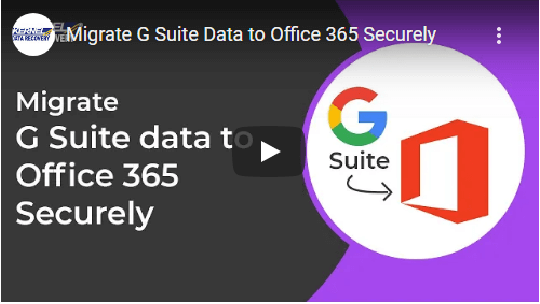 Conclusion
This blog outlines two migration methods for those considering a move from G Suite to Office 365. One method is manual, while the other is automated. While the choice of migration method ultimately rests with the users, we highly recommend Kernel G Suite to Office 365 for its simplicity and efficiency.
FAQs
Q- Will the data be deleted from G Suite after migration?
A- No, the software does not delete the data. Although, you can delete it manually after completing the migration.
Q- I have only few mailboxes in G Suite. So, can I skip mapping part in the tool?
A- You should map each mailbox in the tool. It is important for an error-free migration.
Q- Will the software migrate user-defined folder also?
A- Yes, the software can migrate user-defined folder too. They will be present as a separate folder.
Video – Methods to Migrate G Suite to Microsoft 365