The increasing reliability on email clients for inter-organization communication compels enterprises to go forth for reliable, secure, quick and cost effective email clients. For instance all those, who are using Lotus Notes as their email clients, usually come across high installation costs, maintenance charges, increased help desk costs, functionality issues etc. All these issues make them choose easy to use and simple email client like MS Outlook thereby arising the need to migrate from Lotus Notes to Outlook.
This is the high time for utilizing a Kernel for Lotus Notes to Outlook as it easily and securely converts unlimited NSF files to PST files within minutes. Moreover, it recreates folder structure of NSF file into PST file thereby making it easy to access with MS Outlook email client. During Notes to Outlook conversion, the software converts emails, attachments, images, notes, journals, appointments, tasks, schedules, to-do item list, sent emails, drafts, alarms, rules, calendar, address book, folder and sub-folders.
Following are the functions that ease the migration with Kernel for Lotus Notes to Outlook:
Conversion of NSF files to PST file – Kernel for Lotus Notes to Outlook enables the user to convert unlimited NSF files to PST files and these converted files can be saved in PST format or in Exchange server user mailbox.
Conversion from Lotus Domino Server Mailbox – Utilizing this feature, Kernel for Lotus Notes to Outlook directly converts Domino User mailboxes to new account in Exchange Server or to PST file. This acts really helpful for administrator who spend hours to convert user account mailboxes from NSF files in Domino server one by one. However, Kernel for Lotus Notes to Outlook makes migration easy as it searches and enlists each existing NSF file on server and then allows the user to convert and export MS Exchange mailbox or PST file.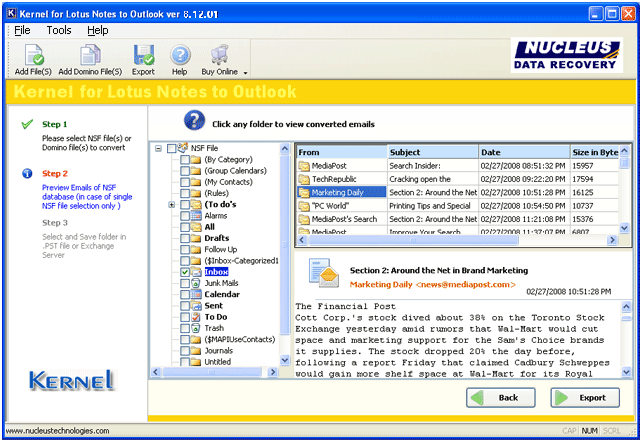 Lotus Notes Export process offers freedom to the user for saving their converted NSF files into PST and Exchange Server format. As they save the converted file, NSF to PST recreates a new PST file comprising of every folder of NSF file which can be accessed with MS Outlook.
Exchange Server saving option exports emails of a user account to the existing exchange server profile and are accessible with MS Outlook. Moreover it is important to note that Kernel for Lotus Notes to Outlook supports every version of Lotus Notes, MS Outlook, MS Exchange Server and Lotus Domino Server to perform conversion process.
The free evaluation version of Kernel for Lotus Notes to Outlook software lets you convert 1/single .nsf file with conversion of 10 emails per folder of the .nsf file.