Read time 5 minutes
Microsoft Outlook relies upon Offline Storage Table (OST) and Personal Storage Table (PST) for storing your complete mailbox data on to the local machine. But if something goes wrong with any of the two core components, Outlook will not function properly.
Basic Role of OST files in Outlook
OST data files are simply the copy of Exchange Server mailbox as MS Exchange generates an exact copy of mailbox items on OST folders that have .ost as their extension format. The prime task of OST files is to store these mailbox items to Exchange Server account, so that they can be accessed with slow or no internet connection, unavailability of Exchange Server or at sudden shutdown of Exchange Server etc.
Synchronization of OST Files
Synchronization of OST files with MS Exchange Server is a crucial process of Outlook to keep the email up-to-date in Exchange Server database. But users frequently find issues while working with Outlook offline storage tables, such as when re-establishing connection between Outlook and Exchange Server, because OST files are somewhere vulnerable to corruption. The below mentioned error is one theexamples of synchronization error.
Error message: Outlook Internal error code=0000000E
User is displayed such error message in either of the two cases:
a)OST file corruption
b)Synchronization problems between Exchange Server and Outlook OST file
However, there are certain drawbacks of OST file, such as its pre-defined maximum file size limits for various Outlook versions – like Outlook 2000 to 2002 (2GB), Outlook 2003 and 2007 (20GB) and Outlook 2010 (50GB). When the size of OST file tends to cross the predefined limitations, MS Outlook face troubles in daily operations such as creating issues while sending/receiving emails etc.
Fixing the Issue: "Internal Error Code=0000000E"
As discussed above that that interruption in the synchronization process is the major reason for this issue – Internal error code=0000000E. Because of this error, the efficiency of offline storage file gets influenced, which is why the Outlook data turns inaccessible to the user. Implement the following manual process to fix this synchronization issue.
Scanhost.exe is a free OST integrity check tool provided by Microsoft, to handle Outlook synchronization issues. This utility scans the OST file and repairs the differences that were generated at the time of synching. This tool is available for Outlook 2010 and higher versions. This tool is designed to fix minor issues of OST inconsistency and integrity.
Find your default location of OST files before implementing the steps.
For Windows XP Drive:\Documents and Settings\user\Local Settings\Application Data\Microsoft\Outlook
For Windows 7 and Windows Vista Drive:\Users\user\AppData\Local\Microsoft\Outlook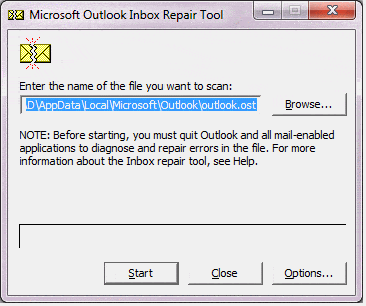 STEPS:
Close MS Outlook (if in use)
Go to the drive, where Scanost.exe is located. If you do not know the location, then perform Windows Search and type scanost.exein the provided field.

Once the scanost.exe is found, double click on it to open the utility.
On the general tab, click 'Properties' button and select 'Outlook' option from the dropdown menu of 'Always use this profile' option. Click OK to proceed further.
Select the file that you wish to scan from the Profile Name list. Click on Connect if prompted to 'Work Offline' or 'Connect'.
Select the Repair Errors check box to allow the utility to automatically correct all the errors.
Click on Begin Scan of files.
After finishing the process, the OST integrity Check utility, will resolve all the found errors related to synchronization.
However, if the synchronization error still exists, then it is a clear indication that OST file has been corrupted. In such a scenario, user is recommended to delete the damaged OST file and rebuild it again.
Drawbacks of Free methods (Scanost.exe):
This manual method is not effective to retrieve deleted emails and items folders.
The scanost.exe tool is appropriate only for synchronizing problems. No other inaccessibility issues are repaired from this utility.
Manual process is quite challenging and time-taking.
This method does not produce desirable output for large size OST files.
Please note: The above mentioned procedures is applicable only for Outlook 2007, as OST integrity check tool (Scanost.exe) has been removed for Outlook 2010 by Microsoft.
Make it simple using third-party OST conversion tool
Kernel for OST to PST Converter is a proficient OST repair tool with powerful features and friendly interface, to efficiently tackle all the complex process without letting the users face any intricacy. Such third-party software is designed for complete user convenience in dealing with tricky and stubborn OST file corruption issues and conversion errors, within a short span of time. This software is laden with advanced features that are proven to deal with all sort of OST corruption issues without losing data integrity. The OST to PST Converter software is even capable to extract missing or deleted OST files and performs healthy conversion to PST format.