Read time 10 minutes
Office 365 is one of the most secure cloud platforms available today. It offers more than 99% uptime and complete security its data. Also, for additional security, users can retain the important data up to the required time. Moreover, Microsoft is one of the most trusted names for security.
Though cloud was thought earlier to be secure, it is not so now. Cloud platforms are affected by downtime issues, ransomware, user errors, and many other issues. Considering all these, Office 365 users prefer to back up their data using various methods. Here, we will learn more about backup and restore Office 365 data.
Possible Reasons to Export Office 365 to Outlook PST
The users may find any of the following reasons for the Office 365 mailboxes export to PST file:
Anytime Accessibility: Being a cloud application, the data related to Office 365 is available only with internet connection. Exporting Office 365 data to Outlook PST facilitates users to access the desired data anytime without any internet connection.
For Archiving: When the user's mailboxes data needs to be shared or archived, it is needed to export Office 365 data to some location where it can be accessed.
Deprovisioning Office 365 users: When any employee resigns, his account needs to be moved and saved offline for any future analysis. At that time, Office 365 export is required.
Offline accessibility for special purposes: The Office 365 mails may be needed offline for forensic analysis, for regulatory needs or to ensure continuity during downtime's.
Restore Outlook PST to Office 365
Likewise, there are reasons to migrate Outlook PST files to Office 365 cloud environment as well. Some of them are listed below:
Migrate on-premises data: Importing Outlook PST file to Office 365 opens a way to migrate Exchange on-premises data to Office 365.
Security: Office 365 environment is safer than any other application for storing the data. To secure data, the users move to import PST to Office 365.
Imposing retention policies: Office 365 allows to impose retention policies and document deletion policies that remove data after a predefined time.
Thus, the need for export and import is discussed. Now, the focus is on how to perform the processes. In general, there are two ways to perform the import/export to Office 365 migration.
The users are most inclined to manual ways to import or export as these ways are absolutely free of cost. So, first, look at the manual solutions for the import/export.
Manual Ways to Backup Office 365 to PST
There are basically two manual methods to backup Office 365 to Outlook PST files.
Using eDiscovery PST export tool
Through Microsoft Outlook application
#1. Using eDiscovery PST Export Tool
Note: The in-built eDiscovery option in Office 365 is available in all Exchange plans including Exchange 2013, Exchange 2016, Exchange 2019, and in selected Office 365 plans.
To export Office 365 mailboxes to Outlook PST file, follow the steps as given:
Open your Office 365 with the login credentials. Open Office 365 Admin Center, then select Security & Compliance Center. Now go to Permissions and edit eDiscovery Manager role group.

From the following roles assigned – Case Management, Compliance Search, Export, Hold, Preview, Review, and RMS Decrypt, check for the Export role. If found missing, ensure that you add it using the plus button.
Now, go to Search & Investigation option. Click the add (+) button and start a New Content Search wizard. Provide the suitable name and click Next.
Select Search everywhere and checkmark Exchange to export data from all mailboxes. You can also select specific mailboxes using the Custom location selection option. Also, you can export from Public folders by selecting the search all public folders option.
In the next step, you can provide filters like time range, email metadata (from, to, cc, bcc), and message types. Click Search and in the next window, click Start export.

Choosing the desired options for export, click Start export to start the process. In the Content Search dialogue box, you can download the export results by clicking Download export results. This will generate and export key and copy this to Clipboard.
Now in the eDiscovery PST export tool. Paste the export key just copied. Now, provide the Export tool, a folder where you want to save the PST files.

Once you click Start, the export starts.
Now move on to the next manual procedure to backup Office 365 data to PST file.
#2. Through Microsoft Outlook Application
The pre-requisite for this type of migration is that all the Office 365 mailboxes must be configured with a Microsoft Outlook account i.e. Office 365 account must have full control permissions on mailboxes to be exported.
After assigning the permissions, wait for some time till the mailboxes are visible on the Outlook account. Now, perform the following steps to perform the export process.
Launch the Outlook application. From File, click Open & Export and then select Import/Export.

In the Import and Export wizard, select Export to a file and click Next.

Now, select Outlook Data File (.pst) in the newly opened wizard. Then click Next.

In the next step, you are asked to choose the folder items to move. Select the desired items or folder (public folder, mailbox) and click Next. The export begins to start then.
After discussing manual methods, it seems not so tough to export Office 365 data to PST. But hold on, the user should consider the limitations aspect for the manual solutions too.
Drawbacks – Manual solution to export
Here are listed some of the limitations for the manual method to export Office 365 to PST files.
Manual method using eDiscovery tool
Time-consuming and complex
Office 365 archiving license is required for this option
Specific data cannot be easily exported
Manual method through Outlook application
Cannot migrate multiple mailboxes
Specific mailboxes cannot be exported
Configuration of account is required
Before coming to any conclusion, let us have a look at the manual ways to import Outlook PST data to Office 365.
Manual ways to Restore PST to Office 365
While talking about the manual methods to import PST to Office 365, the users can take advantage of the following method.
#1. Using New Office 365 PST Import Service
Office 365 provides a new feature to import unencrypted PST files to Office 365 cloud environment. Before executing the manual process, the user must assign the Mailbox Import Export role to the user account. Follow the instructions below to assign the role.
#2. Assign the Mailbox Import and Export role:
Open Exchange Admin Center > Click Permissions > Click Admin Roles > Double Click Organization Management > Click + Roles > Select Mailbox Import and Export > Click Add > Click OK > Click Save.
You can also create a New role group and then assign your account permissions.
#3. Download Azure Copy tool:
Sign in the Office 365 with the global admin account and perform Select Data Management > Click Import > Click Go to the Import Service > Click Upload Files Over the Network. After this, download the Azure AzCopy tool by clicking on Download Tool. Now, install the Azure Copy tool.
In Import Data to Office 365 window, click the key icon and click Copy key. Click Show URL for PST files. Save this key and URL to a secure location.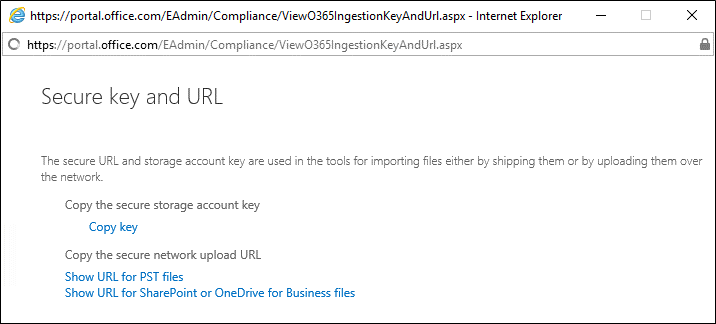 #4. Uploading PST files to Office 365:
After downloading the Azure Copy tool and acquiring the key & URL, open the command prompt as the administrator. Open the directory where the Azure copy tool is installed. Run the following command to upload the PST files.
Run the following command to start uploading the PST Files
AzCopy.exe /Source:\\SERVER01\PSTshare /Dest:/SERVER01/PSTshare/ /Destkey: /S /V:C:\PSTshare\Uploadlog.log
#5. Create PST mapping and import:
Create the CSV file for mapping PST file to Office 365 by clicking on Mapping Template File from Microsoft to download the sample CSV file. Provide the required information and save the PST Mapping file.
Now again go to the Upload files over the network page, provide the project name. Click + to add the mapping file. Add the mapped CSV file, validate it and finally click Finish. The import will start now. Once completed, close the application.
So, we have discussed a manual solution to import PST data to Office 365. The PST can be transferred through this method but still has certain limitations.
Drawbacks
Time-consuming
Unfeasible for non-encrypted PST file
Selective data migration not possible
Data security not guaranteed
Not compatible with all Office 365 plans
Automated Method to Backup and Restore Office 365 Data
The manual solutions are free but do not fulfill the complete requirement of the users. Keeping in mind the drawbacks of manual solutions for both import and export, you can use a professional 2-in-1 Kernel Office 365 Backup & Restore tool. This intelligent software performs both backup (export Office 365 to PST) and restore (PST to Office 365) for Office 365 at a single platform and within 4-5 steps only.The tool has a secure, reliable approach for both the procedures it executes.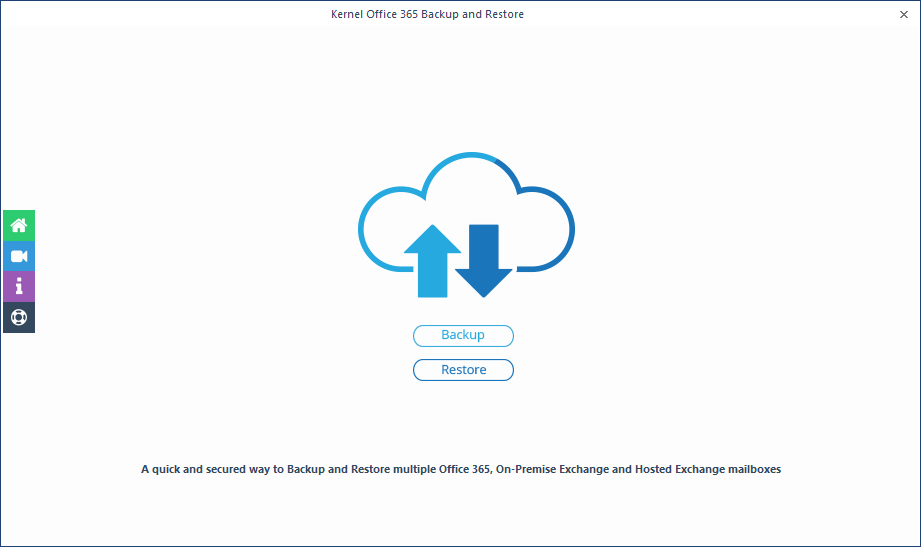 A- You can backup or restore a single mailbox of Office 365. You can also create a New role group and then assign your account permissions.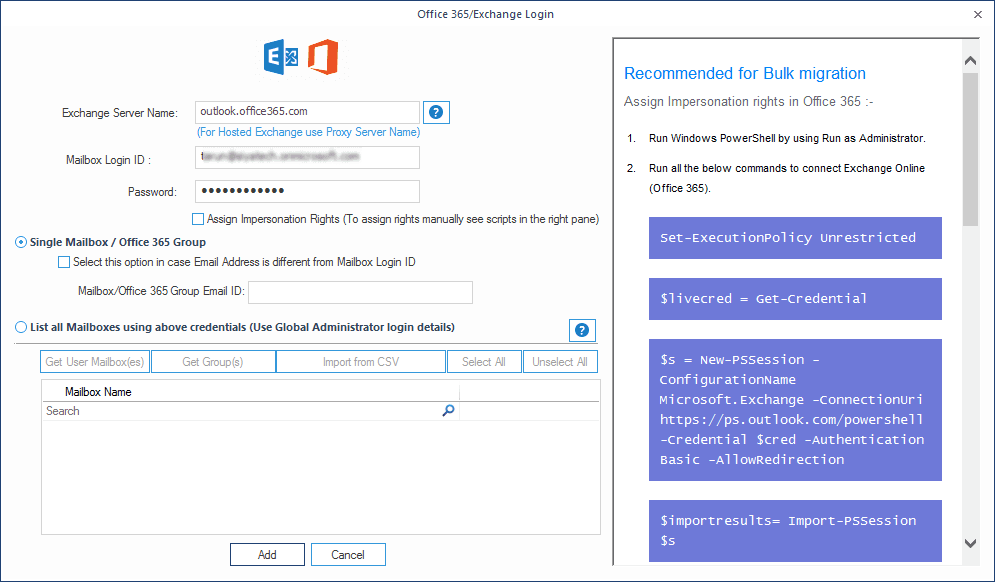 B- Similarly, you can Backup or Restore multiple mailboxes with much less effort.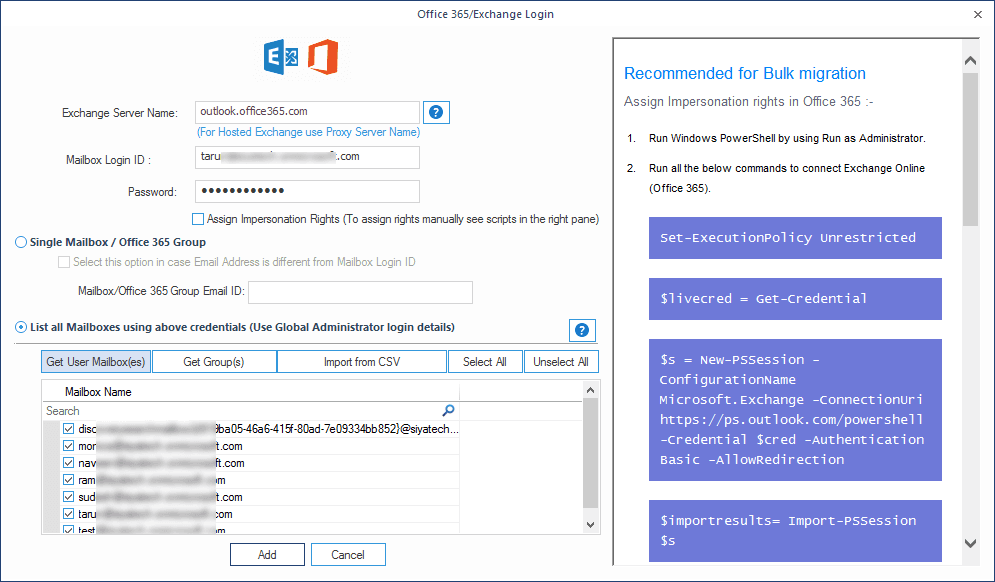 Final Words
Analyzing the manual solutions makes us understand that these methods definitely have no cost but are completely trustable. These methods perform Backup and Restore Office 365 data but take much time along with having complexity. For a better and instant solution, the user can go for a third-party professional tool Kernel Office 365 Backup & restore. The choice is in the hands of the users only.