Read time 5 minutes
If you're concerned about recovering deleted data on your Windows system, worry no more. We offer a free Windows data recovery software solution.
The Kernel for Windows Data Recovery Free version is an innovative tool designed to fulfill your Windows data recovery needs. Whether you're looking to retrieve missing images or recover permanently deleted videos, this software can restore everything stored on your computer.
You might be wondering what sets this software apart from other Windows data recovery tools. In this article, we'll showcase its extensive features.
Key Features of Free Windows Data Recovery Software
The Kernel Windows Data Recovery – Free Version provides an immediate solution for recovering missing or permanently deleted data. It boasts numerous advanced features that set it apart from the competition.
Recover media files

Nearly everyone stores media files such as images, videos, movies, and songs on their systems. When this data is lost, it can be incredibly frustrating to retrieve. Fortunately, with Free Data Recovery software, you can swiftly recover all your multimedia files from your system without any compromise on their quality.

Recover from corrupt disk/drive partitions

This program empowers you to individually choose and scan corrupted partitions on your hard disk or drives within your system. Subsequently, it enables you to extract every file from these partitions. Whether you have multiple partitions, you can select each one separately and initiate data recovery.

Restore permanently deleted files

Frequently, we find ourselves in a situation where we've deleted data or emptied the Recycle Bin on our computers, only to discover later that it contained important information. However, once the Recycle Bin has been emptied, the data is irreversibly erased from the system. Fortunately, free data recovery software possesses the capability to retrieve every file that has been permanently deleted from your system, whether it was removed accidentally or intentionally.

Three different scanning methods

The Free Windows Data Recovery software offers a distinctive set of scanning options: Quick Scan, Deep Scan, and File Trace. Quick Scan swiftly retrieves recently deleted data, while Deep Scan conducts a comprehensive examination of the drive/disk to recover all available data. File Trace, on the other hand, specializes in restoring specific file types stored on your computer.

Recover data from removable drives

We all use pen drives, USB flash drives, external hard disks, and memory cards to store some extra files. And corruption can occur to any digital device and make our data inaccessible. With Free Data Recovery software, you can even recover deleted data files from external drives.
Installing Free Windows Data Recovery Software
It's a simple process to activate the Free Data Recovery Software. First, you need to download the Free data recovery software
Once the tool is downloaded, double-click the installer file and follow the instructions.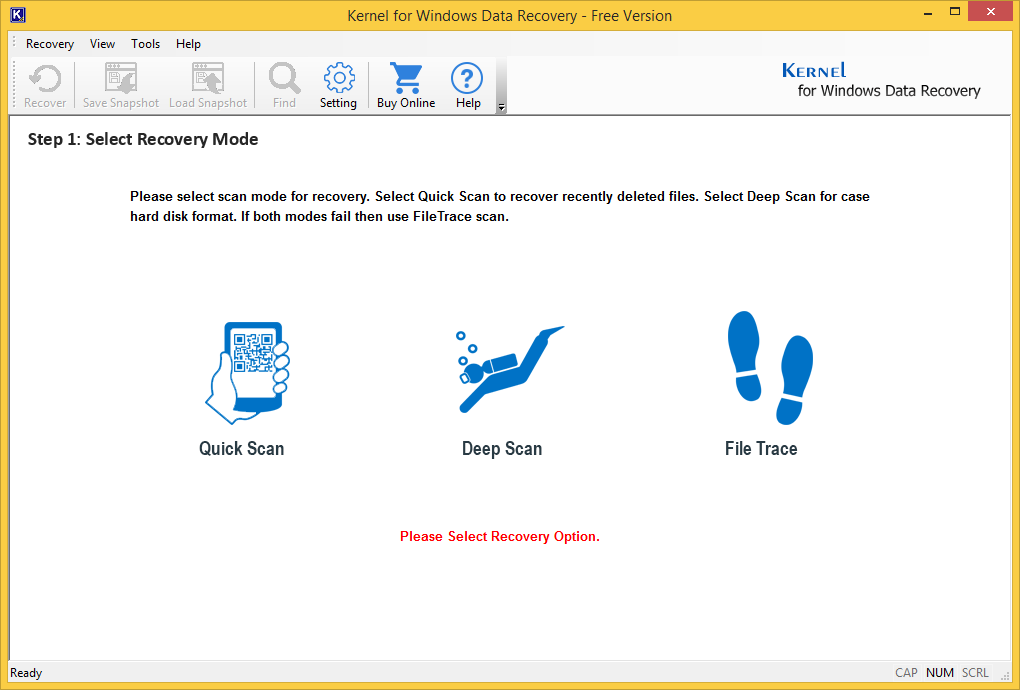 Limitation of Free Windows Data Recovery Software
Using the Free Windows Data Recovery software, you're limited to saving a maximum of 2 GB of data. While the software will successfully recover and display all deleted data, you'll only be able to retain up to 2 GB.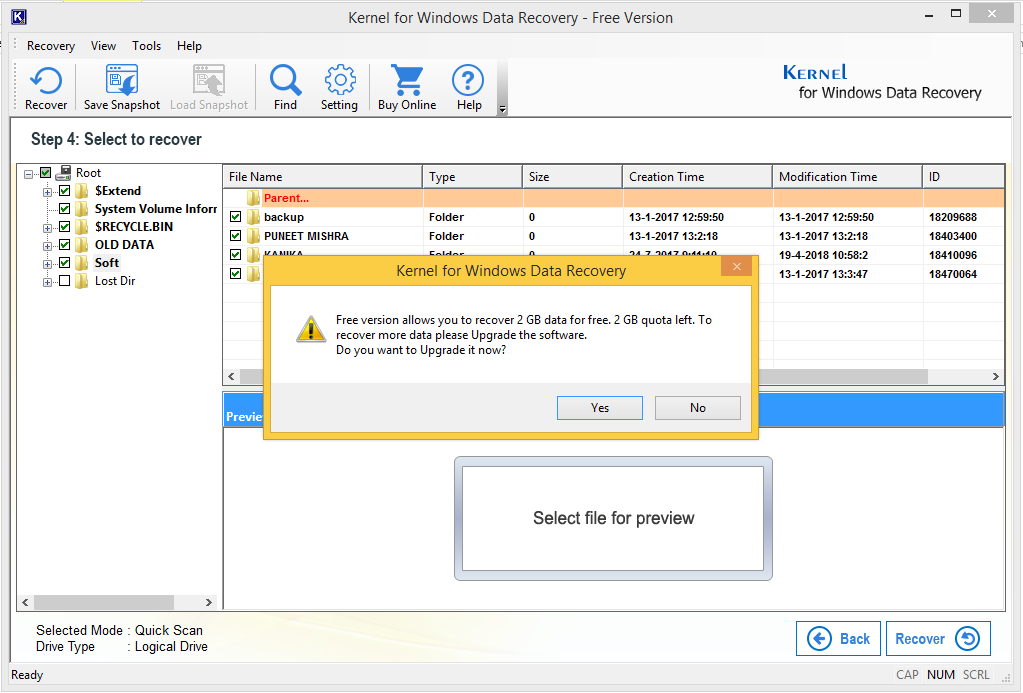 Activating Free Windows Data Recovery Software
So, what the best option to recover unlimited data?
Well, it's best to upgrade to the premium version of the Windows Data Recovery software that offers an unlimited saving of recovered data from your system.
Kernel for Windows Data Recovery
This enhanced edition of the complimentary Windows data recovery software employs identical algorithms. The key distinction lies in its capacity to save an unlimited amount of recovered data from your system. You can acquire this upgraded version directly through the link provided below.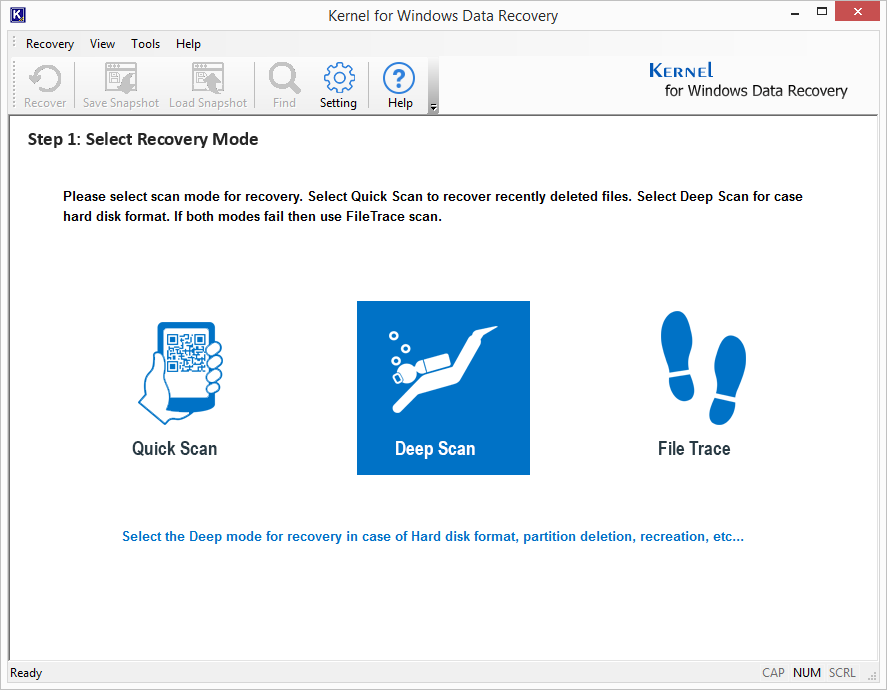 Conclusion
We all store crucial data on our Windows computers. But, sometimes due to unknown reasons, the data gets deleted or become inaccessible due to corruption. In such situations, recovering data becomes difficult. Keeping that scenario in mind, we have mentioned here a free Windows data recovery software that can easily recover and restore deleted files. We also have shown how you can activate this tool to recover the entire data.