Read time 11 minutes
"I received an MBOX file and have been asked to go through some mails in it and report back to my manager. I am out of town and only have access to Outlook currently and due to security reasons and office restrictions, I need to do it on my Laptop only. It's very important, can anyone suggest me the safest and the quickest way to convert that MBOX file to PST, so that I can open it in Outlook. Thanks Already!"
MBOX is basically a file format, mailbox file which saves a collection of emails in text form. Email clients like Apple Mail, Web Mail, Thunderbird, Entourage, Eudora, Gnu, and many more use MBOX as file format. When user switches from Mac to Windows machines, they need to convert their mailbox data into Outlook compatible PST format.
If you are an Outlook user, then you might be aware that you cannot directly open MBOX file in Outlook. Then what is the procedure to open such a file? You can go either for a manual method, or you can install a tool for it. Let's see how you can do it with the manual method in Thunderbird.

Instant Solution
Download Kernel for MBOX to PST Converter, an automated tool to open MBOX file in Outlook 2019/2016/2013 in few easy steps.


Why Might you Need to Open MBOX Files in Outlook?
MBOX itself is a very flexible file format and can be used and opened in multiple email clients. But, there are multiple circumstances when you may need to open an MBOX file with Outlook. One of such issues is mentioned at the top in a user query. Apart from some unwanted circumstances, a user may also want to switch to some other email client because of the drawbacks of MBOX files. What are these drawbacks? Let's discuss:
MBOX files are accessible mainly in open source email clients, which are not so advanced for professional email communication.
Users have also complained about the file locking issues in MBOX files, after which they have faced a lot of difficulty in opening and accessing files.
MBOX files are secure, but still they easily get corrupt and hence it becomes very difficult to find a solution to fix them. Sometimes this may impact your career or work a lot many ways.
One of the most reported issues of MBOX files is that they create issues with the network file system. This behaviour can cause a lot of trouble in the time of urgent use.
So, just like these there are more issues with MBOX files and hence users want to switch to other email clients. So, if users are willing to switch to some other email clients, which is the most popular one among them? Generally users are preferring to switch to Outlook as it is also very popular and has some advanced features. Let's discuss those features:
Outlook is popular, and is widely used by individuals and by organizations for personal and official use. It is because Outlook supports advanced features required for enterprise-level communication.
Outlook comes with many other small but very useful items like tasks, Journals, Notes, Calendar, Contacts, assignments, etc. All these features are added to make user-experience even better and unmatchable.
Outlook has better security features than MBOX, and hence your data is more secure with Outlook. Outlook has a special password security feature so that a sender can protect their data.
Outlook stops spam emails from entering in your mailbox, as it has a strong anti-spam feature. However, it not stop it completely, as Outlook saves all emails that it thinks might be spam in the Junk emails box which is a separate folder for such emails.
So, here are the reasons why a user may want to switch to Outlook. Let's move further and discuss how to open MBOX files with Outlook.
How to Open MBOX file in Outlook Manually from Thunderbird
Open Thunderbird and configure your Gmail account through IMAP.
Now create a new folder in Thunderbird where you can add the selective emails you want to open in Outlook.

Select the emails you want to open in Outlook and move them to the new folder. You can simply drag and drop the selected files to the new folder or just follow the manual method.

Now, open Outlook and select emails you want to add in Outlook.

Drag selected emails to a new folder in Outlook or wherever you want to add those files. Now you can access those files in the new folder.

This is about how to open MBOX file in Outlook 2019, 2016, 2013, 2010 using manual method. However, the manual method is sometimes a big hassle because for that you need everything installed and configured at the same time. If it's not, then you need to invest much time setting up everything. So, the better approach is that you install a tool like Kernel for MBOX to PST to open MBOX file in Outlook easily.

How to Open MBOX File in Outlook With the Help of Professional Tool
Install and run the software.
On the Source file selection window, select either one from 'Select folder' or 'Select File' and click on the Browse button.
Select the MBOX folder and click on Ok.

On the next window click on Finish.

Now select a specific folder if you want or check all the folders and click on Save.

Now it will ask to 'Select the output type to save the recovered data,' select PST file (MS Outlook) option and click on Next.

On the next Window apply filters if require, let's apply to Item type, and from the drop-down menu of Include select from three given options, let's say Selected Only, it allows you to select the items of your choice.

Now press Ctrl key and select multiple Items if you want or just select a single item and click on Next.

A new window will pop up, where you can manage your recovered PST, there you can choose to split your file if needed and you can also add a Prefix to your file, do the needful and click on Next.

On the next window, you will be asked to select the folder destination, Click on Browse.

Select a destination, or you can make a new folder. Click on Ok.

Click on Finish.

You will get a confirmation that your file is saved successfully, click on Ok.

Video Tutorial to Convert MBOX file to Outlook PST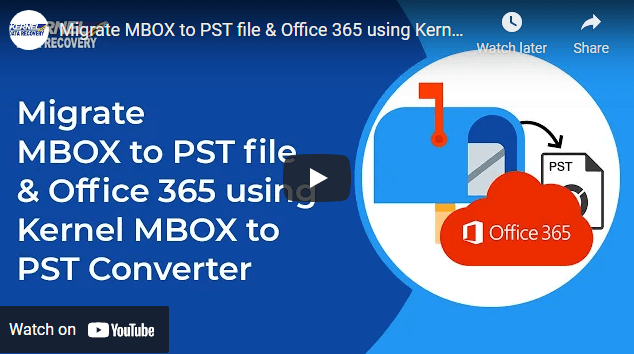 Conclusion:
Whenever you want to access the MBOX file data in Outlook, then you will have to convert the MBOX file to PST using the above-mentioned methods. Due to the limitations of manual process, you should consider KernelApps MBOX File Converter tool as the best solution. It can convert multiple MBOX files to Outlook at the same time. There is a free trial version of the software available at the website that will run the same conversion or migration process with a limited functionality, and you can use it before buying the licensed version.

FAQs
Q- I dragged an entire folder, but I found out that it was empty. The emails were not moved using the method. Should I manually move each email?
A- If the drag-&-drop method does not work, then the manual method is not correct for you. So, you should use the software to move emails.
Q- Can I connect Exchange account in Thunderbird and move them to Outlook?
A- It will an indirect method to move emails. You should connect Exchange in Outlook and move Thunderbird emails then.
Review by CNET Users

Review by Experts William Diaz