Read time 5 min
In business and other digital world, regular and sometimes new users face issues in their Exchange Database or Outlook files. Regardless of knowing about the specific cause for the issue, the users try to find a stable solution for it. The secured and instant solutions are the need of the time. Instead of looking for separate tools for EDB, OST and PST files for the recovery or migration solutions, if a single tool is there which provides all the solutions at a single platform, it would be the best approach.
Keeping this aspect or requirement in mind, Kernel has introduced a software solution Kernel Exchange Suite. The Kernel Exchange Suite software interface looks like this with various Sources and Destinations options.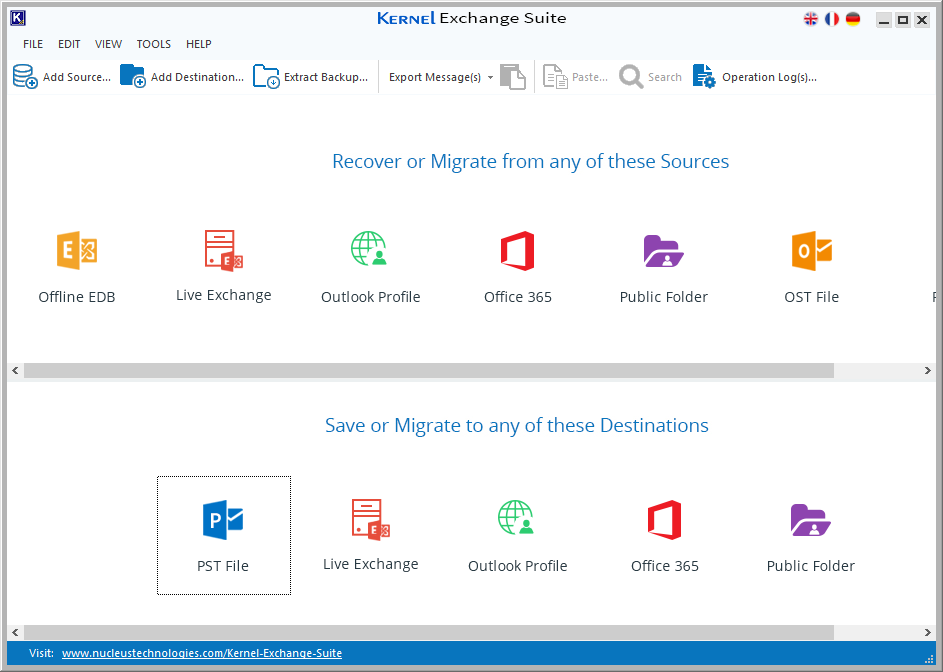 As the name suggests, it is a single platform for managing Exchange and Outlook files. Let us look at the performance capabilities of the software.
Kernel Exchange Suite perform many functions on a single platform and works for the convenience of the users.
EDB Recovery & Migration
Recovers data from all kind of EDB files (lost or corrupted)
Conversion of complete EDB data (emails, contacts, etc.) into PST format
Migration of EDB files data to Office 365 and Live Exchange destinations
Mailboxes, Public folders and Archive Mailboxes Migration
Selective data migration with copy/paste, drag/drop and filter options
OST Recovery & Migration
Recovers orphaned, corrupt and lost Exchange OST files
Converts OST files into new or existing PST files
Transfers only desired data with date range/item type filters
Saves OST files to Windows Live Mail, Outlook Express & MSG, EML formats
PST Recovery & Migration
Repairs corrupt PST files and saving to new or existing PST file
Migrates PST file to Live Exchange, Office 365
Exports PST data to IMAP accounts (Gmail, Yahoo, Hotmail, etc.)
Separate data using advanced filters like Date Range, Item Type
Cloud & Exchange Migration
Migration of mailboxes between Office 365 accounts
Migration between live and online Exchange Servers
Facility to create mailbox while migration to Live Exchange
Copy/Paste, Drag/Drop options to transfer data from source to destination
Apart from these valuable solutions, Kernel Exchange Suite delivers more amenities to its user helpful for performing the operation conveniently.
Extraction of data from Backup files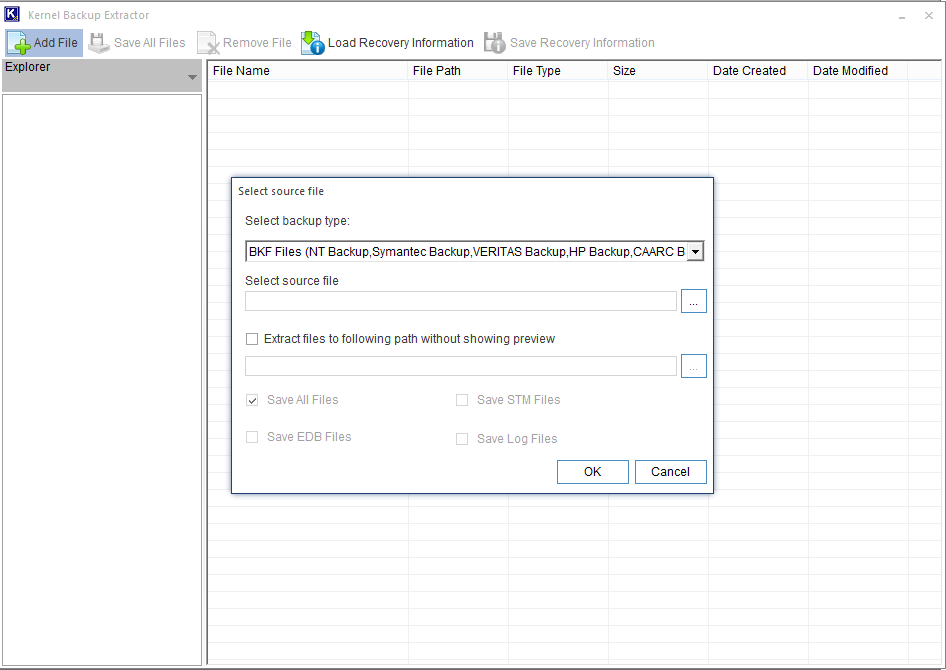 This software includes a feature Backup Extractor using which one can extracts data from Exchange backup files like Windows NT Backup, Veritas Backup, Symantec Backup, ARCserve Backup, and HP Backup. It restores the extracted data to the user-defined location on the system.
Individual extraction of the attachments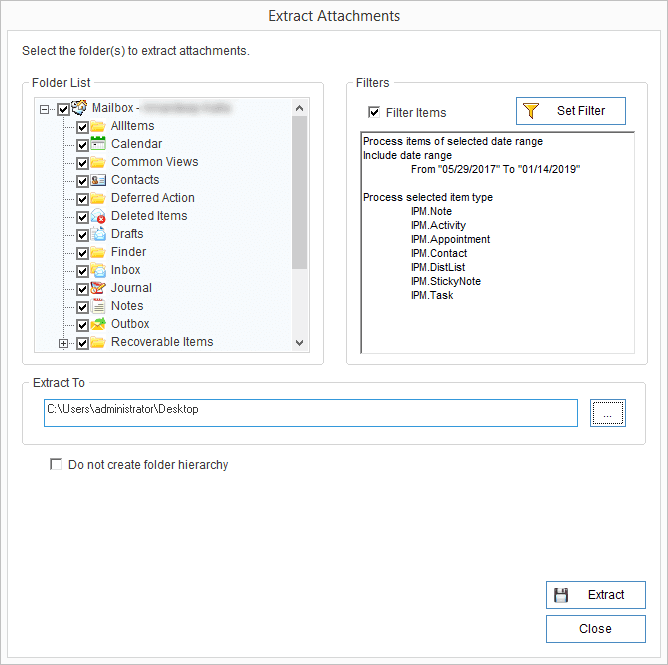 One can easily extract only attachments from his Exchange mailboxes folder and save to the system drive location. Find the option by right-clicking on the desired folder. On attachments as well, users can apply filters to extract only the required attachments from the selected mailbox folder.
Deep and quick message searching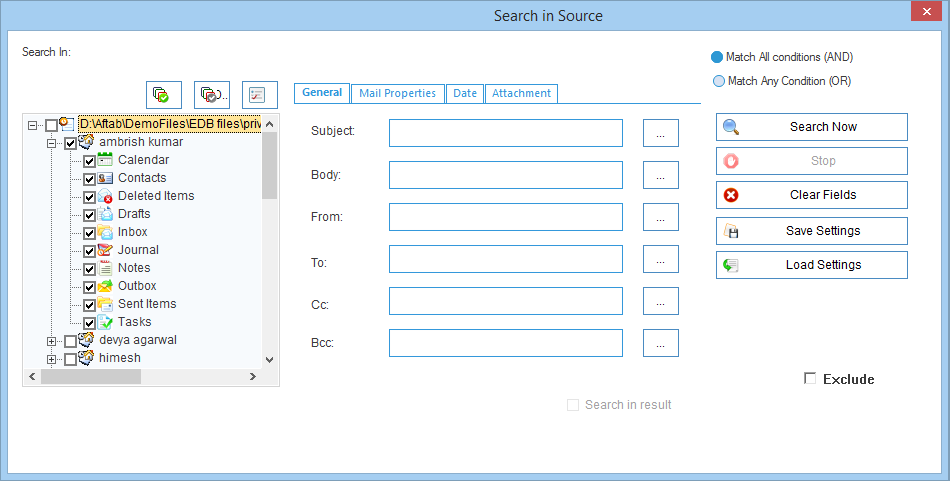 To directly fetch the messages, there is a Search feature which can be used to search for specific messages or attachments from multiple user mailboxes. It searches for messages on the basis of a specified word, phrase, attachment, type, size, name criteria.
Wide and clear content preview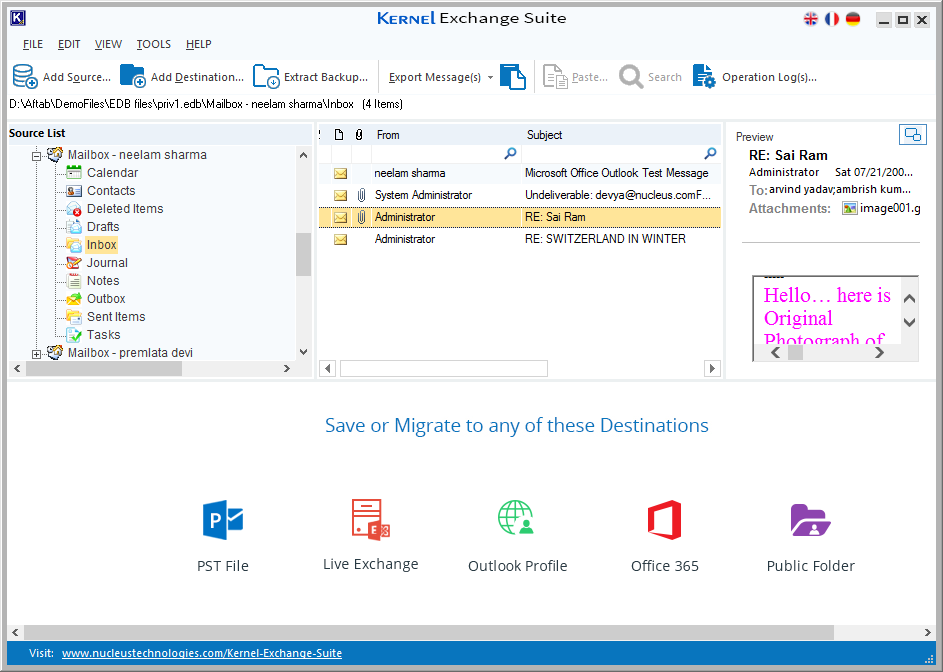 The software is able to generate a preview for all sort of mailbox file items like messages, attachments, contacts, calendar entries, etc. The user can well view (with a broad display) the content of the items he is going to save.
Multilingual supports and Operation logs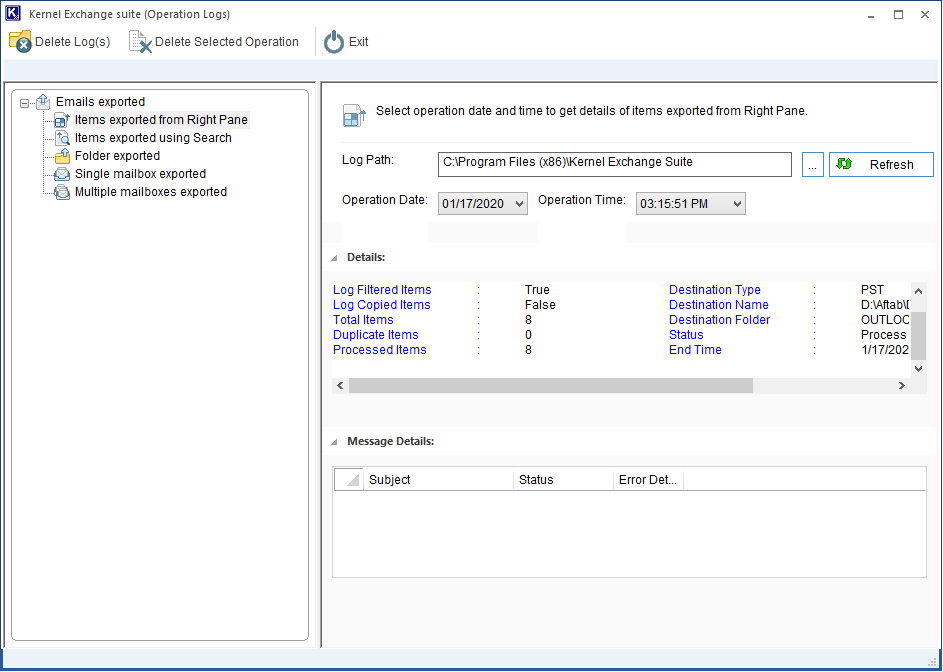 Other than default English language, the tool supports two other languages, i.e. German and French. User can switch to any of three languages any time as per their requirement.
Complete status along with a brief summary of all the operations performed through Exchange Suite is accessible through Operation logs feature.
Final Summary
All the exclusive features of the software Kernel Exchange Suite which provides many Exchange and Outlook solutions at a single platform have discussed shortly. Users can try their hands on this intelligent software to discover more features while performing any operation.